Review From The House
READ IT • SEE IT • TASTE IT • LIVE IT
Dance Workshops at Sea from Hong Kong to Dubai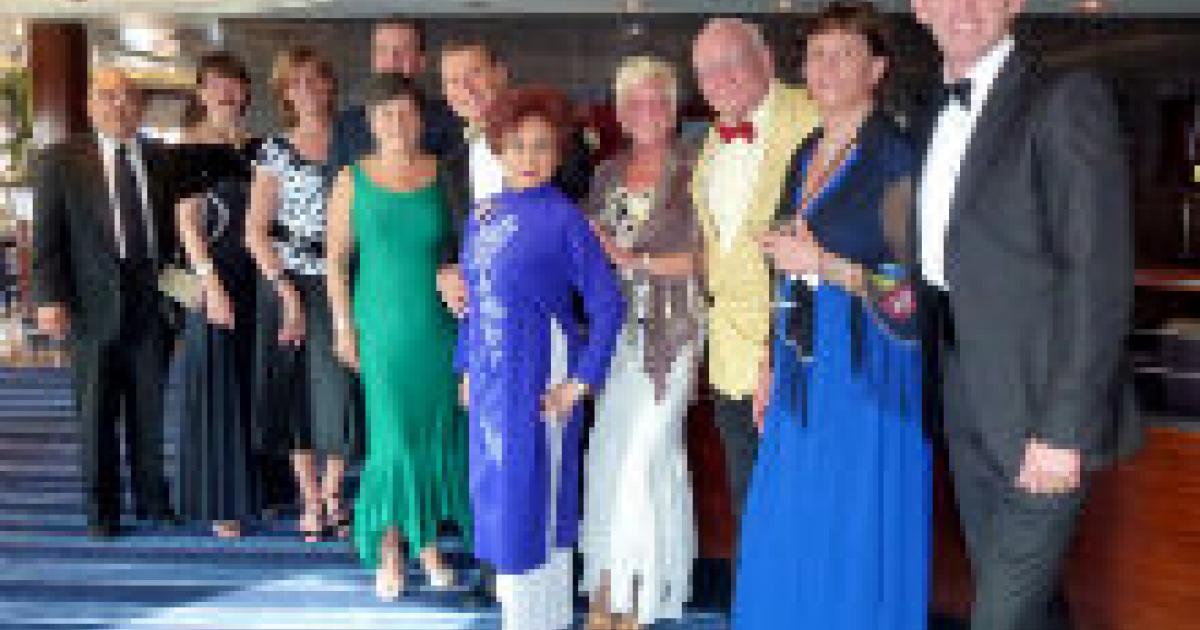 Dance Workshops at Sea from Hong Kong to Dubai
Monday, April 16th, 2012
With this cruise covering 16 days, and ten of them being sea days, Robert, our dance instructor, had scheduled a series of dance workshops covering the gamut from waltz to west coast swing. Each workshop was supposed to last an hour but several times they were going so well that we ran over time.  Because none of our group are beginners and we are all pretty much at a similar level, each session has been really enjoyable and we have been able to pick up new skills in each individual dance, while continuing to focus attention on posture, frame and movement.
Amazingly everyone turned up punctually for the second workshop at 9:30 am, even my cabin mate Linda, who is not known for coming to the dance workshops on these cruises. We joked that after a week of rooming together I might actually "sleep in" to 7 am and take a nap in the afternoon, while she might actually get up in time to attend all the workshops.
In this second workshop we were working on quickstep; in particular the fishtail or as my friend Carol once put it – "that fish step".   Robert took us slowly through the elements of the step and by the end of the workshop we were all executing really nice fishtails.  Of course the problem is that when it comes during the course of an actual dance it is not as easy as when one is just isolating the steps for practice.  It is that darn following thing that gets me every time, learning not to anticipate but to react.
Workshop number three was on cha cha.  We started off working lock steps and led into doing a double spin. The key things for me were to think "step-pivot", remember to move not try and spin, keep my core tight, and spot. Too much multitasking – needs a lot more practice.
West Coast Swing was number 4. I always knew I had kinesthetic space problems but hey- I really thought I was moving in the slot. Apparently not! It seems I have a tendency to veer left all the time,  and I don't push back enough, so other than the fact that I am no longer hopping like a grasshopper,  it looks like my WCS has regressed!
The three new guests, Anne, Wim and Kris joined our group in Singapore, in time for workshop number five which was on Argentine Tango. I guess I don't get enough chance to practice Argentine Tango so I really need to join a group class in Vancouver. In February next year I hope to join the Dancers at Sea South America cruise on the Crystal Serenity, and do the pre-cruise Tango package so I would really like to feel comfortable enough with the dance to get the full benefit of the lessons in Buenos Aires.
The waltz workshop offered another opportunity to really work on posture and frames. We reviewed a sequence of steps that incorporated underarm turn, face to face, back to back, a traveling turn with a fall away turn. Probably I have the whole terminology wrong but it is enough to trigger my memory. It was also helpful to me to finally understand my position relative to partner on the underarm turn. 
Bolero was new to some of our group so we learned the basic step and the turning basic.  Although I had never even heard of bolero until I encountered it on one of the DAS cruises, I think it is now my favorite dance because it is such a perfect blend of smooth and Latin combining waltz and rumba with stretching open movements – it is almost the perfect dance workout.
Our tango (American) workshop was when I realized that my flicks just don't flick. We were working on a basic sequence of steps, the open left turn with fan that I probably encountered the very first time I tried the American tango but Robert added a touch of flare by adding a flick. As I watched the ladies try it, somehow none of our flicks looked as sassy. I am not sure if it's in the timing or the knee action.
The last workshop we had was foxtrot and by this time my lessons and the workshops had blended into an amalgam of movements, so I can't remember what we actually worked on for this workshop.
Overall I think that as a group we got through a lot in a very short time. Because our group was small, we did not have the usual ratio of 3 or 4 women per guy, and so we all practiced with everyone else, and did not have to contend with messy rotations.
With the consistency of having a single instructor for the entire sequence of workshops, and with Robert's constant emphasis on frame, posture and movement over "steps" I think the dance level of all of us had moved up several notches by the end of the cruise.  I certainly felt stronger and more stretched, and that I was moving more than when I boarded 16 days earlier.
And in case you wonder, that's not not how we dress for the workshops but I took the opportunity in this post to introduce by picture, our three new guests who joined us at Singapore - so that's the whole group pictured above.