Review From The House
READ IT • SEE IT • TASTE IT • LIVE IT
Week 16 and back on the dance floor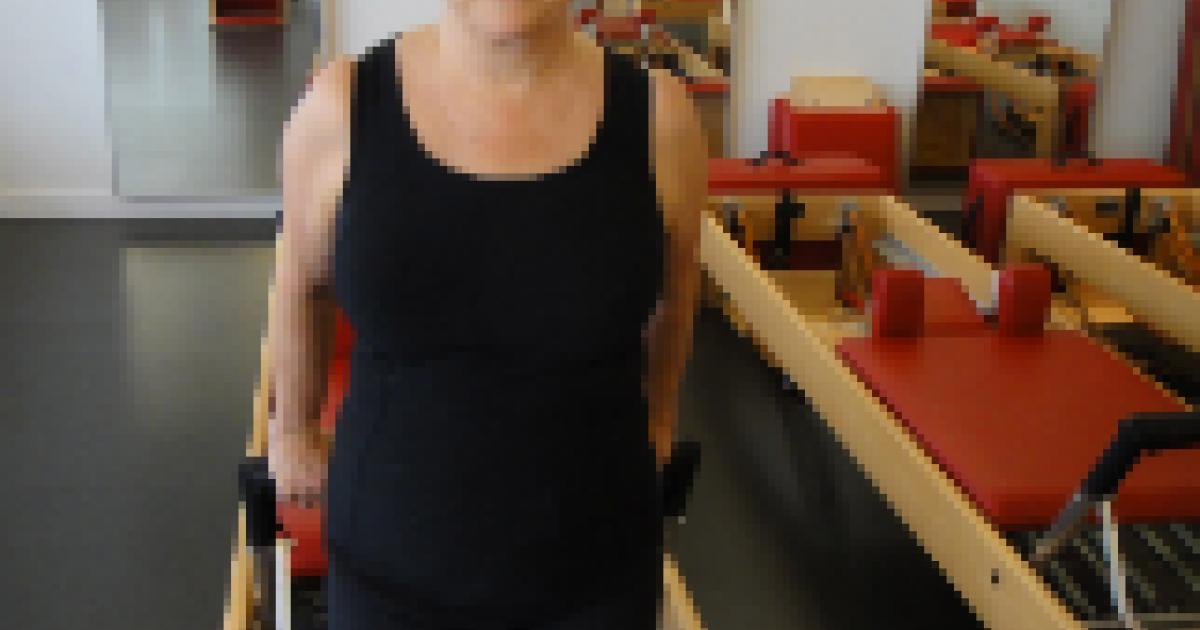 Week 16 and back on the dance floor
Thursday, June 30th, 2011
After a couple of weeks of working out to dance music in my gym, and a planned dance lesson that had to be canceled because of the downtown crowds for Game 7, I finally walked back into the ballroom for a dance lesson. This is the first time I have been back since October 3rd, two days before my stenosed spine decided to finally compress my sciatic nerve so severely that I felt like I was one of the baddies in an episode of 24 with high voltage shocks going down my right leg. So its been 8 and a half months with no dancing - almost as bad as physical torture for an addict like me.
But now I have mentally switched from thinking rehabilitation to thinking "GI Jane training" and though I am not working on weapon or  demolition skills, nor for that matter getting exhausted, water-logged, starving, or resisting torture, I do  have a multi-faceted program that keeps me plenty busy.
The nutritional plan-low carb eating seems to be working despite the fact that I have occasionally - well quite a few times actually  - been busted eating fries and breads. And then of course there is wine. But still I have managed to drop half the 15 pounds I gained during my 5  month forced couch-potato existence.
Right now I try to get to the gym or walk for a cardio workout at least 4 to 5 days a week.  Cale, my usually Satanic trainer has been relatively cherub-like as he gradually eased me back into a weight training and general fitness regime after the surgery. But he is now starting to channel Viggo Mortensen's Master Chief role as my workouts with him are getting more intense.
It is working because I am managing to hold core exercises like bridges that I thought I would never  have the strength to do again. So when I hear "10 seconds more" and I think "can't do it", I just breathe and think of my muscles getting longer and stronger - and I hear "done!" Whew.
As important as strength, in fact probably more so for me, is working on flexibility and range of motion. So as well as trying to get into the discipline of starting the day with a yoga series of "joint -feeing exercises" that my daughter showed me from her Yoga Teaching training course, I am getting much better about stretching after workouts.
So to my regimen, I have added a weekly session of Pilates training at Noam Gagnon's Beyond Pilates studio on Davie Street. It is about a twenty minute walk (mainly uphill !) from my place. Before the surgery when I was grasping at any form of treatment from physiotherapy to acupuncture in the hopes of easing the sciatic pain, Beyond Pilates was recommended to me. I worked out a couple of times with Jennifer, and was amazed at how much I improved from lesson to lesson despite having to work around my pain, but ultimately the structural severity of the spinal stenosis made the surgery inevitable.  Now post-surgery It feels wonderful to walk in there and complete a training session pain-free, and I love it.
 The fifth arm of my program aimed at me becoming a  stronger and more flexible dancer, together with the nutrition, fitness, weight training and Pilates regimen, is something I had never heard of before - Rolfing. This is bodywork that uses deep manipulation of soft tissue to realign and balance the body's myofascial structure. When it was first suggested to me I was somewhat sceptical and quite apprehensive, but after my first session with Steven Radiloff, who works out of Beyond Pilates I immediately understood how this would help me in my goals of better strength, flexibility and balance. More about Rolfing in a future post.
Anyway back to my first dance class with Bernice at Vancouver Ballroom. My initial dance workouts by myself in my gym told me that I needed to go back to the basics and retrain my body with correct technique. We divided the lesson between slow Foxtrot, waltz and about ten minutes of quickstep, going over the first building blocks of the various dances, reverse and natural turns, feather steps and three steps, quarter turns, chasses and lock steps. I tried not to beat myself up about how awkward I felt, compared to when I did the Standard Gold medal test exactly a year ago. Here I was wobbling in my waltz, and out of breath after  a length of quickstep. Not to mention my poor of CBMP (contra body movement position) in fox-trot. But Bernice reassured me that my movement did not feel as beginner-like as when I first began lessons with her three years ago, and gradually the more I relaxed mentally, the more the correct feel of the movements began to return.
This week I had my second lesson- waltz, foxtrot and tango. By the end of the sessions on waltz and slow foxtrot I had progressed to the stage where Bernice was re-introducing moves from the Silver syllabus and I was beginning to feel the neuronal connections coming back. I guess it is a bit like riding a bicycle again. The skill is  there no matter how deeply it feels buried.
So I am feeling fit, happy and  ready to continue channeling Demi Moore. Who cares if she was only 35 when she was doing those one-arm push-ups? Just check out the pictures of me in the Pilates Studio and Ballroom compared to  the Munchkin photo of me six days after surgery. Although maybe I should not be giving Cale any ideas for enhanced torture in the gym.
Every morning, when look out over the waters of False Creek, take my first sip of coffee and begin to plan my day, I say another heartfelt thank you to neurosurgeon Scott Paquette and his spine surgery team at Vancouver Hospital for giving me back my life. And I am also forever grateful to neurologist Andrew Wolfenden and Marcel Dvorak, Director of the Spine Program, who recognized that delaying surgery was not an option.
To fully appreciate the reason for my gratitude, you can read about the various stages of my saga through the pain of sciatica to recovery. Check out the  INDEX to the postings HERE