Review From The House
READ IT • SEE IT • TASTE IT • LIVE IT
Physicality: 7 weeks post foot surgery: retraining muscles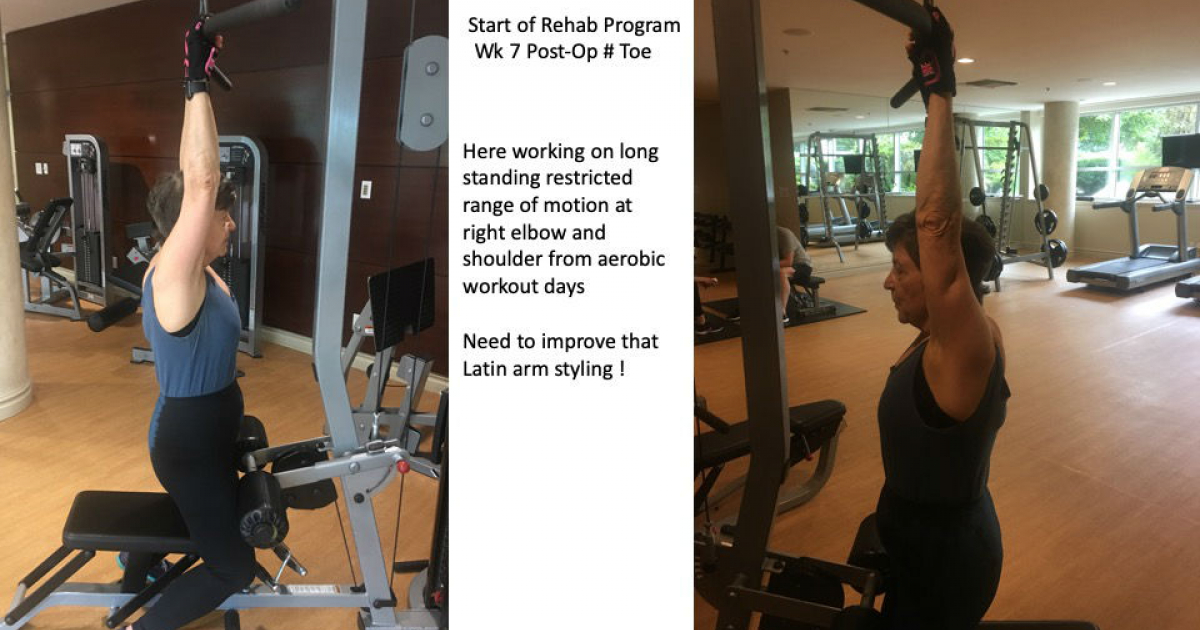 Physicality: 7 weeks post foot surgery: retraining muscles
Tuesday, September 17th, 2019
 It's 8 weeks since I had the surgery to fix that fractured and wrongly-healed toe.  I dutifully spent much of the first two weeks lounging on my couch with my foot elevated.  The next few weeks were spent hobbling around in a Walker Boot.
I had been sternly warned that it would be more than 8 weeks before I should consider getting back to dance  but surprise surprise ! At the 6 week check up I had healed so well  I was given the all-clear to workout as tolerated. I credit my pain-free and rapid healing to the specialized bone formula and the epigenetic supplement that is part of my daily nutritional program.
Although I was pain-free and had no problem with weight-bearing on the injured foot, my foot muscles were quite contracted from the lack of movement. With the last-minute cancellation of the first surgery appointment it was  actually 12 weeks since my last dance class.  I couldn't arch my foot or point my toes or comfortably push up onto the ball of my foot.
I called  up my personal trainer friend who had been awesome in getting me back to dance after a back injury and surgery 8 years earlier and we designed a workout to get me back in shape, tighten up the tummy and get those  feet and leg muscles working again.  Squats have always been challenging for me. I also wanted to regain range of motion at my right elbow and shoulder which have been limited since my days of aerobic classes - longer ago than I care to remember.
Here is a before videos from the Week 7 training. Will do follow up pics and videos later. Hope to be back dancing full out in a week or so. Feedback on Growing Older While Living Younger. Email me at askdrgill@gmail.com or gillian@reviewfromthehouse.com