Review From The House
READ IT • SEE IT • TASTE IT • LIVE IT
The Verandah Restaurants on Queen Elizabeth and QM2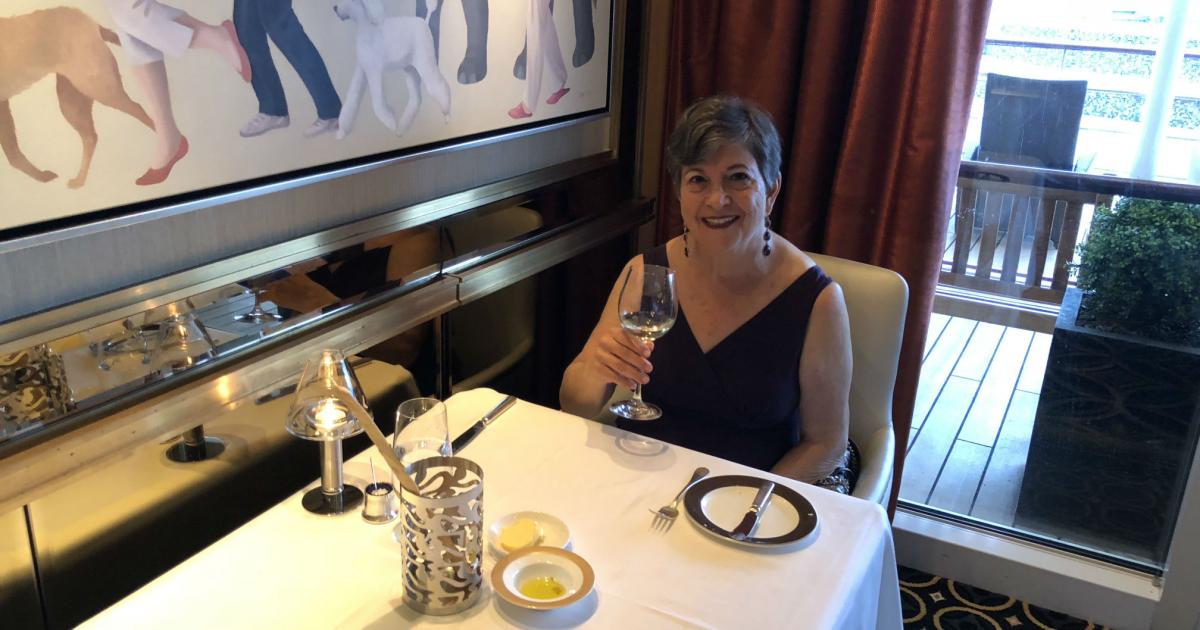 The Verandah Restaurants on Queen Elizabeth and QM2
Sunday, July 1st, 2018
The alternative dining Verandah restaurants on the Cunard cruise ships  offer contemporary French cuisine. I had the opportunity to dine in the Verandah on both the Queen Elizabeth and the Queen Mary 2 and compare the fine dining experience.
In an earlier conversation with the Queen Elizabeth's Executive Chef, Mark Holroyd, he talked about Cunard's objective to provide a consistency for food and dining services across the three ships. The excellent quality of service and the ambience of quiet elegance were certainly consistent features of both restaurants.
Although the server suggested that there were differences between the two restaurants, the dinner menus seemed identical. if there were minor differences I didn't see them.
The flatbread and bread offerings with butters or olive oil were similar. The amuse bouche was a cheese creme brûlée made with Pont L'Veque cheese and topped with  parmesan shavings and breadcrumbs. 
My appetizer choice on the Elizabeth was the white crab and tiger prawn cocktail with mango, curry oil mayonnaise and served with sourdough crisps. As there were two of us dining, we were able to share the herb crusted rack of Salt Marsh lamb for two, carved at the table. Lamb is a favorite choice of mine and this dish met my expectations.
The standout dessert was the chocolate ganache and tonka bean mousse with olive oil ice cream.
At the Verandah on the QM2 my appetizer choice was the oak smoked venisbut looking forward on tartare. It was brought to the table with a fine smoke rising from the dish. The smoky aroma and flavour lingered over the slightly tart venison. I could have made a meal of that alone.
But instead I decided on he Lobster Thermidor.  The lobster served in th Britannia restaurant has consistently been perfectly cooked but this superseded my previous lobster tastings. Perfectly spiced and cooked to a smooth silky  soft consistency.
I initially declined dessert but was persuaded to try the souffle. A few delicious spoonfuls later I left for the Queens Room dancing, not sure if I would be able to move but still looking forward to it.
Bottom line - the primary feature, consistent between both restaurants was excellence. Excellent service, perfectly produced dishes, great presentation and flavours. Both dinners were well worth the supplemental dining charge.