Review From The House
READ IT • SEE IT • TASTE IT • LIVE IT
Supping Away: Honolulu. Hoku at the Kahala Hotel and Resort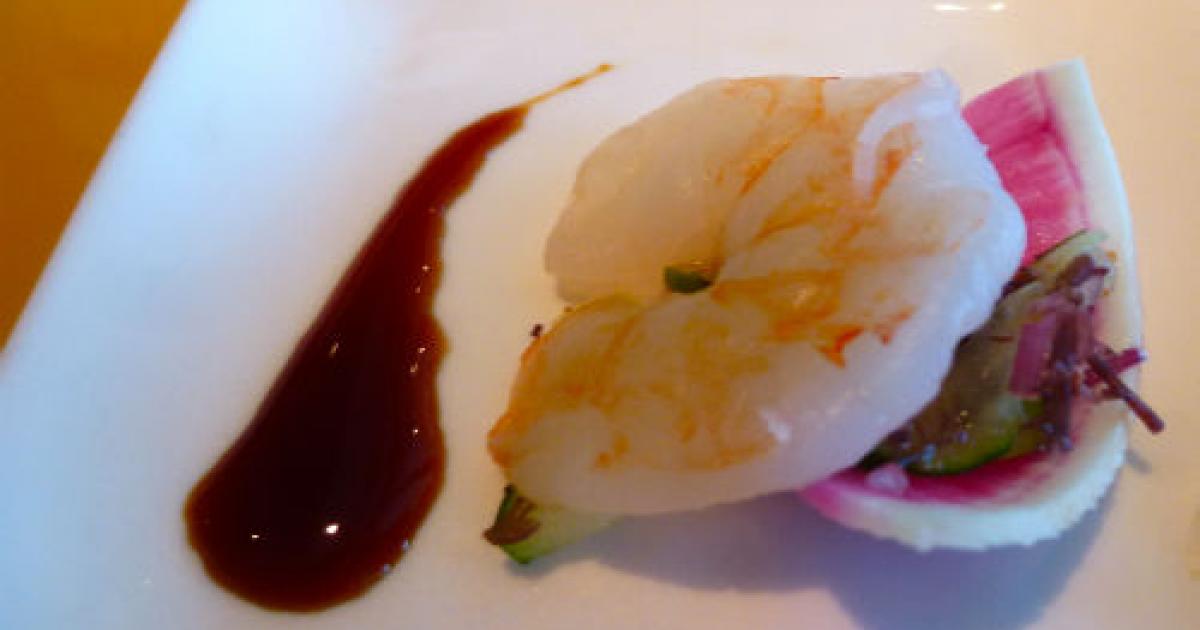 Supping Away: Honolulu. Hoku at the Kahala Hotel and Resort
Tuesday, October 28th, 2014
Hoku's at the Kahala Hotel and Resort
5000 Kahala Ave.
Honolulu, HI
Ph: (808) 739-8760 or reserve online
The Kahala Hotel is a luxury resort in the Kahala district of Honolulu, about a twenty  minute taxi ride from the hotel where we were staying in Waikiki. Hoku's is one of about five dining options at the hotel, and offers innovative fusion food melding Hawaiian, Asian and European influences.
We booked for an early dinner hoping for a spectacular sunset. We were warmly welcomed and shown to a pleasant window table. Our view was more north-west than west so  I didn't really see the spectacular sunset.
I sipped a glass of Riesling from the Weingut Gunderloch winery in the Rheinhessen region of Germany while perusing the menu. As I read, I realized I really need a primer of terms used in the local menus.
A little bowl was brought to each of us. It contained a creamy lobster soup with a couple of tiny lobster chunks. Great amuse bouche I thought.
And then, surprise, we were presented with a second amuse bouche of shrimp, ogo (seaweed), cucumber namasu kabayaki  in a spoon.
My choice for a starter was the fresh island sashimi platter: it consisted of hamachi with yuzu kosho (Japanese yellowtail with a paste of yuzu peel and chili peppers); ahi with a foie gras torchon and ume gel Ahi tuna , kampachi with pineapple carpaccio, and salmon with burnt miso and watermelon radish.
As an entree both of us decided on the wok fried jumbo prawns with wok fried vegetables and fried rice. 
We watched a server walk by with the  wok-fried whole fish which we had briefly considered ordering but had decided it would be more food than we could eat. He stopped for a few seconds to show us what it looked like. Appealing presentation but definitely for a larger table to share.
The dessert chosen by my fellow diner was the peanut butter Mochi cake with salted peanut caramel tuille, strawberry coulis and chai tea ice cream.  Another very appealing presentation.
After dinner we walked out to the hotel entrance. A taxi pulled up within a few minutes and we were back at our hotel in under 20 minutes.