Review From The House
READ IT • SEE IT • TASTE IT • LIVE IT
South Pacific Dance Cruise 2009: Part I The Hawaiian Islands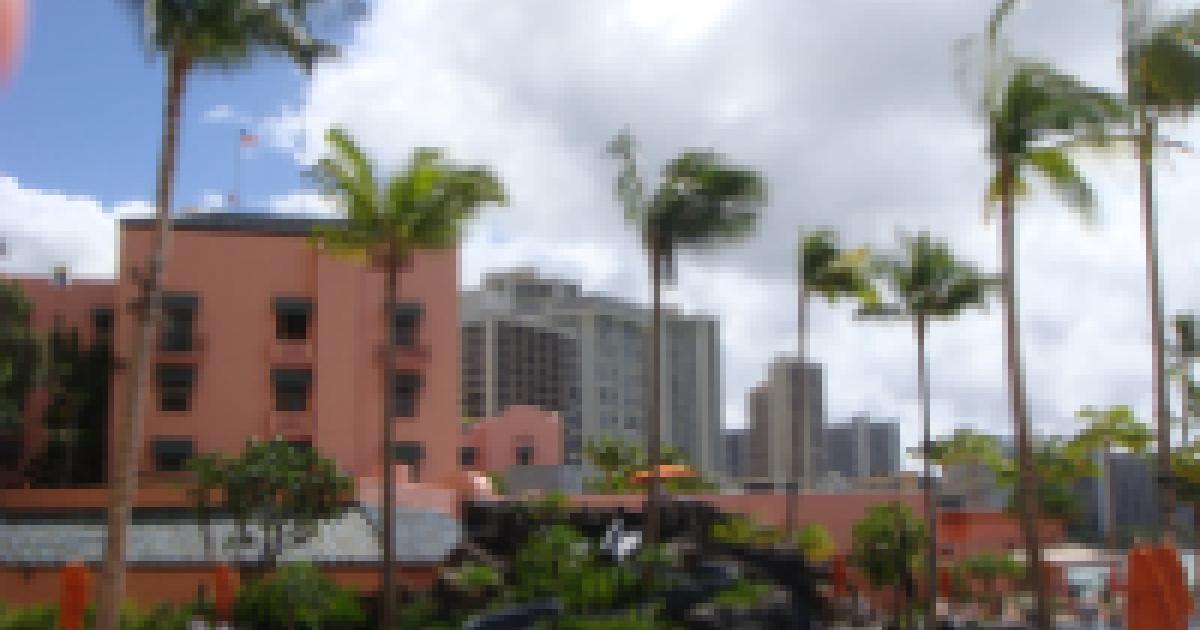 South Pacific Dance Cruise 2009: Part I The Hawaiian Islands
Wednesday, October 14th, 2009
South Pacific Ballroom Dance Cruise 2009: Part I
The opportunity to join Wendy and the Dancers at Sea on a South Pacific Cruise from Honolulu to Tahiti came up unexpectedly while I was on the Labor Weekend Getaway Dance Cruise. A test of my developing capacity for spontaneity - something I have really been working hard to achieve - I needed to decide on the spot whether to take up an unexpected vacancy that had arisen - the only problem  was that the cruise was scheduled to start a mere two weeks after I returned to Vancouver from New York (New York, New York 2009).
 I checked my calendar to see if there was anything that could not be rescheduled, decided not to check my budget and my bank balance, and just go for it.  So  after  just enough time back in the city to see a couple of  plays, do my laundry and  tidy my apartment, I was packed and ready for another great vacation dancing at sea.
Sunday, September 27 Vancouver to Honolulu
The 11 night cruise on the 670 passenger Pacific Princess leaves from the port of Honolulu, Oahu and after meandering around the Hawaiian islands,  sets off across the Pacific Ocean  to the islands of French Polynesia. Actually although it appears that we sail west in fact the course is much more southerly as we cross the equator before reaching Polynesia., well after the ship leaves Honolulu.
Air Canada has a direct flight from Vancouver to Oahu but it leaves at 6:45 pm getting into Hawaii at 9:45 pm Hawaiian time (3 hours behind PST). So I had to fly in to Honolulu the night before to be able to embark on Monday 28th.
The flight is about 5 and a half hours and I was determined to do some catching up on my writing, but I must confess that the on-board entertainment centre had a line-up of several movies that I had been wanting to see for ages.
Out of morbid curiosity, since the Pelham line was the one I rode back and forth between the apartment and the theatre district in New York, on my recent visit (New York, New York 2009), I decided to watch "The  Taking of Pelham 123", with Denzel Washington and John Travolta. It also starred James Gandolfini who I had just seen on stage in God of Carnage.
I thought it was quite an interesting film and quite engrossing , but after it was over I resisted the temptation to watch the other three films that had caught my interest  so that I could get some work done. This writing business takes a lot of time, especially reviews and I sometimes wonder whether the tag lline of my website - write it, read it, live it should read "live it but you wont have time to write it!"
Of course if you are in Economy class  Air Canada does not serve food even on a 5 hour flight though they offer their  "on-board cafe service". I bought an apple and some packets of trail mix (unsalted nuts, raisins and seeds) at YVR and planned on ordering some soup from room service when I got in to the hotel - French onion soup is my usual comfort food for late night travel. Big mistake as I found out later. Room service and all the restaurants shut down at 10 pm - before I got there!
Anyway the flight took off at 7 pm, a bit late, and after the first hour or so they switched off the lights in the cabin and most of the people dozed off. I believe in setting one's internal clock immediately to the new time zone so although my computer tells me it is 11 pm and my bedtime, my wrist watch is set to 8 pm and my head is going to have to believe my watch!
As a long-time member of the Starwood Hotels Program I decided to stay at the Sheraton Waikiki overnight. According to my research  it is about a 40 minute cab ride from the airport to Waikiki but the cruise terminal is near by so tomorrow's cab ride to the ship should not be too long.
As I "deplaned" (love that word) and walked up the ramp, the warmth and humidity hit me briefly before I reached the terminal. My bag was one of the first off so I made it out to the cab stand ahead of the throng and was in a cab within a few minutes. At ten at night the traffic was minimal and despite the transport scams I had read about when researching Honolulu airport transport, my driver did not slow down to hit every red light or take an indirect route. The cab fare was around $38.00 including a generous tip. I could have taken the bus shuttle for less, but it stops at all the hotels and who knows how long it would have taken me to get there.
At the entrance to the hotel the bell hop asked if I needed help with luggage but as my practice is never to take with more than I can carry easily, i said no. He did not warn me however, that to get to the registration desk I would have to drag my case along what felt like miles of pathways and uneven ramps. Eventually I found the registration desk and was greeted promptly and checked in quickly.
But aIas I mentioned earllier, to my dismay when I asked about food, I was told the restaurants and room service finished at 10 pm. Not much good to a hungry  traveler at 10:15. Wow, I am sure the Sheraton Hotels I stayed in London and Asia used to offer 24 hour room service. But maybe that was then and this is now. Perhaps hotels are doing the airline thing and economising on the services they provide. Something to research, when I get home.  Anyway I was not impressed by the lack of available food.
Shortly I was on my way up to the 18th floor to my "ocean front, air-conditioned, non-smoking room located on the world-famous Waikiki Beach with an unparallelled view of white crested waves." All true.  Except that it was late at night and I couldn't really see the white crested waves.
The room was spacious if minimally furnished but all the essentials were there especially the super-comfy Sheraton king-size bed - but no king to share it with! - and their extra super-comfy mound of pillows. I liked the spacious counter top in the bathroom, even though for an overnight stay I really was only going to unpack a few essentials.
Best of all I had booked the hotel using travel points, so effectively it cost me very little. And I will accumulate more Starwood points for future hotel stays.
Before I went to sleep - it was 11:30 HST and 2 am PST by then, I checked for internet access. No wireless - really - but a high speed cable in the room. I thought I would see about that tomorrow, and got into bed. I had downloaded the latest Dan Brown novel , "The Lost Symbol" on my Sony E-Reader so I thought I might start that but within minutes I was dozey - realistically it was 2:30 in the morning,  Vancouver time, and I was out like a light.
Monday September 28 Embarkation on the Pacific Princess - depart  around 8 pm for Kauai
I woke at 5:30 according to the Sony Dream machine clock next to the bed. Too early to phone for room service. I peeked out at the ocean view. The sky was  a bit grey and the clouds looked ominous. Still it was early and I thought hopefully that the sun will come out from behind those clouds later in the day. The temperature outside was already high - a balmy 28 C last night and it felt warm and humid.
Check in time for the ship is recommended at after 2 pm and check-out time here is 11 am. I called down to the desk to find out about a late check-out. For 25 dollars I could stay till 1 pm. Without any other option, I thought it was worth it. Now if I had retained my Starwood Gold status I could stay till 4 pm with no charge. I really have to start traveling more.
The cable connection in the room did not seem to work so I thought I would wait and see what internet options are offered on board the Pacific Princess.  I was craving coffee and although there is a coffee maker here there is no cream and I don't use those packaged artifical sweetners. I felt quite lazy and relaxed and decided to order a room service breakfast. With the coffee and cream came a fruit plate ( I asked for no melons and papaya and they obliged), low-fat plain yogurt, and banana bread served with macadamia nut blossom honey.  It was nicely presented and a very adequate breakfast.
After breakfast I had a couple of hours to wander around checking out the beach area and the fancy stores. The NoaNoa store caught my eye, They make a sash dress from a tree bark material called tapa - like the Spanish little dishes - hmmm...
The batik designs are traditional tapa patterns and they are quite lovely. I chatted with Karen who was from Hilo but studied and worked in Seattle before returning to  Hawaii a couple of years ago. She showed me the various ways of tyring these dresses and directed me to a You Tube video that also shows you how to do it.
I also wandered into a shop selling the most striking Tahitian black pearls. I had a lovely pair of black pearl earrings but lost one and I thought I might get a new pair but after checking the prices, I thought not. Gorgeous but quite a bit more than I want to spend right now.
Around 11:30 I decided to check out the Japanese Restaurant, Yoshiya,in the Sheraton, before leaving for the ship. It is an attractively designed space, very quiet and low key, at least at lunch time when there are not a lot of people there. I decided to try their Shokado box - like a Bento box with a bit of everything.  
It was also very nicely presented. The Shokado included miso soup, tempura (2 prawns, green beans and zucchini) thin sliced steak, grilled salmon, 2 pieces of salmon and three of Hawaiian tuna sashimi,  nimono (a yam ball), teukemono ( pickled vegetables) and rice,  followed by pineapple slices as dessert.
But when I mentioned to the server that I was checking out  and needed to sign the bill, she came back very apologetically and told me that they can't charge to the hotel room on check-out day. I was going to point out that if I had not mentioned it how would they have known but since language was a bit of a problem I desisted and  put it on my creditcard. but I confess I was a bit irritated by that.   It seems that Yoshiya is not part of the Sheraton but operated privately, although that is certainly not made clear anywhere in any of the advertising.
 I checked out of the Sheraton and took a cab to the terminal. Although I had not got any documents from Wendy owing the last minute nature of my booking, the cruise ship pier in Honolulu is not huge and the cabbie told me that there were only two cruise ships currently  in the dock area. We spotted the Princess insignia on one of the ships and the cabbie dropped me off at Pier 2.
That's when I got my first surprise and learned that the Honolulu terminal is much more laid back and casual than Brooklyn! I entered this large cavernous almost empty hall, in which there were only a few people moving around, and pretty slowly at that. A helpful lady pointed me in the direction of a table against the wall halfway down the hall. Because I had no official labels I had to get a label from the two men sitting at the table.
So the first guy pulls out a list and asks my name. Rather than spell it for him  I hand him my boarding documents. After a painstaking few minutes he shakes his head. "No one by that name on the list," he says. No problem I think to myself , I was a late addition to Wendy's cabin. So I give him her name.
"Nope"  he shakes his head, "She is not on here either."
I knew that was wrong. Wendy's booking would have been made ages ago. So I asked what he suggested I do. Go back to the security check table and ask them was his direction.
"Can I leave this heavy suitcase here while I check?". Nope he shakes his head.  I look reluctantly at my suitcase.
"Sure, you can leave it with us " says the other more helpful man.
So back I go, and sure enough the security folks have an up-to-date  list with both my name and Wendy's on it.  Back I go to label man and he painstakingly writes my cabin number on a label and attaches it to my case. I wonder if I will  ever see it again. But I leave my case to the tender mercy of label man and his helpful sidekick and go through the security check.
I waltzed through the shipboard registration and then took my new Pacific Princess card and headed up the gangway to the ship. Knowing that my bag would not be up for a while I took the Treasure Hunt card that is supposed to familiarize you with the various locations on the ship. On  my way to the designated places on the card I checked out the location of the various places where we were supposed to be dancing.
On the 10th floor the Pacific lounge had a beautiful large wooden dance floor and the bandstand backed up against huge floor to ceiling glass windows with a glorious view of the ocean.  
As its name indicated the deck 5 Cabaret Lounge is obviously where they stage their shows as there was an impressive bank of lights in the ceiling surrounding the dance floor, which did not look as great a surface for dancing on as the upstairs lounge.
Surpringly I got all of the locations on the card stamped really quickly and by the time I got back to the cabin, another surprise, my case was already there.
 
Since Wendy was going to arrive quite late I thought I would get myself unpacked and be out of her way when she arrived. This is my first experience of sharing a cabin with someone other than a family member - practice for the much longer Asia Dance Cruise I am doing later this year.
Oh yes - in a matter of a mere 6 months since my West Coast Ballroom Dance Cruise I have become a committed Dance Cruise addict! Some people may say I should be committed - to somewhere where I couldn't sign up for any  more cruises - but while I can still samba and jive I don't intend to stop.
There were a couple of phone calls to the cabin. People looking for Wendy. I explained that she hadn't arrived yet. Then Jorge called, and introduced himself as one of Wendy's hosts for the cruise.  He told me to look out for a man with pumpkin orange sleeves after the 4:30 mandatory life jacket drill.  
At 4:45 I joined the mob upstairs in the Cabaret Lounge, our muster station, for the drill. When the room cleared out I saw pumpkin colour sleeves and figured that was Jorge chatting to the Assistant Cruise Director, Paul. We agreed that we would just tell any others of the group that we encountered that we would meet in the Club restaurant for dinner at 6.
Wendy arrived shortly before 6 having had several changes of planes in her flight from Atlanta to Honolulu. She changed quickly and we went up to meet the rest of the group at dinner.
We had two tables of 6 each.  I met Ruby from Fort Lauderdale, a beaming smile and masses of gorgeous curls, Bira from New York, an elegant lady with lovely brown eyes, Margie, tall, thin, blonde  and fashionably attired, Helen and Bob from California,  and Peggy and Charlie from Utah, who travel in their motor home in winter.  Stephanie, a charming young woman working on her MBA,  brought a paper assignment with her that had to be finished by the end of the trip - I was thinking that  this reminded me of my earlier days when I had papers and assignments due, but then I thought what has really changed in my life? Here I am still thinking about  writing assignments even though it is only me that has assigned them!
The two hosts for the trip are Jorge, an ebullient dance teacher from the Santa Clara/San Jose  area who loves to teach Argentine Tango and is quite the entertainer ;  and Richard, a charming gentleman  from Boston, who beams especially broadly when doing swing and the hustle.
The menus had a familiar look to me from the recent West Coast Cruise on the Sapphire Princess. Lots of choices and spa-healthy selections too. My selection for dinner was a lobster and seafood pate, followed by mushroom soup and then barramundi (a broiled fish) with asparagus.
The general dancing plan for the trip was for us to head up from dinner to dancing in the Pacific Lounge on Deck 10.  When Ruby, Jorge and I came into the Pacific Lounge shortly before 8 the duo of Pete Nilson (drums/vocals and keyboard) were playing. They had a great beat and Jorge alternated between Ruby and me for a couple of rhumbas, waltzes, foxtrot and chahchas.  Then Wendy joined us but we did not know when the others had got to. Unfortunately the duo finished playing at 8:15.  Wendy put on her dance music as the rest of our party arrived so from then until  9:15 when the duo resumed playing until 10,  we had a different variety of music.
At 9 I went out to the Pool Deck where they were having the sail-away party. The six young men and women who were part of the Cruise Director's staff were up there. I handed in my completed Treasure Hunt card to Kayla to enter into the draw.  I saw that Kayla's badge read Dancer and  asked her about that and learned that they doubled as singers and dancers for the review shows as well as each being responsible for other duties during the day.
The cruise staff were dancing to the music of the Nilson duo, who had moved out to the deck  to play. When I mentioned the Dancers at Sea program to Kayla she introduced me to Alex, the dance captain for their shows - so we tried out a cha cha- cool.  Apparetnly he and Kayla teach the group ballroom dance lessons on the ship.
Shortly after that  the Cruise Director and his assistant came out and Paul did the draws for the prizes. I did not win one!  But by the time the draws were over, some of the others of our group had come outside and we danced on deck. It was actually wonderful to dance in the warm fresh night air, even with the deck shifting slightly with the motion of the ship. By the time the music stopped round 10am everyone was tired. Several people had flown in from the East Coast and it was almost 4 in the morning for them.
I made my way to the cabin where Wendy was already sleeping. She had kindly left a light on for me so I tried to be as quiet as possible as I put my stuff away and got into bed. The twin bed that looked so small compared to my king-size bed at home, was surprisingly comfortable and I fell asleep quickly rocked by the slight motion of the ship.
Tuesday September 29  arrive 8 am Kauai - depart 5 pm
Because of the late decision to join this cruise I had not booked any shore excursions. Neither Had one of the other guests, Bira, so we arranged that we would meet in the morning around 8 am and see what we could book at the last minute.
Surprisingly I woke around 5 am. Wendy was also awake so we went up to deck 9 to the Panorama buffet which was just being set up for r. Wendy got her coffee and settled down to check email. I brought my coffee and a pice of fruit back down to the cabin to see if I could get the wireless internet working.
Then at 7 I called Bira and we agreed to meet in the lobby just after 8 to check out the tour that Wendy had suggested: a cruise up the Wailua River to Fern Grotto. By that time I was ready for breakfast and went back up to the Panorama Buffet where I found an omelette station.
We were able to get a last minute ticket on the Wailua River trip and made our way down the gangway to the pier where people were waiting for the various tour groups. We were so engrossed in our conversation that we nearly missed seeing that the group for our tour was walking towards the bus. so we ended up with seats near the back of the bus, which were actually great because there were several empty rows around us. 
Enroute to the river cruise we stopped first at Lydgate Beach and Park where the guide pointed out two large man-made lagoon type pools from strategically placed rocks.  The currents are quite strong in this area so these pools are for safe swimming.
She also told us about chickens and roosters that had been blown out of their coops during the last major hurricane that hit the island in .... and now seemed to have populated the island with lots of stray roosters. I thought she was exaggerating until I saw a whole gaggle of them - or is that a gaggle  of geese? Maybe it's a crow of roosters? I should check when I am on line again.
(I checked - obsessive , I know - but although there are terms for chickens - a clutch, a brood - there is apparently nothing for roostersso I think my suggestion, a crow of roosters, is just fine. While Iwas looking a discovered that the group name for rattlesnakes is a Rhumba !  so a rhumba of rattlesnakes - hmmm...
Eventually we arrived at the jetty on the Wailua River, where Smith's tour boats operate trips up and down to the Fern Grotto. The ride in this large flatbottomed boat was quite pleasant. The banks of the river are quite lush with green vegetation and trees with interesting names that I did not catch.
To keep us quiet and entertained,  there were musicians and dancers performing various hula dances, including two sorts of drums, one made with feathers called a uliuli and the other, called a puili, made of just a heavy gourd.
Then we all had to stand and learn the hula hand gestures for one of the well known songs. There was a lot of hilarity and everyone seemed to have fun.
Eventually we arrived at the Fern Grotto, so named for the giant ferns that hang down from the sides of the grotto. Apparently they were also destroyed by the hurricanes and are only now growing back slowly.
After a walk along a winding path through more lush vegetation, ginger plants and orchids scattered along the path, we finally arrived at a large raised platofrm in the grotto, where they sang the Hawaiian Wedding song and then we all trooped back to the boat for the trip back to the jetty.  
On the way back we stopped to admire some waterfalls, and the Wailua River from a different angle. The tour bus delivered us back to the ship by 12:30.
I went up to the Pacific Buffet for a light lunch -some sushi, spring rolls and loads of water. I also signed up fot the Matire D' deluxe winetasting but as it overlaps with the time on Sunday that we have afternoon workshops I will have to miss the salsa workshop.
I spent the rest of the afternoon in a comfortable lounge chair on the deck, alternately reading and working on my writing until it was time to meet at 6 pm in the Club Restaurant for dinner.
My menu selections were the wild mushroom tart (I hoped the wild mushroom pickers knew what they were doing), caesar salad and duck breast - the latter was perfectly cooked for my taste.
After dinner we went to the Cabaret Lounge where Phillipa Healey was performing. Her tag line syas "the voice of an angel" and she really does have just that. Her show was a great mix of songs from opera, musical theatre and pop vocal  and her personality was charming and engaging.
We spent most of the rest of the evening dancing in the Pacific Lounge alternating with the music from the Nilson duo, who seem to really understand dance music, and Wendy's dance party music played from her I-Pod through the ship's sound system.
Wednesday September30  Queen of the Twist - Chubby Checker would be proud
We docked around 8 am in Lahaina, Maui and were scheduled to depart around 5:30 pm. After yesterday's tour, I did not feel much like getting into another tour bus so instead I decided to haang around the ship and just take a shore trip later in the day. We anchored out in the bay and had to go by tender to shore.
Another larger Princess ship, the Sun Princess was also anchored off shore.
I had a cup of coffee to get me going and then went up to the gym which was virtually deserted as most people were going ashore. After 30 minutes on the treadmill and some vigorous chacha, samba and jive in my socks on the carpeted adjacent area, I did some upper body weights, stretched well (Cale and Julie please note!), showered and got dressed into shorts and then went up to the Pacific buffet for a healthy breakfast and more coffee.
Then I settled down in one of the lounges to admire the view from the windows and get some writing done. Around 11:30 one of the Cruise Director assistants came in with 5 other guests for a trivia quiz. She and three of the guests were from Australia,one from the UK and one from New Zealand. She handed out papers with space for answers to 25 questions and with great hilarity we set out to answer them.  
The first bunch of questions had an Australian context- I guess that was where the book of questions was from so I jokingly protested that the game was stacked.  
So who knew that darts had a defined limit of a possible score? Not me since I could not hit a dartboard from an inch away. I guesses a whole bunch of answers and ended up with a score of 15 - not bad I thought out of 20 questions- that's 75%. But then she pointed out that the total points were actually 24 since one of the questions had 5 points. Hmmm... not so good anymore. Still I was second and the lady who beat me was an Aussie.  Remember the stacked deck?
After a quick lunch I took the tender to shore and wandered around the area of the harbour. Lots of touristy shops - and a majorly  impressive Banyan tree.
After lunch I hung out on the pool deck, swam in the saltwater pool - a few people complained about the salt water but I love the additional buoyancy you get from it, and since I don't put my face in the water, the salt does not bother me. Around 4:30 a waiter pushed a trolley around offering delicious warm oatmeal cookies. The lady on the chair next to me said that at 4:30 they bring out a different flavour of ice cream each day so we went to check that out. A scoop of pistachio icecream tasted great with the oatmeal cookie.  I rationalized my dietary indiscretion by thinking that I had better get some energetic dancing in tonight.
We had dinner at 6 pm as usual in the Club Restaurant. I had dry parma ham and melon, caesar salad, and the veal marsala. I skipped the dessert although they seemed to offer the most temptation to my tablemates, some of whom ordered more than one - three actually!
We went up to the Pacific Lounge where the Nilson duo were playing  but they stopped at 8.15 shortly after we got there. Wendy put on her dance music and we got in some dancing before the show down in the Cabaret Lounge at 8:30. It was a comedian,who actually was quite funny although I find I cringe at the stuff that other people seem to find funny. Still I guess he was an equal opportunity joker, managing to insult virtually every country equally.
By ten we were back on Deck 9 in the Pacific Lounge where they were hosting a 50s and 60s Rock and Roll Party. The energetic young dancers from the Cruise Director's staff were dressed in "50s and 60s " dress - although I don't remember dressing like that - but then in the fifties of course  I was only a baby - or maybe I should say a babe! Oh to be 15 again.
Jorge and I were twisting away madly when one of the staff came up and handed me a little stick and said "hold on to that". It turned out that they picked us as one of the three couples to win a bottle of champagne. The only catch was that we each had to do a little solo dance - in front of the whole huge crowd in the lounge. And ---- it's recorded on video for the voyage. Yuk - Miss Allergic to being in photographs - on video. Now I guess I am going to have to buy the video!
Then they had another contest - the first person to name each of three tunes was picked to come out and do an Elvis impersonation. Jorge was one of the three and did a great imitation of Elvis.  Another bottle of champagne. Dancers at Sea really cleaned up!
So now we have two bottles of champagne for the table - too bad I actually don't like the stuff! but hopefully the others will enjoy it.
Thursday October 1 Scheduled to arrive 8 am at Hilo, Hawaii - depart 5 pm
This morning I woke with a scratchy throat and felt tired so I thought I would take it easy during the morning and then try and get on one of the afternoon excursions but I got so engrossed in my work that before I realized it the excursion desk had closed
So instead, I sat out on the aft deck behind the Pacific Buffet area and enjoyed the ocean view as I wrote and read my novel in the Sony E-book. After an hour or so out there, with various people dropping by to have coffee and chat, the heavens opened up and there was one of those torrential tropical rainfalls that last just long enough to drench the entire seating area and drive you inside. 
We met for dinner at 6 pm.  The highlight of the meal for me was actually dessert. When i saw they had a meringue on the menu I could not resist.You can see why!
After dinner we decided to catch the early show of "Shake, Rattle and Roll", the first production show featureing the dancers and singers we had met oon the first evening. They put on an excellent high energy performance.  There were also two additional featured  singers who were also very entertaining.
 
Dancing in the Pacific Lounge was proving quite a challenge aas the ship was a rocking and a rolling too. It was not so bad for dances like the cha cha and jive or even the samba, but any dance where jive anthe movements were slower and longer into the floor like waltz or foxtrot - well  you just hoped the ship swept you up when you were supposed to rise and not too far down when you tried to collect!  I amanged fine but a few people were really feeling the effects of the ship movement.
I found it interesting how few couples seemed to dance. on most evening sthere were lots of folks in the lounge, having drinks, watching and listening to the music but only a few intrepid couples joined us on the dance floor and quite often we had this glorious dance floor to ourselves.
Tonight at 5 pm the ship departs from the Hawaiian Islands and we will set off across the Pacific to the Polynesian Islands of Bora Bora, Moorea and Tahiti.
My further dance cruise adventures will be posted in  
South Pacific Dance Cruise 2009: Part II   Dancing at Sea
South Pacific Dance Cruise 2009: Part III  French Polynesia