Review From The House
READ IT • SEE IT • TASTE IT • LIVE IT
Labor Day Weekend Getaway Dance Cruise: New York to Saint John, New Brunswick and back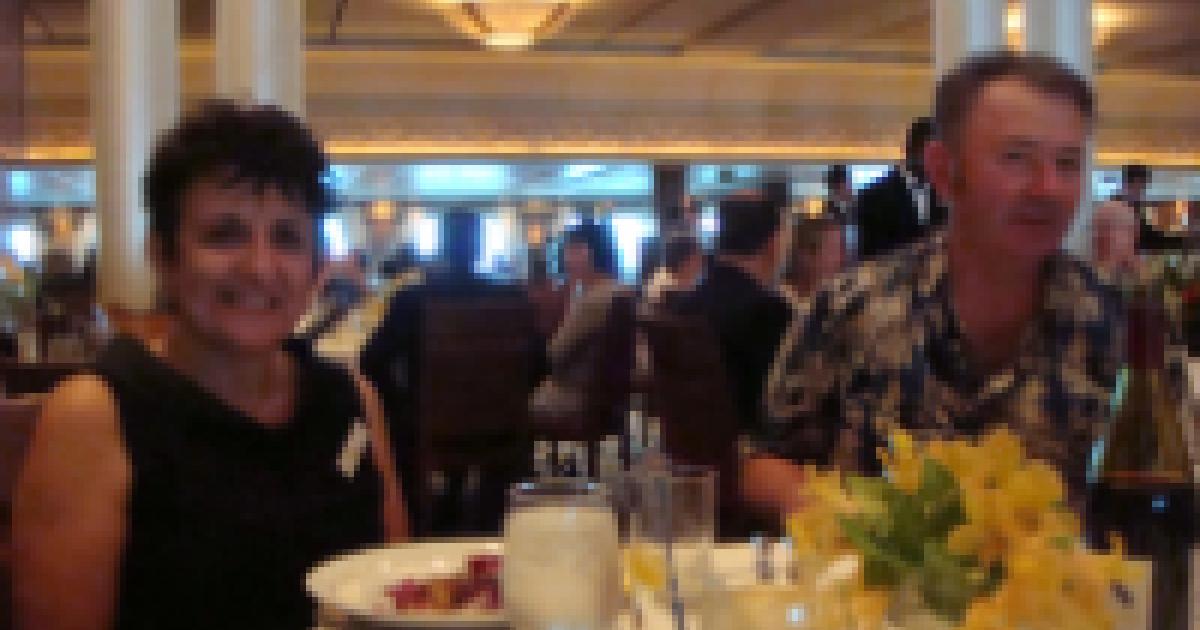 Labor Day Weekend Getaway Dance Cruise: New York to Saint John, New Brunswick and back
Thursday, October 8th, 2009
What better way is there for a newbie ballroom dance addict to spend the Labor Day Weekend than dancing the nights away in the largest ballroom afloat with Dancers at Sea? As the smiling faces in the picture taken on the Black and White Formal night photograph attest to, there were many great minds that thought alike on this question.
A mere three months ago the only idea I had of dancing on cruise ships was the little bit  I had read about dance hosts  that were hired on some of the transatlantic crossing  ocean liners. I imagined a few men in jackets or tuxedos being mobbed by hordes of women that wanted to dance with them. Certainly I had no idea that  there was an organization that organized groups of dancers to travel together, with professional teachers and hosts at a guaranteed ratio of 1 host for every 3 single guests.
Intrigued by the concept I ventured out for my first dance cruise - a 7 night  West Coast Ballroom Dancing Cruise from Los Angeles to Vancouver, my home town. I had such fun that when I heard about a four night cruise from New York to Saint John and back, I couldn't resist signing up. For starters it was an excuse to visit my son in New York  (New York, New York: Part I), get him to join me  on the cruise, and then spend time seeing some theatre before returning to Vancouver - (New York, New York, Part II and Part III.) 
 Before I decided to take the cruise I  did my homework, reading up on the ship from within the Cunard website.  The Cunard line call the Queen Mary 2, the "grandest liner ever built."  The ship can carry 2592 guests in "elegant accommodation". We booked a cabin with a small balcony. I thought that was pretty elegant since on my first cruise I only had a porthole.
Some other information from the Cunard site told me that in January 2004 the Queen Mary 2 took  her maiden voyage from Southamptom, England, to Fort Lauderdale, Florida. Her crew complement is listed as 1253, almost a 1:2 ratio of staff to guests. At  1132 feet in length the QM2 is only 117 feet shorter than the height of the Empire State Building. 
But what is most important to me are the dance floors. I found mention of the G32 disco- "contemporary music with a DJ and  live band,"  and then reading further, the  Queen's Ballroom is declared by Cunard to be the "largest ballroom ever to sail the seas."  And from the picture it certainly seemed that way.
The night before we were due to take the cruise I managed to get a ticket to see Burn The Floor. This incredibly energetic ballroom and Latin dance spectacular got me so fired up I could not wait to get on board and dance for hours each night.
On Friday, September 4th, 2009, we left  downtown Manhattan around 2 pm by cab to go to the cruise-ship terminal at Brooklyn. The boarding procedure went like clockwork. These people are obviously used to getting 2500 people off and another 2500 on to the ship within a few hours but it is actually still quite amazing when one thinks of the logistics involved.
In spite of a line-up it took us less than half an hour to get through the immigration and boarding procedures, and find our way to our cabin. The cabin was small and compact but well laid out and it was great to be able to go out onto the small balcony and let fresh air into the cabin.
We knew that our cases would take a while to reach us so we set off to explore the ship and our surroundings. We found the spa where both of us hoped to have at least one massage. We also checked out the Golden Lion Pub  where we were to meet for the 5:30 "get to know your fellow dancers."
After our walk around the Queen Mary 2 we returned to our cabin to collect life jackets for the mandatory emergency  drill which started at 4 pm. We arrived on deck 7 two floors up at the muster station and were directed to the section  for the Js were to gather. I checked the life jacket - a big J was stencilled on it, so I figured we were in the right place. I was fascinated by the way some people are totally unclear on the processs. In spite of the fact that the staff kept booming out of the public address system that we were not to put on the life jackets, people kept walking in with the things around their necks. Or else there was the frequent sound of velcro strips being separated, which told you that  people were just not listening to the instructions. Anyway we sat through the talks about the emergency signals and finally the life jacket drill and then we were dismissed   
It was time to change for the meet and greet cocktail party at 5:30 on Deck 2 in the Golden Lion Pub. Apart from meeting the other guests, this was the first opportunity to say hullo to the seven gentleman who were to be  the hosts and professionals for Dancers at Sea on this cruise. At first names and faces were a bit of a blur  and on such a short cruise there was not time to get to know everyone well. But with the nightly dinners and several hours of dance each night, I managed to get to know many of the hosts and guests  better over the four days of the cruise.
The only teacher/host  I knew prior to this trip was Brian, a delightful energetic professional who has recently opened his own dance studio, in New Jersey. I met  him on the Los Angeles to Vancouver cruise. Brian was scheduled to teach a cha-cha workshop on the second day that we would be at sea on the way back to New York.  There were two other teachers in the group, Greg and George. 
Greg is another excellent teacher  He teaches International, Standard, Rhythm and Swing and hasa  wealth of information on the history and evolution of dance.  He was scheduled to teach a rhumba workshop and a waltz workshop on the two days we were at sea. Geroge Maderski, master of the one-liner,  teaches in the New York area. George spent  many years performing on  cruise ships and has many  interesting tales to tell.
There were four other hosts, Bill, Dale, Sam and Vladimir.  Sam towers over everyone but despite his height he managed to make even a 5' 2" person like me feel quite comfortable dancing with him. Our Mr. Congeniality, he made sure we were all supplied with glasses of water when the waiters failed to fill the water dispensers. No one was going to pass out from dehydration while Sam was around. And best of all, one hot and steamy evening, Sam handed us all  bamboo fans, which were most effective cooling agents. I intend to make sure I bring mine on all future cruises.
Dale, friendly and lots of  fun, is an experienced host  and easy to follow regardless of the dance. 
Bill told me that this was his first time hosting for Dancers at Sea although he has danced for years and has hosted on other cruises and at dance studios in Palm Beach. A courtly gentleman, he was meticulous about making sure that he danced with each one of  the ladies in the group each night.
Last but not least, Vladimir, the flamboyant  Russion, poured tremendous energy into every dance sometiimes literally sweeping me off my feet.
Around 6 pm we went along to the Britannia dining room where we were scheduled for the first sitting. We had 4 tables reserved for our group.  Michael and I were joined by Carol, Sandi, Dale and Vladimir. 
I was curious to see how the Cunard cuisine compared with my previous cruise dining experience on the Sapphire Princess. This first meal certainly seemed promising.  The QM2 features recipes from the Canyon Ranch Spa as well as their regular cuisine.
I  started off with the grilled vegetables from the Canyon Ranch menu - onionsn red peppers -and then grilled Burgundy glazed sirloin with a Stilton and onion tart.
After dinner we went to the Queen's Lounge with its spacious rectangular dance floor where we danced to the big band sound of their orchestra. It was great to find out that as well as our hosts, Cunard also had  four of their own hosts there to dance with their guests and from time to time they also danced with some of  our group.  I met three of them - Bob was a genial gentleman from Virginia; an excellent dancer who clearly enjoyed every dance. Larry from Oklahoma was also fun to dance with. Tony was from England and his dancing was more along the lines of international style - I really enjoyed the chance to try out some different steps.
We danced until the orchestra packed up and then called it a night. Great start to the trip.
Saturday September 5th, 2009   All at Sea: En route to New Brunswick
 
We were warned that there was a time change from EST to Atlantic time so we lost an hour as the clocks were put forward. As well the time for the dance workshops had to be moved forward to 9 am from 10. With much grumbling about exhaustion a few folks chose to miss the first lesson but for me, always an early riser, it was just fine.
So I was up in the Queen's Lounge and raring to go by 9 am. For the first  hour Greg was working on Rhumba. He taught a small routine of about 6 that would be easy for the man to lead and the ladies to follow. Although Bob, one of the Cunard hosts, joined us for the workshop, we were still very short of men. So Greg set up an interesting rotation schedule. He made three lines of three pairs each while a few of us sat out the first rotation. Then the women in each line moved forrward, the solo women rotated into the back row,  and those from the front row sat out.  It worked fine.
Next George led a workshop on the foxtrot, where he focused on leading  and body positions. After the workshops Wendy read out who was assigned to either Brian, Greg or George for a free dance lesson, and we all made our arrangements with the instructors for times that suited them. My lesson was scheduled for 10 am on Sunday just before my massage at 1 pm.  Good planning - work those muscles and then get  them stretched out.
After a quiet and relaxed afternoon, it was time to get ready for the formal night dinner. The theme was  a Black and White Ball but not thinking ahead, I did not have a black or white dress with me so I wore red!  Wendy had asked us to assemble on time for the formal portrait (shown above)  before we went to the Captain's pre-dinner reception.
Everyone looked so elegant I could not resist turning photographer for the evening.  At the reception the Commodore introduced his other senior officers and everyone mingled, drank champagne or wine and ate canapes. We were told quite decisively that the Queen mary 2 is NOT a cruise ship! She is an ocean liner!
Then at 6 we left for the Britannia Restaurant for dinner. Since my dance cruise on the Sapphire Princess  in May this year, where they offered several delicious New Zealand Sauvignon Blanc wines, I have added that varietal to my top three wine varietal list - Riesling, Gewurtztraminer and New World style Sauvignon Blanc. 
At dinner we sat with George, Vladimir, Suzanne from New Mexico and Carrie, who is Wendy's colleague and a hostess for the cruise. I had met Carrie on the West Coast Ballroom Dance Cruise in May and we had some fun with her trying to get me to improve my arm movements - more expansive and graceful. Hmmm...
Dinner was delicious. I had a Gravlax appetiser, followed by duck breast -perfectly prepared, and a fruit dessert. Then we all went into the Queen's Lounge to dance the rest of the night away.
Sunday September 6th, 2009 Saint John, New Brunswick, Canada
We had been to New Brunswick before so both Michael and I opted to stay on board and relax. We both had scheduled massages for later in the morning.
I had a dance lesson with  Greg at 10 am. Unfortunately there was an activity scheduled in the ballroom so those of us who were having lessons had to use the adjacent disco, where the floor was smaller and not the great wooden floor of the Queen's Lounge. Still it worked out fine because I really need to work more on the social dance styles, the ones I don't get to do much back in Vancouver, and you don't need as much room for the hustle and west coast swing  as for dances like the waltz.
After a quick lunch I planned to head up for some time in the hot tub before my 1 pm appointment for what they called a "remedial massage."  Then i realized that the one thing I had forgotten to pack was a swimsuit.  Luckily for me in the Spa they had a rack of plain black one-piece swim suites and I found one that fitted fine for half the price they  usually charge at the swim suit shops in Vancouver.  So I went and soaked for a while in the large  hot tub - and felt like a million dollars.
I was pleasantly surprised by the massage. Normally I don't expect too  much from the massage services at resorts and on board ship but  Amanda was really good and found all the right tender muscle insertions. 
Hard as it is for me to relax these days, I settled down to read a novel in my Sony E-Book and had a pleasant afternoon, saving my energy for some more dancing that evening. I found I was not that hungry at dinner time so enjoyed two appetizers rather than a main entree, and felt light and ready to move.
After dinner it was dancing again in the Queen's Lounge ballroom.  By this third night on board I found that I was becoming more familiar with the various dance styles  and common patterns of each of the hosts and that makes the dancing even more enjoyable. So now I have added to my repertoire of 9 of the 10 international dances ( I can't really claim to know much paso doble though I have taken a couple of classes in it) another different repertoire. East and West Coast swing, Bolero,  Night club 2 step, hustle, salsa - though I don't for the life of me see why it is so popular - mambo, and merengue. Now I just have to learn to smooth them out - and I will be ready for anything.
Monday September 7th, 2009  Sailing back to New York - all day at sea
This day at sea was packed with dance.  We had dance workshops scheduled in the morning. Brian taught a cha cha routine  and then Greg taught waltz.  Again we were lucky that  Bob, one of the Cunard hosts, turned up. And that Michael  and Harry were there. It can get quite frustrating when there are all these eager women dancers and not enough men.
I still dont understand why more men don't take up the sport of dancing. it's a great way to meet women of all ages and dance abilities, and an even better way to stay fit without messing up your knees and hips like joggers seem to do.
And I am amazed at how dancing seems to keep one more youthful. I can't believe that some of the ladies I have met can dance as energetically  as they do even though they are in their late seventies or early eighties. It obviously is a great fitness tool.
At 2 pm Michael and I had a dance lesson with Greg in the disco. It was  lot of fun and we picked up a few good tips as well as some new moves.
Although Mike started ballroom dancing in New York about a year and a half ago, and I  have been dancing in Vancouver for about three years now, it was really the first opportunity for us to have a mom and son dance.  He already is fun to dance with - as I found out when I had to compete with several of the other ladies for a dance with him! But with more experience I think he is going to be a really excellent dancer - he has the same great sense of rhythm as his dad, who always was one of  the first to get onto the dance floor at party. In fact it was at a dance that I met  Bob and fell in love - at 15 - a long long time ago.
I managed to find some time to meet with Wendy to discuss the upcoming Southeast Asia Dance Cruise - and somehow spontaneously found myself agreeing to join Dancers at Sea on a South Pacific Ballroom Dance Cruise as well.
Dinner was as usual at 6 pm and then we assembled for more dancing in the Queen's Lounge. It really is a great dance floor and it was a great way to end the cruise.
Tuesday Sept 8th, 2009  Back in Brooklyn to take  in more of the  New York theatre and culinary scene
We elected to just walk off the ship so we were among one of the first off.  We got a cab with no difficulty and were back in Michael's apartment early with the whole day ahead of us. I had theatre tickets to book, restaurant reservation to make and a whole lot of writing to do while Mike had to get back to work.
The dance cruise was a great interlude and of course, the best part, apart from the dancing,  was meeting another great group of interesting people.
And ahead was another week in New York. You can follow the next week of my cultural and culinary experiences in New York in  New York, New York 2009 – Seven Days of Theatre, Food and Dance:  PART  II and  New York, New York Part III.  I managed to see some exellent theatre and dine in generally excellent restaurants.
And my fellow Labour Day Getaway Cruisers - please feel free to add your own perspectives and feedback on the cruise via the comment section below.