Review From The House
READ IT • SEE IT • TASTE IT • LIVE IT
South Pacific Dance Cruise 2009: Part II: Dancing at Sea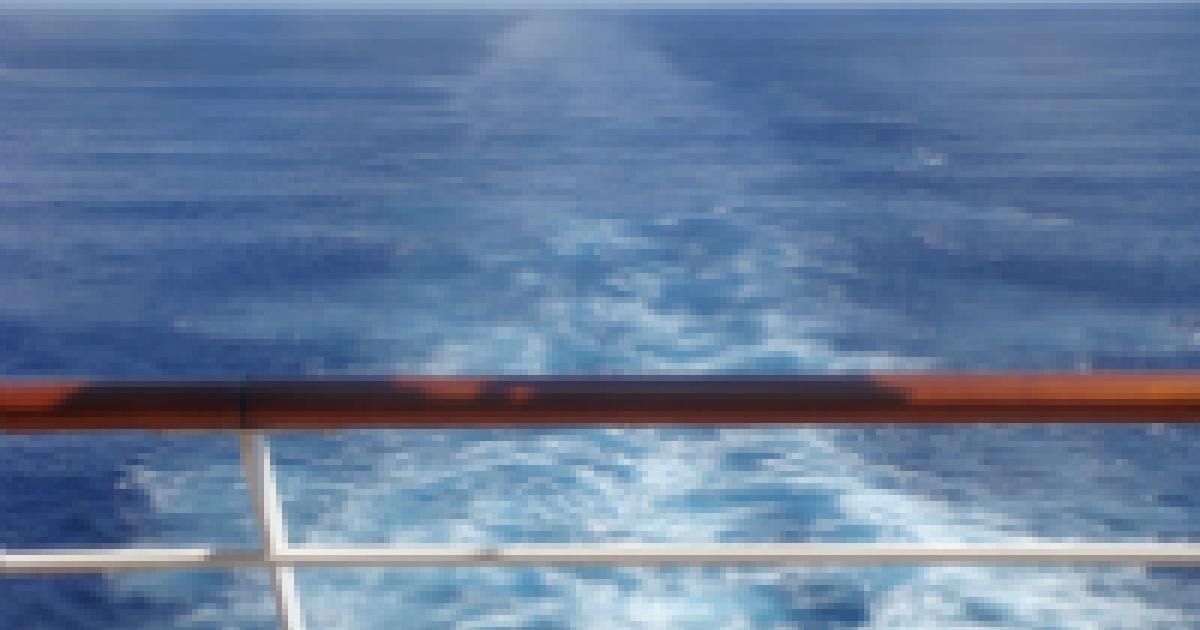 South Pacific Dance Cruise 2009: Part II: Dancing at Sea
Thursday, October 15th, 2009
Friday October 2 - the first of 5 days  at sea,  and the Formal Night dinner
 
We departed from Hilo shortly after 4:30 pm on Thursday afternoon  and set course in a southerly direction across the Pacific Ocean towards Christmas Island. The Pacific Ocean is the largest and deepest of all the oceans and covers two-thirds of the earth's surface. Compared to the distance between our various ports in Hawaii, an average of 100 nautical miles apart, the distance to Christmas Island from Hilo is 1088  nautical miles so it was no wonder that when we awoke early as usual and went up on deck, there was only the ocean to see all around us.
Wendy had scheduled 2 dance workshops each of the 5 days we were to be at sea. Originally planned for  9 am, the Cruise staff moved them earlier to 8:30 so that the next activities in the Pacific Lounge could start on time at 10:30.
 Since both Wendy and I are  early risers, we were up on deck having coffee and a light breakfast by 7 am.  It was quite lovely out on the aft deck behind the Pacific Buffet. Fresh air,  a V sign of bubbles trailing behind us and the vast Pacific Ocean all around.
The Pacific Ocean was named by Ferdinand Magellan, the 16th century Portuguese explorer whose fatal voyage (he was killed during fighting in the Philippines) nevertheless provided the proof that one could circumnavigate the globe  without sailing off the edge and that  therefore that the world was round and not a disc.
Pacifc means peaceful although that is difficult to believe when you are trying to do a Bolero and the ship rolls you down when you are supposed to go up!
When you think of the conditions under which Magellan sailed, and even as recently as when my great-grandparents immigrated by  ship to South Africa and Scotland, it is absolutely amazing  to think of what we take for granted these days.  Forgetting about air travel - which to my great grand-parents would have seemed as bizarre as a time-travel machine seems to us today, we can be out  "in the middle of nowhere" and yet  expect hot showers, clean laundry, gourmet food - and what to me is quite mind blowing - wireless internet access as good as at home - though at many times the price.
The fact that I can talk to my children on Skype from the middle of the Pacific Ocean, and it seems as if they are in the room next door - impressive - thanks to satellites, wireless routers,  and the exponential increases in processing and data storage capacity that have occurred over the past couple of decades
So when I caught myself grumbling that wireless internet access was costing me 40 cents a minutes, 35 c if I had been smart and bought 500 minutes up front instead of 250, I reminded myself instead to say a silent thank you to the thousands of scientists and engineers who made internet access from a ship  "in the middle of nowhere"  possible with minimal effort on my part. Anyway, on deck in a fresh breeze, I used up some of my precious internet time to check emails.What a great office.
By 8:30 we were up in the Pacific Ballroom, Wendy had her I-Pod connected to the sound system and we were ready to go. Of the two couples in our group, both women loved to dance and their partners were there because they loved their women! So the range of dance abilities went from rank beginner to quite experienced.  In order not to lose the beginners - and we all wanted to encourage Bob and Charlie to get as excited about dance as they claimed to be about golf! -the workshops were very basic. We essentially just did the box step in both the foxtrot and the rumba. I didn't mind though as it was additional exercise, although I thought a bit wistfully back to the West Coast Ballroom Dance Cruise rumba and chacha workshops where we learned some quite complex doublespin moves to practice on the dance floor.
I had a light lunch in the Pacific Buffet and at 3:45 I was up in the Spa area.  I had booked a deep tissue massage and I was hoping for a good one to get my leg muscles loosened up after 5 days of dancing but I was disappointed. It was certainly an adequate massage, the standard sort of treatment I had come to expect on a ship or at a resort spa but after the great massage on my last trip on the QM2, I hoped for better.
Anyway before the treatment I soaked for a while in the outdoor Jacuzzi on the Spa area. When the jets were on, the froth threatened to spill over the edge of the pool with the rocking of the ship so I did not keep it on too long. But it was very pleasant, looking out over the broad expanse of ocean,  no land in sight, and feeling the warm jet bubbling around me.
This first night of all-day at sea was the night of the first Formal dinner and Wendy had asked us to be in the Lobby on deck 4 at 5:15 for the group photograph .
It was a bit of a rush to shower and get off the aromatic massage oils before dressing for dinner but I made it with a few minutes to spare.
After the photograph we joined the line-up to be greeted by Captain Carlo and then ushered into the Cabaret Lounge for drinks and canapes at the Captain's Gala Cocktail Party. After the usual welcoming speeches, and introduction of the Senior Officers, it was time for dinner and we walked the length of the 5th deck to the Club Lounge Restaurant.
The dinner menu was filled with tempting dishes. I chose the crab meat quiche, smoked duck breast and then a sirloin medallion with almond croquettes. All beautifully prepared.
The Pete Nilson duo played as usual until 8 pm and then we had recorded music. The duo came back to play from 9:15 to 10 pm. Then many of our group went to the Comedy Show from 10:15. but  Ruby,  I and Jorge stayed in the Pacific Lounge on Deck 10 where the DJ was now playing disco music to an empty room. We each danced  with Jorge. I did an energetic  hustle that actually left me quite out of breath. But then he pointed out that he had to be teaching again by 8:30 so he went off to bed and Ruby and I chatted for a bit and then left for our respective cabins.
There was a notice outside my door in an envelope informing me that the Ultimate Ship Tour had been scheduled for 9 am tomorrow and I was to meet the group with a signed waiver form in the Cabaret Lounge, starboard side at 9 sharp. That meant I had to miss the dance workshops. Hmmm..
Saturday October 3 Day 2 at Sea and the Ultimate Ship's Tour.
As usual I woke up early , as always feeling quite refreshed. I had a light breakfast of fruit and yogurt on the outside deck in front of the Pacific Buffet.
Wendy had scheduled dance workshops in chacha and waltz from 8:30 to 10:30 but since I had booked for the Ultimate Ship Tour at 9 I had to miss them. Shortly before 9 I went up to the Cabaret Lounge. We met just in front of the production booth. We were greeted by a number of the senior ship's officers including Carlo, the Captain, the Cruise Director David and his assistant, Paul, and the pursers. We were told that this is an unusual opportunity as guests for us to see parts of the ship that are normally not accessible to passengers.  Apparently since 9/11, as in airplanes,  visits to the bridge and such areas which used to be allowed were now restricted for security reasons.
Our group was small; there were  only 7 of us. I recognised one of the couples that I had chatted to on the first evening of the cruise. She told me it was her 50th birthday. I also met another lady who told me  she was retired from  a career in IT with IBM. I told her that Bob had worked for IBM for many years both in South Africa and Canada before leaving to  co-found another technology company,  but in the usual type of exchange of "did you know so-and-so?" we did not find any overlapping acquaintances. Her husband is an architect so he was most interested in the structural aspects of the tour. The second couple mentioned that it was their 25th wedding anniversary this trip. The third  couple was an ex-navy man and his wife. I did not get to talk much to them.
To start the tour we were invited back into the booth, where Joe, the Production Manager,  programs and operates light and sound for the shows. Although the comment was made that the technical facilities were quite limited compared to those of the bigger ships, I found the set up quite impressive. There were lots of huge boards with blinking lights and buttons to push. I had commented earlier on my explorations of the ship that there was an impressive bank of lights on the ceiling in the Cabaret.  I discovered later how disconcerting it can be dancing with one of those lights shining on you.
After we had been shown the various controls and things in the booth we sat down in the front row seats  of the lounge and Joe ran the music and lighting for the first song of one of upcoming  shows. The song was  "Let me Entertain You".
The dance crew came in and sat down and David introduced them to us again. I think I have all the names straight now. He told us that most of them had been dancing since childhood.
Alex, the dance captain, started dance at 7 and studied at a performing Arts College in the UK. He joined this ship in April and their contracts run about 6 months, so they are nearly over. 
Apparently  after selection through the audition process, the team meets at a training facility in Sydney  where they spend 6 to 8 weeks learning the choreography and getting to wrok as an ensemble. Then they have 2 to 3 weeks on board to settle in, get costumes fitted and generally prepare before they have to perform. 
We went backstage to the dressing room where Alex  told us all about the backstage aspects of performing there, where they change, how they handle the rapid costume changes. 
Five of them share one of the dressing rooms: the three girls, Anna, Kayla and Melanie,  one of the male dancers,Troy,  and  the male vocalist, Andrew.   The female vocalist, Sophie,  has a small area to herself and Stuart and Alex change in the passageway. They have two dressers to help with the changes. it was interesting to hear how each of the dancers has their own individual ways of preparing the costumes for the changes. Some use a layering technique, some hang things in sequence.
They are also responsible for making sure that all of the  bits and pieces of the costumes are kept together after each show, and for the cleaning and care of their own costumes.
He told us that on a shorter cruise there will usually be the trappings for four shows with a fifth on hand in case it is needed, but for longer cruises, over 20 days, they have several additional shows on hand. That's a lot of stuff to stor and keep track of  in a limited space..
After our introduction to backstage, we trooped out onto the stage and had our picture taken with the dancers. 
Chris the photographer accompanied us throughout the tour. I realized that there would probably be several more pictures taken! Not good for someone who prefers to be dong the photography than in it but it's hard to decline without seeming silly.
Next on the agenda was a visit to the Food Service area;  then we would see  the Laundry, Environmental Services, the Print Shop, the Photography/Video area, the Engine Room, the Medical Bay  and the Bridge. Fascinating to see what lies behind the seemingly effortless way food appears, clean towels materialize in our bathrooms, the Princess Patter is produced each evening and so on.
The galleys are on two floors. We were taken  to the main galley on the lower floor. There Werner the First Purser  introduced  us to Thomas  Ulrich, the Executive Chef. 
As you would expect the galleys are huge and gleaming with stainless steel counters. We saw the stations where the various entrees were prepared. The daily menu was up on the wall with pictures showing exactly how each plate had to be set out.  One main course is prepared at each station.
The kitchens are staffed 24 hours a day, seven days a week . The shifts are 11 to 12 hours. The bakers start at midnight and work till 5:30 to prepare all the tasty breads, muffins and croissants that we find on the breakfast buffet tables.
We saw the cold pantry area where salads and cold dishes are prepared and we met Marcelino who does the amazing carvings out of melons, pumpkins, turnips as well as the ice carvings.
We were also introduced to Don, the Head Pastry Chef  from Strasbourg and  treated to champagne and some delightful nibbles.
We shown the huge walk-in fridges and freezers, the areas where dairy products, vegetables, fish and other products were stored.  There is a separate area where food is prepared for people with special dietary requirements, allergies,  those needing sugar -free foods.  Kosher food is also available. Every item has to be requisitioned. The logistics of all this are mind boggling.
Eighty tons of food are loaded on every turnaround.  They use historical figures to try to predict what the usage will be . To make sure they stay within budget the forecasts can't afford to be wrong. What a job!  I just think of my own small kitchen and how I try to make sure I don't have anything left that must be thrown out before I leave on a trip. Imagine multiplying that by estimating supplies for several thousand people. 
The next stop was the domain of  the Environmental Officer, Tore. This is where they take care of the mass of waste generated by all areas of the ship. They have two large incinerators. A shredder conveyor belt takes paper and cardboard to one incinerator. There is a glass compactor, an area for metal tins. And then in port the oily waste products have to be off-loaded at huge expense.
We took off along the main thoroughfare that the crew use to move around the ship - they call it M1 after the highway in Britain. Our next stop was the Engine Control Room.  I am not sure what I was expecting - pistons pumping up and down, oil and grease and wrenches everywhere or something like that - for sure not the immaculate room with  banks of computer screens and monitors that I saw. The control room is a sort of duplicate of the Bridge so they can switch control between the two areas.
The men got into a technical discussion about kilowatts of energy , and sprinklers and propellers. I kind of switched off till they started talking about the people needed to run a ship like this. Apart from the various engineers that keep the ship moving and operational, they have electronics technicians, mechanical technicians and television technicians to keep all the communications facilities running.
Next Terri the First Purser Administration took over the tour to show us the hotel aspects of the operations. She described the Crew Club that organizes entertainment and excursions for the crew members as we walked along to see the Laundry area.
They have washing machines that can hold 75 and 200 lbs of washing  - gulp. It was hot and steamy down there. It has to be quite exhausting to work in that area. They have an impressive machine that they use to press and fold the sheets. They feed it through these giant rollers and it comes out folded into a tidy little rectangle. I could do with one of those. I can never fold my sheets properly , specially those with the fitted corners.
Our next stop was the cramped quarters where the photographers develop their photos and where they produce the Cruise videos. Each print takes 7 minutes from start to finish so you can imagine the work to get the day's photos up on display in the gallery after each event.
Next we met Dominic the hotel storekeeper. He has  been 8 years at sea - 10 months on 2 months off and has vast experience with estimating the needs of the various departments. For example he requisitions 16,000 rolls of toilet paper every 10 days. Every item is obtained through requisition so that they can track and make sure they stay on budget.
Ferdie is the Chief Printer. He uses Pagemaker and Photoshop to produce the Princess Patter. After it is prepared it is edited and corrected, approved by the First Purser and then 600 copies are printed to be distributed each night. They also print 500 menus for dinner, 200 for lunch, 300 dessert menus, business cards, notepaper.  He has a scanner, a folding and cutting machine and prints on a Laserjet printer - not that much larger than the one I have at home.
Next stop was the Medical Bay where we met the ship's doctor, a South African, who graduated from medical school in Bloemfontein. They also have two nurses. They run 2 clinics each day and are on call 24 hours a day.
With my background as a Medical Laboratory Director I was interested in the laboratory facilities they have on board. They can  do a blood count, and as she put it,  tests of kidney, liver and lung function - guess they mean blood gas testing. They have an Intensive Treatment Unit and one ventilator on board. Well I cant say I would like to be the sole doctor in the middle of nowhere - very brave!
Our final stop was the Bridge.  I was impressed by how quiet and calm it was up there. Again banks of computer screens and monitors everywhere.
An interesting human touch was the lookout who stood  literally looking out over the water. I believe they said that a shift is four hours at a time. How anyone can keep concentration for that long I don't know. I would be asleep in minutes, even standing up. But at least he was not stationed in some crow's nest on the top a mast in rain and wind.
Although directions are determined electronically, the navigation is also checked manually and plotted on huge charts.
Our tour ended in the Lounge where we were served canapes and drinks . We were asked for our feedback about the best part of the tour. I actually found it all so interesting that I could not single out one area.
I was quite relaxed and enjoying myself when the Assistant Purser reminded me that  I was due to join Wendy in Sabatini's in about 1 minute.  Wendy as a Very Important Passenger,  was invited to the Captain's Table lunch for the most traveled Princess Guests and  she had generously invited me to join her. Caught up in the interesting tour, it had slipped my mind - but the Staff were on top of it.
I looked down at my shorts and running shoes, and said that I thought I should take an extra minute or two and change into something a bit more appropriate. The Cruise Director said that he was also going to dash off and get a jacket .
I ran down the 5 flights of steps to the cabin and  Wendy was waiting for me there.  I pulled  a dress over my head  and scrambled out of my shorts,  switched from runners to high heels and dragged a brush through my hair. So much for usually taking ages to dress! We arrived in Sabatinis breathless but only a couple of minutes late.
An officer was assigned to each of the tables. We sat with a very interesting man, the Electrical and Technical Officer, who was from Portugal. The other couple at our tables were from the US and  told us they travel for at least three months of the year.
By the time the elegant lunch was over I was feeling quite tired. When I got back to the cabin there as  a treasure trove of gifts from the Ultimate Tour, including a Princess Cruises Robe, thick and cozy, a chef's uniform - better brush up my cooking skills - a copy of the Princess Cruises Cookbook to help with that. There were also some printed pads of notepaper with my name, from the print shop, and some business cards.  Super gifts but my first thought was - "how am I going to fit this into my suitcase?"
Well I can worry about that in a few days but for now I piled up my pillows in the porthole nook of the cabin and read the latest Dan Brown novel in my E-Book reader.
The timing of the Nilson duo playing in the Pacific Lounge had not really worked well for us during this trip as after dinner, they played only until 8:15 before taking a long break so we did not get in much dancing to the band  after dinner.
I decided to go to  the Pacific Lounge at 5:30 as the duo  played first from 5:15 to 6:00, and their music is great for listening as well as dancing. I was a bit delayed by a lineup at the reception desk where I had to hand in a form, but when I got there at 5:35  the guys were sitting there by themselves. Well lucky me!.
None of the others in our group were there  so for 25 minutes I had a blast dancing alternately with Jorge and Richard to this great band. We even tried a few dances as a trio - we got one of the waiters to video but lacking clear instructions he only filmed a short  clip.
At dinner I sat with Margie, Jorge, Wendy,  Peggy and Charlie. I have not been feeling very hungry on this trip and have kept my eating moderate despite the good food.  -  but could not resist tasting the dessert coffee creme brulee with spun sugar topping. Yummy.
We made it up to Pacific Lounge in time for some more dancing to the Nilson duo - great rhythms. I was doing a bolero with Jorge - it's a beautiful dance, very graceful and flowing - at least I was trying to be more graceful and flowing.
I find the forward and back steps where you need to bend the standing leg and slide the extended leg forward or back, quite challenging. I am going to have to work harder at the squats and other leg exercises that Cale gets me to do despite my whining that my legs get enough working out.
The other dance that I am sort of getting better at is the syncopated hustle but I find that I have to keep counting to  myself not to lose the beat. Ruby pointed out that I was tending to bounce rather than swing so i mentally changed the "and-one, two, three" to "don't-bounce, two, three" and that helped. She suggested  I  keep looking straight at  my partner to keep the ine  more as a slot dance like the west-coast swing.  So I tried that and it definitely helped. But then later that evening  dancing  the hustle with Richard, he emphasized stepping firmly back to his side  - the sort of  "walk forward as if you mean it" idea that actually comes through in almost every dance in one form or another:  "Move from your core - move from your spine - commit - go for it.". I guess all are ways of  saying the same thing. Anyway I love the hustle - it's now one of my favorite social dances I really have to find out where to go in Vancouver for this sort of dancing. so I don't get out of practice..
For some reason the one dance that I really have a hang-up about is the tango - whether international, American social or the various forms of Argentine tango. I think during my lessons back in Vancouver I am going to have to spend much more time on just learning to follow and not anticipate the tango steps. Maybe that will help.
All too soon the Nilson dance music was over and the rest of the evening was taken up with disco and a salute to ABBA. The ship dancers came onto the dance floor in their crazy wigs and glittering costumes and managed to get a bunch of  folks out on the dance floor. That continued to just after 11 when the crise dancers disappeared. The floor and lounge cleared quite quickly after that.
Everyone else was tired and went off to bed. I was hungry and still full of energy.  I went down to the Pacific Buffet on the floor below looking for some fruit. There was nothing out but one of the stewards who was around fetched me a banana and orange. Richard and Jorge also were wandering around  looking for some food to replenish their energy stores. With only two hosts and 5, sometimes 7 eager women dancers, they had their work cut out for them. Actually they were quite amazing, dancing every dance, fast or slow, with incredible energy, not getting a chance to sit down. Mind you I could dance non-stop for a couple of hours but sadly there is no call for  almost-senior lady dance hosts. Too bad.
Anyway Richard, Jorge and I  had a nice chat while we ate our fruit  and then I made my way down to the cabin where I tiptoed around trying not to wake Wendy.
Actually our rooming together has worked out fine because both of us are sound sleepers and are not disturbed by the other person entering or leaving the cabin. I feel much better now about the thought of sharing a cabin on the upcoming Southeast Asia cruise.
Sunday October 4 sailing by Christmas Island, Kiribati
I slept quite soundly till about 6:30 and woke to find that Wendy had already left for the gym After a leisurely shower I got into my shorts and cool top and went up to the Pacific Buffet for breakfast. After a while I was joined by Carolyn, one of the people I met on the Ship Tour yesterday.  She is an Information Technology specialist and and I have been into computers since the days of 8" floppy discs so we had quite a bit to chat about.   
The sail past Christmas Island was really more of a non-event than anything else. Apparently on the previous trip that  Wendy led last year, from Tahiti back to Honolulu, they did stop at Christmas Island but this time it was just a sail by the western shores of Christmas Island. Not a lot to see - just a few scattered small land masses in the ocean. 
Still the side of the ship was crowded with people taking pictures of the island as we cruised past.  I took a couple but it did not really make for very interesting photography.
And then we were once again "in the middle of nowhere" with nothing but ocean to see all around.
It was really humid outside so I collected my lap top and returned to the aft deck off the Pacific Buffet  to catch up on the travelbloque.
At 11:30 went down to the Casino Lounge for the Cruise Director's trivia quiz on musical theatre. I was joined by Carolyn and her husband. We thought we would know quite a lot  but we were surprised by David's range of questions. We did not do too well!
We are sailing south and slightly east.  We have not yet crossed the equator and due to strong currents and winds, we will be crossing the equator closer to 7 pm than the scheduled 6 pm. 
The dance workshops this afternoon were scheduled for 2 and 3 pm  instead of in the morning.  We first did a bit of tango and then salsa. I think the difficulty I have been having with the speed of the salsa relates simply to the question of size of steps. If one keeps it very compact the music seems to almost slow down.
Then there is tango- oh the tango! I think I really have to spend a lot more time working on that. I still have not really figured out whether it is better for me to learn the various kinds of steps - which are slightly different in the International and American forms - even the way they count is different.- or just to get used to following whomever I am dancing with.  And as for Argentine tango - another different form or I should say forms since everyone does it a bit differently. So maybe again its a case of not thinking but just relinquishing mental comprehension and just letting the body follow. So hard!
At the tango workshop Jorge and Wendy went through some basic stuff, forward walks, promenade and cortes. Similarly in salsa they taught fifth position and cross body breaks - I am gradually learning the lingo - and the chase  - which is different to the chase in chacha that I learned. Everyone seemed to enjoy the lessons despite the the rolling floor.
Another compounding factor that is proably keeping other people from the dance floor is the fact that the seas have been quite choppy and the best dance floor is on deck 10 where the ship's motion is very evident. So you can be gracefully gliding or dipping and rising in a grapevine sequence, when you can be launched through the air or compressed into the floor. Quite a challenge. Interestingly though the best dances to do on a rolling floor seem to be those that require very quick leg movements - my theory is that you manage to be off the floor long enough to escape most of the rolls!
After the workshops I piled up my cushions in the window bay of the cabin and curled up for a bit to read my E-Book and watch the water pass by. The rocking of the ship made the sells seem bigger than they probably were. Or maybe it was the other way around. The swells caused the ship to rock more than it should from the size of the waves. Anyway, all too soon it was time for dinner.
After dinner we went to the Cabaret Lounge where the singers an dances were putting on a show called DANCE. I liked it though it was a far less energetic show than the first one they did. One of the scenes, purportedly a Viennese waltz, really wasn't but the girls looked quite stunning in flowing red dresses.
Dancing in the Pacific Lounge proved quite challenging but we still managed to get in a few dances till 10. We really have not had the usual 8 pm to midnight dancing but I am not sure with only the two hosts, if they could last that long anyway.
Monday October 5 Still at Sea  - Folks are getting stir-crazy - but not me!
I woke early as usual and lay in bed for a few minutes enjoying the movement of the ship as it rose and fell on the waves. It was like being n a very comfortable hammock. Thank heavens I have really  not felt  queasy although most of the others are walking around with acupressure compression wrist bands  or patches behind their earsI  AS a child I used to get terribly car sick and sea sick but - hey - I have obviously grown out of that. People have been grumbling about 5 days straight at sea but I feel I have ben so busy that it does not bother me at all.
It's a bit like people complaining about rain in Vancouver. Sure it rains quite a bit but I love it. The air is fresh and clean-smelling when I walk around downtown getting my chores done  and I get scads of stuff done at home as well. My motto is " make the best of things you can't do anything about" like rainy days and extended days at sea.
Anyway  I went up for breakfast early as usual and then decided to take my laptop into the beautiful library they have on the 10th deck to get some writing done before the workshop.
It is a very welcoming room.  They have  locked, glass fronted bookcases absolutely jammed full of a wide range of books, including a children's section.
The ceiling is very attractively decorated.
Our last dance workshops were on  West Coast swing, and originally Bolero, but with the ship movement, Wendy and Jorge wisely changed from Bolero to Merengue. I had fun in both the lessons . In WCS I am gradually training myself not to want to rock back as in jive, to think slot and smooth and relaxed. It's coming but I have to concentrate to be relaxed. Hmmm...
As for Merengue and that Cuban motion, my body just does not move that way. It is going to take hours in front of the mirror in my gym at home for me to even approximate that movement. And I have to remember to drag the second step!
For lunch in the Pacific Buffet I decided to try their pizzas. They make a two different kinds of thin crust pizzas each day and I have kind of avoided it but I decided to try pizza and salad for lunch and it pretty good as pizzas go.
The after dinner show  featured another performance by Philippa Healey - delightful personality and such a pure voice. I ended up buying her CD which has a nice mix of songs from opera to pop.  After the show we danced in the Pacific Lounge to a mix of the Nilson duo, and Wendy's I-pod dance music.
Tuesday October 6 Last full day at Sea before we reach Bora Bora
As has become my habit, I had  an early breakfast on the deck outside the Pacific Buffet and caught up with my writing - at least sort of caught up.
The last set of workshops were scheduled for the morning - Samba and Night club two step, which I had discovered was a similar rhythm as the bolero but  just faster and without the rise and fall, and the sliding foot position.  Hmmm...  Ok maybe its not like the bolero at all, - it's just the slooow, quick,quick!
 
 Anyway, while reading the Princess Patter earlier in the morning I noticed that there was a sign up for a talent show to be held the next day.  I thought of the expression I had been trying to adhere to in my drive to be more spontaneous and try new things!  "Do one thing that scares you every day."
So I suggested to Richard that we do a samba for the show.  We had a nice little routine going for the Samba, and besides I thought it was probably not fair to ask Jorge as he is a dance instructor - as it turned out, in the end, Jorge and Ruby decided to do a tango, so Dancers at Sea were well represented in the show - 2 of the 6 acts!
I was feeling quite sleepy after lunch and actually ended up having an afternoon nap. Most unusual for me - but it felt great , with the ship rocking on the waves. It is almost like being a baby again - very soothing.
After dinner, several folks went to see the show in the Cabaret Lounge but the rest of us went up to the Pacific Lounge to dance.
At 10 pm  the Cruise Director David had a second Music Trivia Quiz. This time fortified by Jorge and Ruby I thought for sure we would get a good score but alas no - we were nowhere near the highest scorers.
The Captain had announced that our arrival in Bora Bora would be quite delayed because of adverse currents that had slowed the ship's speed considerably. So they were going to hold the talent show around 10:30 am. I had arranged to meet Richard and Jorge in the Pacific Lounge in the morning to see if we could figure out a mini samba routine  which Jorge would help choreograph.
Anticipating our  arrival in Bora Bora and a long day ahead, I headed down to the cabin and was asleep before 11 pm.   So an early night for me!
Next day   -  French Polynesia.
Still to come:  South Pacific Dance Cruise 2009: Part III: French Polynesia.