Review From The House
READ IT • SEE IT • TASTE IT • LIVE IT
SHARE by Curtis Stone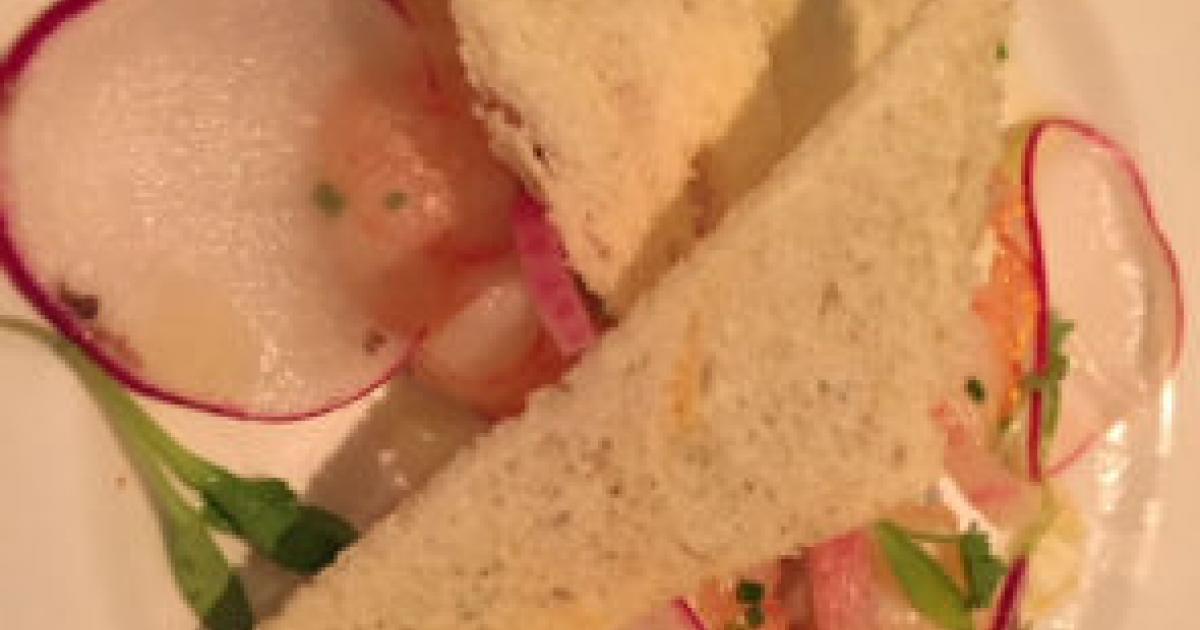 SHARE by Curtis Stone
Friday, December 15th, 2017
Excellent as the food is in the regular dining rooms on the Princess cruise ships, I like to enjoy at least one meal in the alternate dining venues. I was curious about the concept of shared dining as advertised in the SHARE restaurant on the Ruby Princess, but as it turned out the sharing bit seems to have gone by the wayside. The tables were separate and we were seated at a table for two. The alternate form of dining in this case is a 6 course menu created by Chef Curtis Stone  - with a choice of 2 or 3 dishes per course, one of which is a vegetarian option.
The first course choice was between a charcuterie plate or pantaleo cheese. My regular readers won't need to guess which I opted for. The charcuterie plate had 18-month aged San Daniele Prosciutto with pickled onions, and Castelvetrano olives (which I donated to my dining companion - I like a good olive oil, cant eat a whole olive). With the charcuterie plate one could choose between 3 additional meats - I picked the garlic dusted Hungarian salami.
Course two. The choice was one of three salads. I chose the Lemon Poached prawns paired with turnip cream, crispy brioche and finished with raw radishes. The prawns were poached to perfection.
Course three: This was a choice between two dishes of pasta made fresh daily. I picked the pork ravioli  - a green curry filling coated in lemongrass cream, topped with crunchy chicharrones.
The fourth course was from the SEA. I picked the butter poached lobster tail on roasted potatoes, with crispy pancetta and covered with a white onion soubise. Alternate choices were scallops or steelhead trout, and the vegetarian options was  asparagus and tarragon in a  white corn sauce.
Course five was from LAND. The lamb loin and the strip loin steak both sounded great but in the end I went with the duck confit. The vegetarian option was a mushroom ragu.
Finally dessert - another three tempting choices. Unlike the rest of the menu where we had identical choices, this time we opted for two different desserts. The dark chocolate hazelnut custard with burnt vanilla ice cream was one. The other was a toffee cheesecake with home made raisins and macerated grapes.
To accompany our dinner we enjoyed a Sauvignon Blanc from New Zealand.
I enjoyed every course and was particularly impressed by the perfect textures of the lobster and the prawns. It is so easy to cook seafood that second too long but these were just right.