Review From The House
READ IT • SEE IT • TASTE IT • LIVE IT
Waltzing in Vienna: Gastronomy - A Foodie's city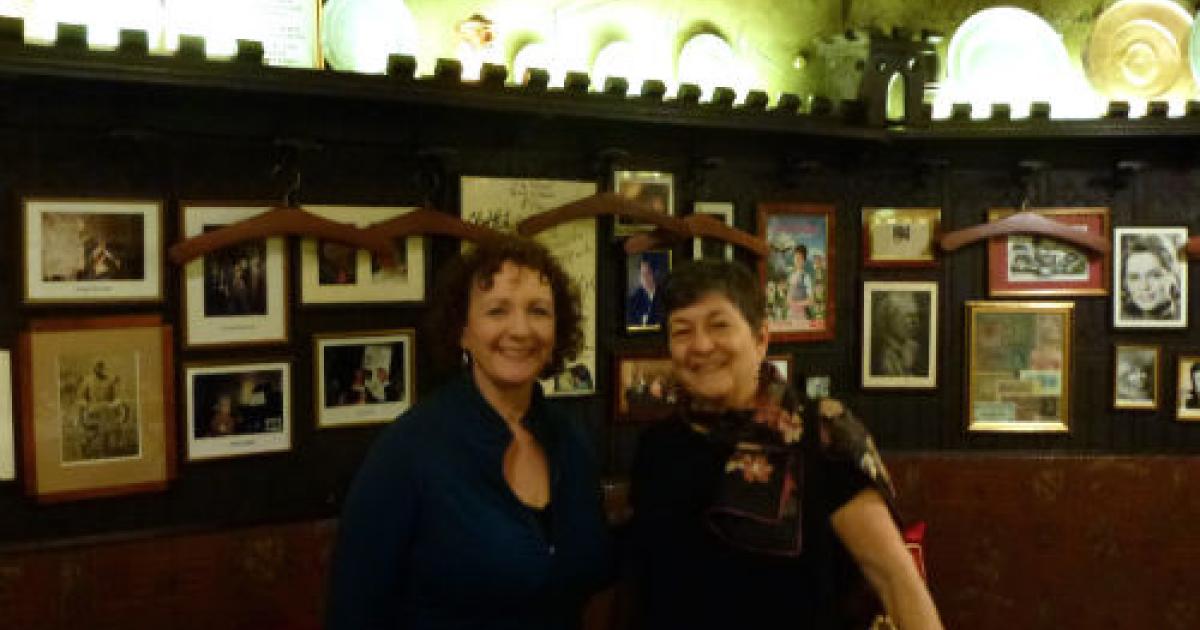 Waltzing in Vienna: Gastronomy - A Foodie's city
Sunday, March 30th, 2014
Vienna may be variously termed the City of Music, the City of Dreams or the City of Waltz, but it most definitely merits the title of City of Fabulous Food and coffees.  In a short visit one can only touch the surface of the restaurant, cafe and coffeehouse scene but I certainly got a taste, so to speak, of the overall food scene, and I did not have a single bad dining experience.
Basically my pre-trip word-association list for significant foods in Vienna consisted of Wiener Schnitzel, Sacher Torte, great coffees and pastries. Other Viennese traditional foods like Tafelspitz- boiled beef served in a broth, were not on my food radar. I have also  learned a number of different words for restaurant, cafe and inn, none of which I probably pronounce correctly - gaststätte, gasthof, gasthaus, wirtschaft,  speisegaststätte - and there does not seem to be a consistent spelling either on the business cards.
Where better than the eponymous city to do a "horizontal tasting" of Wiener Schnitzel? I had planned to try it in most of the restaurants where we would dine over the ten day stay in Vienna. Little did I know until my first Wiener Schnitzel dinner that a single portion of schnitzel as commonly served here would be enough to feed me for three meals. Wiener Schnitzel of course refers to breaded veal fried to a crispy golden brown. According to the website of the Plachutta restaurant, one of the places selected by our Waltz Week hosts for a group dinner, the schnitzel was first served in Northern Italy as a thicker veal cutlet, costoletta alla Milanese. And the legend goes that the famous Austrian Field Marshall Count Joseph Radestsky brought the recipe for schnitzel to Vienna in 1857.
My valiant attempt to do a horizontal Wiener Schnitzel tasting didn't last for the duration partly because each new serving tasted equally as good as the one before and partly because I wanted to try other dishes - tafelspitz, lamb and duck. On the other hand my smart, sweet-toothed co-diner decided to do a horizontal tasting of Viennese apfel strudel - and maintained a much more consistent tasting schedule than I did.
As to Tafelspitz, the Viennese tradition of boiled beef was made popular by Emperor Franz Joseph when he declared it his favorite meal. In its contemporary form, at least at Plachutta, there is a choice of many different cuts of beef, served in a broth with additional side dishes. I thought the dish sounded better in German - I'd rather order Tafelspitz than boiled beef which sounds like some old-style bad British cooking dish.  I did try it on two occasions but it's not my favorite dish from Vienna.
Here is a list of my weeklong gaststätte, gasthof, gasthaus, wirtschaft und speisegaststätte dining experiences with links to a brief review of the each if the establishments listed here.
S'parks Restaurant at the Vienna Hilton
We had dinner at S'parks Restaurant twice. It is the Vienna Hilton's restaurant where the breakfast buffet is offered, as well and lunch and dinner menus. This first meal at S'parks  was our first dinner in Vienna. As we were going to the Johann Strauss Ball that evening we decided on an early dinner in the hotel restaurant before getting ready for the Ball. That sounds a bit Cinderella-ish doesn't it? Getting ready for the ball.  Read about my "pumpkin coach" story – well actually my taxi and ticket story and the ball itself in the Strauss link above.
Although I tried not to eat twice in the same place so that I could experience as many restaurants as possible, the following Saturday we were going to the IAEA Ball at the Hofburg Palace. As we were staying at the Hilton, again it was most convenient to have an early dinner in the hotel restaurant and then get ready for the ball. Overall the food was good though I found the menu somewhat limited.
Purstner Gastatte. Riemergasse 10
After spending the day exploring the Inner City area I realized that there was a plethora of nearby restaurants to choose from for dinner each evening.  I sought advice from the hotel staff  for restaurants that would provide a traditional Viennese dining experience and got a list of names. For dinner on the Sunday evening before Waltz Week dance classes began, we strolled up Wollziele Strasse  to Riemergasse and had a very good dinner at the Purstner Gastatte.
The Plachutta Restaurants at Hietzing and Woolzeile
Plachutta Hietzing, Auhof Str. 1 (Group dinner)
On the first evening of the Waltz Week classes our Viennese host dance teachers arranged a group dinner at one of the Plachutta restaurants. The Plachutta restaurants are synonymous with boiled beef and this was my first opportunity to try boiled beef or Tafelspitz.
The group met at Plachutta Hietzing, near the Schönbrun Palace, the original Plachutta restaurant in Vienna. We sat at a long communal table and had a good time, getting to know others in our group.
Later in the week two of us  paid a second visit to a Plachutta restaurant – this time visiting the restaurant on Wollzeile, conveniently  just up the road from our hotel.
Plachutta Restaurant Wollzeile, Wollzeile 38
On Wednesday, the one rainy  evening during the Waltz Week, we found our way, with some difficulty, out to Celeste cellar club  on Hamburgerstrasse, where the Shuffle Café Swing and Balboa Dance was held. Axel and Sandra taught a class in Peabody. New to me, it seemed like a cross between a fast foxtrot and  a country-two step and was quite fun to try though I wouldn't put it top of my favorites dance list.
After dancing for a bit, we left the party which was in full swing (pun intended) and went for a late dinner at Plachutta on Wollzeile.
Gustl-Bauer Wirtshaus,  Am Hof Drahtgasse 2
In between group classes at the Tanzschule we had a break from lunch, and decided to wander around Stephansplatz and find a nearby restaurant for a quick lunch. We found a table at Gustl-Bauer Wirtshaus (Wirtshaus I now know stands for inn) and enjoyed a pleasant lunch. This was my only taste of gravlax on this trip.
Griechenbeisl, Fleischmarket 11
Four of us had decided to find some entertainment such as a cabaret or place for dancing after dinner but couldn't find  anything suitable so in the end decided to simply meet for dinner. This historical  restaurant in a 500 year old building was highly recommended. Many prominent artists, scholars and politicians met at this inn. 
After dinner we were taken to see one room of the restaurant, the Mark Twain zimmer, that features walls on which famous people have signed their names.  You can see the signatures if Mozart, Strauss, Beethoven, Wagner, Mark Twain, as well as more modern celebrities such as Johnny Cash.
Café Restaurant Diglas, Wollzeile 10
After an energetic morning of classes, we decided to lunch at Café Restaurant Diglas.  They had a luncheon special which the others chose but for some reason I was craving sausages - maybe too much Weiner Schnitzel tasting. Anyway I ordered something I would never ordinarily order in a restaurant and enjoyed it with gusto.
Julius Meinl Am Graben
On two of the group class days we had about an hour for lunch in between the morning and afternoon sessions, and some of us walked a block or two to the Julius Meinl delicatessen on The Graben for a quick lunch from their Meinl To Go takeout section. On both occasions I ended up ordering one of the baguette sandwiches which were excellent and very satisfying.
After eating at one of the stand-up tables in the deli area, my 3 co-lunchers took their sweet teeth on a hunt in the chocolate section of the shop. While they debated the merits of the different brands I just gawked at the extensive variety of chocolate bars on display.
I did not realize at the time that there is a gourmet restaurant  on one of the upper floors of this store or I would have planned a dinner there for one of our evenings.
Huth ristorante da moritz, 6 Schellinggasse
We had made a reservation for a very early dinner before before seeing the Wiener Staatsballet perform  Dornroschen (The Sleeping Beauty) at the WienStaats Opera House. I found it a bit confusing to get to the right Huth restaurant, as the address I was given, 6 Schellingasse was for their grill restaurant shown in the picture and the Italian restaurant where the concierge  had made a reservation was actually around the corner.
We enjoyed a  good dinner finishing with a chocolate dessert, and then a pleasant walk to the opera house to walk off the calories.
Street Vendors: By the time the ballet finished it was really late- and with dinner at 5 PM, we were peckish. I thought this was a great opportunity to taste  a grilled Kasekrainer - sausage infused with cheese at one of the late night snack wurstelstande or hot-dog stand
Sinohouse Restaurant, Himmelpfortgasse 27
While we were having dinner at Huth the previous evening I noticed a restaurant called Sinohouse.  As we had been discussing whether there were good ethnic restaurants in Vienna, we decided to try out Sinohouse for a good Asian meal before seeing Der Besuch der Alten Damen at the Ronacher Theatre nearby.
Nautilus Fisch Restaurant, Am Naschmarkt 673
After our final session at the Tanzschule we decided to accompany our instructors to the Naschmarkt where they were headed to do their grocery shopping. After cruising around the various stalls and picking up some supplies for a trip to Salzburg the following day, we joined Marta and Jim for lunch in one of the cafe/restaurants at the market.
The idea of seafood appealed so we picked Nautilus Fish Restaurant. There were smokers inside so we sat outside and they provided blankets for protection against the cold. The wind made it even colder. Jim and Robert hammed it up for the camera, but it really was quite chilly!
Restaurant Lindenkeller,  Rotenturmstrasse 12
Wandering around the neighbourhood of the hotel, we decided to try Lindenkeller.
This restaurant was one of my favorites among a plethora of excellent places. Our server was very gracious and went the extra mile and the food was very very good.
Restaurant Koenig von Ungarn, im Mozarthaus, Schulerstrasse 10
For dinner on our last night in Vienna we chose the Restaurant Koenig von Ungarn mainly because it was located nearby the Mozarthaus building. This was the building in which Mozart lived with his family while he wrote The Marriage of Figaro. The street backing onto the Mozarthaus hosts a boutique hotel with this restaurant.
Seated nearby were two women with  whom we got into a brief conversation after we realized they were from Canada. Turned out they were members of our Canadian Olympic team, on their way back to Canada. Interesting chat about how each got started in their sport.
Overall I enjoyed many excellent meals in Vienna. In general at the places we ate, the menus were very traditional. As to the schnitzel tasting, I found them to be uniformly good and really could not select a winner. For the strudel tasting,  my co-food tester found the pastry to be better in some cases, the filling in others. I guess you really have to line all the samples up and taste them all at once for a good comparison, just like a horizontal wine tasting.
I did not encounter any restaurant with the sort of light fusion cuisine that is common today in many of the restaurants I frequent at home. You can read those reviews to see what I mean on the Sipping and Supping - Supping in Vancouver food blog.