Review From The House
READ IT • SEE IT • TASTE IT • LIVE IT
Post - Cruise dancing in South Florida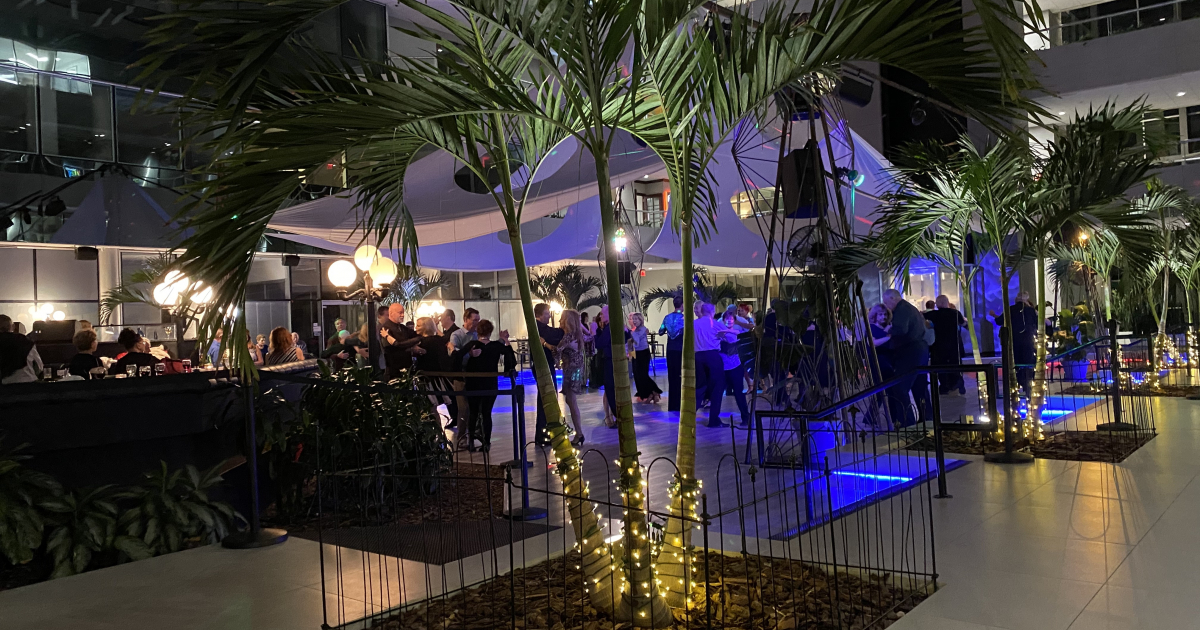 Post - Cruise dancing in South Florida
Friday, January 10th, 2020
Invigorated by 7 evenings of dance parties on the New Year Caribbean cruise, as we disembarked in Fort Lauderdale I was eagerly anticipating the South Florida dance experience that my friend had planned for the next week. Organizer-extraordinaire, she had us set for  dance classes or hosted dance parties every night. 
On Monday night we drove out to Deerfield for a Master Class with Vadim and guest teacher, Denise Lazlo. The lesson was on connections in the Rhythm dances. The first technique they demonstrated was an exercise to practice rib cage isolation. This was another way to work on the block isolation exercises that my own teacher added to the early morning stretch workout that I do daily to keep my muscles flexible and my joints working smoothly. After working on it for a while, my ribs ached, so  my stiff rib cage obviously needs loosening up. I'll take that exercise home to add to my practice regimen.
Tuesday night we drove to the Gold Coast Ballroom, about a 30 min drive from our home base. I had heard lots about it and was excited to see this space. Loved it. This was my first hosted experience.  Joseph was a high energy, fun person to dance with and when our session ended after two hours, I could have gone on and on. I'm really happy that I am in much better shape that I thought.
Wednesday night, we had a light dinner at Pavillion Grille and then joined Peggy's table where I met two more hosts, James and Ronald. Also got into the mixer for a waltz or foxtrot around the floor with whoever I matched up with at the front of the line. Another fun and energetic night. 
Thursday night we were at Delray Ballroom for another night of dancing. Love the space - there is lots of room to move. Our host was Randy - more great dancing and a lovely evening. By this time I was starting to recognize the many dance teachers and regular dance hosts and met several of the women that danced regularly. And surprised that despite so many nights of dancing, my muscles and joints felt great, no cramps or aches and pains, and  each night I slept like a baby 
Friday night we were back to Gold Coast Ballroom to meet Carol's teacher, Vadim. We actually got there in time to join in the group class - on west coast swing. Since it's a while since I danced Viennese waltz and quickstep on a k large, but crowded dance floor, I was happy to feel how much I have improved. I think the main reason I did not get as tired in these dances, was that I focused on a key word for each of the dances that my teacher, Dale, had drummed into me. So my head was saying either  "flat, flat, flat" or "sit, sit, sit" and so I did not have time to think about not making mistakes.
Because I was leaving Sunday morning for the long flight back to Vancouver (5 hour layover in Atlanta!) we did not have plans to dance on Saturday evening, but it turned out that Randy had an open spot as one of his regular partners was not available. So a bonus night. I'm joining Marilyn, who I had actually just met on the New Year cruise, for 2 hours of dancing back at Delray Ballroom.
An interesting observation with no explanation from anyone, is that none of the locations play Night Club 2 Step which is one of my favourite dances. Wonder why it has not caught on here. Anyone got an explanation?