Review From The House
READ IT • SEE IT • TASTE IT • LIVE IT
Mexico and Me: Days D-3 to D 1.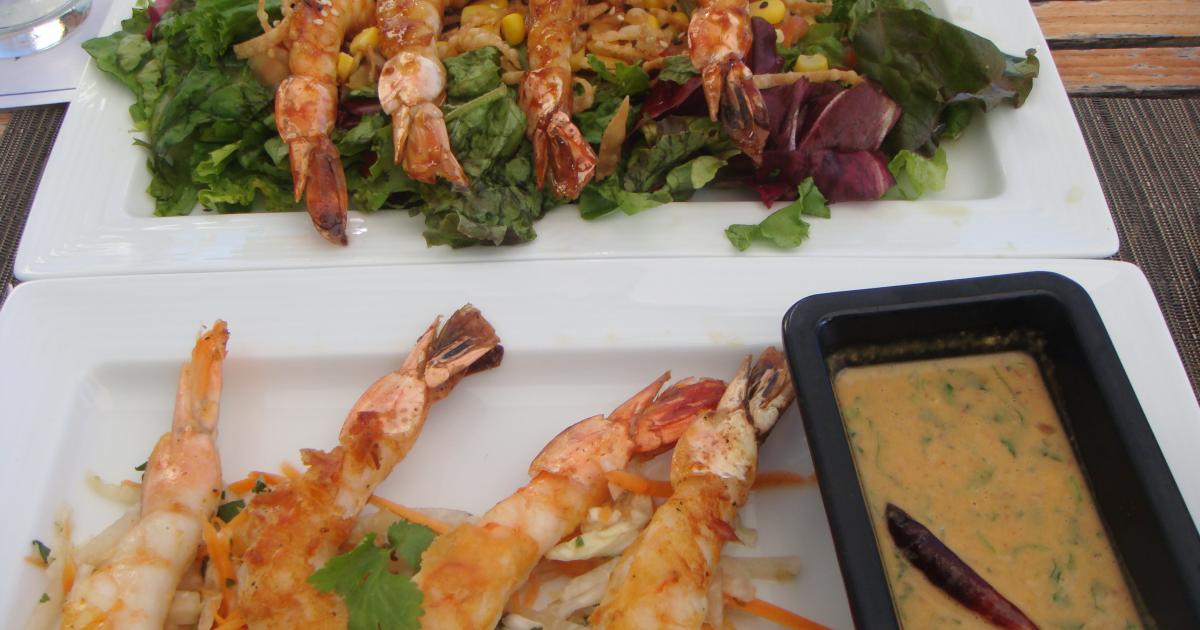 Mexico and Me: Days D-3 to D 1.
Thursday, December 25th, 2008
Mexico and Me: Day -3 (T): Let it snow, let it snow, let it snow
Dire warnings from Environment Canada greeted me when I woke up the morning before I was to catch a plane to Toronto and then later to Cancun. "Snowfall overnight, expect delays on your morning commute." Hmmmm, I thought. With an early morning flight I did not want to find me and my taxi in a ditch while my plane took off into the clouds. The scene adjacent shows my destination - you can see why I did not want to be delayed getting there!
So here was my chance to work on that spontaneity issue. You know - throw away the careful planning and attention to detail and occasionally do things on the spur of the moment. Such as get to YVR the night before and have a nice stress-free sleep at the airport hotel.
I decided to check out the Fairmont Hotel at the airport – an indulgence I could justify thanks to Environment Canada. After the initial gulp at seeing the on-line rate for the available rooms I decided not to book on line but instead called reservations at the hotel. I checked my various memberships with the very helpful person on the reservations line and found that one of my memberships would get me a considerably lower rate so I went ahead and booked for a late check-in. That gave me the rest of the day to get organized, pack and check in online for my flight.
By 8 pm I was in a cab heading down Granville Street, seeing minimal traffic, and by 8:30, comfortably ensconced in a very nice room, overlooking the gate areas - US or international. The room was surprisingly sound proof. I heard none of the sounds I would have expected from watching the activity outside the window. There was some residual snow on the ground from the previous days but no sign of snow falling. I wondered if I had been overcautious but then decided to settle down, enjoy the comfort and just consider this the first day of my holiday. Three days left till I would be enjoying the hot sunshine and cool waters of the Caribbean.    
Mexico and Me: Day -2(W): Bag tags – rush hour - and fusion sushi
I woke to a scene of snow coating the grounds of the airport. Instead of worrying about taxis and traffic, I enjoyed a leisurely breakfast, hot shower and easy checkout, and then made my way through the terminal to Canada Departures where I found a scene of utter chaos. The Air Canada lines to drop off bags seemed to be extending for miles on both sides of the terminal area. People were fussing around the kiosks trying to figure out how to self print baggage tags, and arguing about which line to go into. The woman immediately behind me in line was in a panic because her flight was supposed to board in 15 minutes and since the line was not moving, it looked as if we would be still standing on the same spot in 15 minutes. And then there was still security to go through and who knew how long those lines would be.
The representative from one of the other airlines was getting choked because the AC lineup was blocking their area. Then an AC rep came strolling through calling for people with flights departing in the next half hour to identify themselves. On her third swoop through the area, she called the time of my line neighbor's flight and off she went. Since being obsessive I had allowed lots of time I could watch the scene with a degree of detached bemusement. I really don't understand how it happens that there is always this air of chaos. I mean the airlines have this situation every single day – a whole lot of flights leaving at the same time – you would think that a few more people around to keep things flowing smoothly and a few more open check in registers would be a given. Still- the planes manage to take off with a full complement of passengers so they must be doing something right. Maybe it's just the passengers that panic unnecessarily.
I printed and attached my baggage tag, got through security with minimal fuss and settled down at the departure gate to wait. The snow was coming down lightly and I was really glad I had booked an early morning flight. It looked as if later flights might be impacted by the storm that was supposed to be dumping a heap of snow on Vancouver. Boarding time came and went with no word from the agents at the counter. About a half an hour after we were due to board we were informed that our plane that had come in from Sydney (Australia) was at another gate and had still to taxi around to this gate. By this time there were thick flakes coming down and I began to twitch internally. Yeah I know that other airports routinely deal with far more snow but this is Vancouver where even a light snowfall causes chaos on the streets, much to amusement of folks from almost everywhere else in Canada, except maybe Victoria! We finally boarded the plane, waited for the last cargo to be loaded, then went through the de-icing bay and finally, over an hour late, took off. The captain announced that with strong headwinds we would be into Toronto only about half an hour later than scheduled, and he was almost right.
My suitcase actually appeared on the carousel reasonably quickly (oh me of little faith!) and after a freezing cold wait in the taxi line up I was headed into Toronto with a thankfully rather taciturn driver who was not inclined to conversation as he concentrated on the rush hour traffic. By the time I got to the street outside my daughter's apartment building it was quite dark. There were dirty snow banks against the curb but no snow falling and it seemed a bit milder than I had expected. I paid the cabbie, added a good tip, slung my purse over my shoulder, hoisted my backpack onto my back and stepped gingerly over the snow bank onto the pavement. Amanda was at the gym but had left her key with the concierge so I let myself into her apartment and shed coat, heavy shoes and bags. Poured myself some water and settled onto her couch to start one of the novels from my E-Book reader.
Since there is no food service on the planes any more, and I don't usually bother with the packaged stuff I was feeling the need for some food. When Amanda returned from the gym, we decided to try the new Omi restaurant; a place we had really liked on my last visit to Toronto, but that had closed in its old location some time ago. It was a good half hour walk and though that would have been fine if it was not so cold, so we decided to either take a street car or cab across to Carleton street.
The new location of Omi restaurant was brighter and better laid out that the old place. We hoped that the quality of the food would be as great and we were not disappointed
(see Supping Away: Toronto - Omi Restaurant)
. We ordered the omakase menu and enjoyed almost every bite. Satisfied and ready for sleep we took a cab back to the apartment and settled in. I have long adopted the tactic of adjusting my watch and my head to whatever the new time zone is that I am in, so although it would have been around 8 pm in Vancouver, it was now 11 pm for me and I was ready to read a bit more and fall asleep quickly – it worked.
Mexico and Me: Day -1: Fun - fitness –Food – and then disaster strikes
The only things we had planned for the day in Toronto were to take a 10 am class at the Yoga Sanctuary where Amanda goes, and then to work out at her gym in the afternoon. We had a reservation for dinner that evening at Canoe, located on the 54th floor of the TD Building. Since I would not be in Toronto to celebrate her upcoming birthday this was intended as a combined birthday and reunion dinner.
The Yoga Sanctuary is literally around the corner from Amanda's apartment. I have taken a couple of classes but do not do yoga regularly. As a result of years of sitting in front of a computer, not stretching after working out and muscles which I swear are made of some non-stretch material rather than normal contractile fibres, I am about as flexible as a steel rod. Adrienne, the instructor was delightfully reassuring and the class was not crowded so I felt quite comfortable about participating in the parts I could handle and not overdoing things that were more challenging. Amanda's friend, Josh (who played Rudy in Meta.for Theatre's 2007 production of Bent) was also taking the class and was just in front of me so I kept my eyes on him and tried to follow the movements correctly. He, like Amanda is also a lot more flexible than I am so I did not have much success following either of them. I wish I could figure out how to fit yoga into my already over busy daily schedule – it's probably exactly what I should be doing for back and posture. But I would have to figure out how to stretch time as well as muscles.
We put together a light lunch out of the food left in Amanda's fridge and spent a couple of hours sorting out arrangements before we left for the gym. The gym where Amanda is a member is a short walk away. She is really in a great location. However since the short cut involved walking three blocks through alleys, and dirty slushy snow covered the ground, it was not as convenient as it normally is in nice weather. I got a guest pass and was able to work out while she was doing weight training. The placed is very well equipped and we were there at a relatively quiet time, which was nice. They had a room which is used for classes – it was empty so I put on my MP3 player and earphones and got more of a great workout dancing to my cha cha cha, samba and jive music.
That evening we had reservations for Canoe Restaurant (see
Supping Away: Toronto - Canoe Restaurant
).
Although I had brought a "little black dress" so I wouldn't look as if I was just heading off to a beach in Mexico, I did not have any dressy boots so we decided to take a cab to the restaurant. I stomped through the snow in my comfy Merrills, and changed into smarter shoes in the lobby. A fast elevator whipped us up to the 54
th
floor of the TD building where we were welcomed and immediately taken to our table with a nice view of the city. Josh's partner and Amanda's friend, Paul, is a chef at Canoe, although he was not working that night. To our unexpected pleasure, as we were looking over the menu, we were each poured a complementary glass of Prossecco - thanks to Paul. Our evening lived up to our expectation and all too soon we were in a cab heading back to Amanda's apartment to pack.
The flight out was scheduled for 7:15 and the airport is a long way from down town Toronto. We planned to get organized and catch some sleep before getting up to catch a very early ride to the airport. I began to reorganize the stuff for my suitcase and back pack, and that's when the moment of disaster struck. I could not find my wallet anywhere. The last time I opened it was to pay the taxi from the airport on arrival at Amanda's place. I thought I had put it back in my purse but increasingly frantic searches through purse, back pack, suitcase, and then the entire apartment were fruitless. No wallet. I had not needed it all day, paying for dinner with a credit card that I kept is a separate small billfold so this was the first time I realized it was missing. Eleven pm on a Thursday night – with a 7:15 flight out of the country the next morning.
Panic! What did I have in there besides Canadian cash? One credit card, but a bunch of ID. On me I had a receipt from the taxi company so I had the name and phone number of the cab company but not the number of the cab. We phoned the company – told them the problem, the approximate time of the trip, and left them a return number. They did not sound particularly hopeful or helpful but said they would enquire and get back to us. Next I phoned the bank with whom I had the credit card. They were very helpful, patched me through to the fraud prevention section where Steve, with an easy calming manner, walked me through the things I should take care of.
By this time it was after midnight. I was alternating between feeling an absolute idiot and wondering if I was losing my mind. I mean if you are going to lose your wallet for the first time ever in your whole entire life, why not do it during the day on Monday when you are at home and have the whole week to phone banks, credit companies, renew licences etc? instead of heading into the weekend and just as you are heading off to Mexico where its going to cost a fortune in phone calls to deal with this? I was too wired to sleep so Amanda tried to catch a couple of hours while I lay down on the couch trying to remember the sequence of events in the cab.  
Mexico and Me: Day 1(F): Beating the blizzard- Savouring the Sun
We had booked a town car for 4:15 am and our driver was there a couple of minutes before. We checked with the dispatcher of the other cab company. Nothing had turned up. The roads were reasonably clear although a blizzard was forecast for the Toronto area that morning. They did not have the self print baggage labels –I guess it has not been set up for the international flights yet so we checked out bags and made our way to the gate. I was hoping to get some sleep on the plane so I did not buy coffee but we picked up bagels and cream cheese from the Tim Hortons kiosk. It felt like cardboard. I have never really been a bagel fan but that was about all they had other than doughnuts and that sort of stuff.
The boarding was a repeat of the Vancouver experience. Delayed – and we sat and watched the black sky turn grey and heavy with snow. Snow began to fall quite heavily around the time we were boarding and we hoped we would get away ahead of the blizzard. Parts of the 4 hour flight wer very turbulent and the young boy in the window seat of my row was clearly getting very uncomfortable. Fortunately his very pleasant father was sitting in the center seat because just as we were touching down in Cancun, out came the barf bag. I distracted myself from barfing in sympathy by musing on the fact that I used to suffer from motion sickness in cars but somehow am never badly affected on planes or at sea. I remember a very wild (seawise) cruise in the Caribbean when three-quarters of the passengers were confined to their cabins in sea sick misery, and I, strangely unaffected, had the decks and lounges almost to myself.
Anyway we landed in Cancun and got through immigration fairly quickly. All the phrases I had memorized in my Spanish course were wasted as the immigration officer waved us through without the chance to even try a word or two. At the baggage carousel all was chaos. Two international flights had just arrived and the two lines to get through the customs were miles long and not moving – sound familiar? I estimate it took close to an hour to get up to the moment of truth – when you push the button and the light turns green or red! Green, hooray! And Amanda and I were out in the concourse, feeling the warmth in the air, and looking for the transport man holding up a sign for the Mayan Palace. The next delay was waiting for the other guests who were also taking the shuttle- another half an hour! I guess they were near the back of the customs line up.
Anyway by the time the shuttle discharged its load of weary passengers at the lobby of the Grand Mayan, it was after check in time for the resort. We were duly labeled with gold arm bands indicating Grand Mayan and made our way to our suite. Our suitcases were dropped off shortly after and unpacked quickly so that we could change from our jeans into shorts and go on a walk about. Although Amanda, Michael and their friends were here last year, it was five years since I had been to this resort on the Riviera Maya. I noticed huge changes.
The Brio Spa where the gym was located was moved closer to the beach and expanded. There is a separate room with bikes for spinning, another with 9 treadmills, and more cycles, ellipticals and cross trainers in the area adjacent to the weight room. A separate room where yoga and pilates classes take place, ha s mats, exercise balls. Interestingly, although there is an obvious sign right at the door that says in English and Spanish - "No shoes in the room" – it is amazing how many people ignore it or just don't think it applies to them. So then the floor gets covered in sand particles – not great to stretch on.
.
Unfortunately one major lack is availability of internet in the rooms. They do have wireless connection here but only in their Cyber Café and it is 7 dollars an hour. No wireless in rooms. This is going to make it a bit harder to keep up with the travelblogue. I willhave to write offline and post in larger blocks.
Anyway we were quite tired after the trauma and minimal sleep of the night before so we had dinner in the suite and got to bed shortly after 10 pm