Review From The House
READ IT • SEE IT • TASTE IT • LIVE IT
Supping Away: Toronto. Canoe Restaurant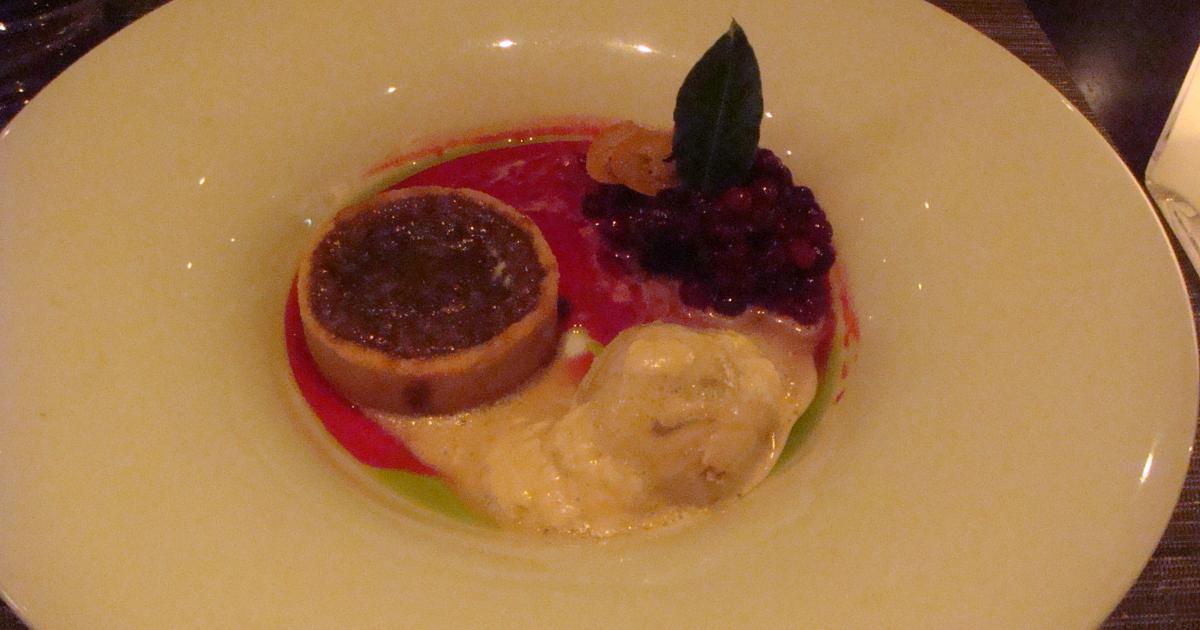 Supping Away: Toronto. Canoe Restaurant
Thursday, December 25th, 2008
Canoe Restaurant and Bar
66 Wellington Street W,
Toronto, ON
Ph: 416-364-0054 or Reserve Online
The restaurant has a spectacular location, high above the city with a great view. We were seated at a comfortable sized table. I took the banquette seat looking outwards. My companion faced into the restaurant where she could watch the tables rapidly filling up. They have a large open kitchen area where one can observe the action. Doug, our server, was knowledgeable and attentive without being intrusive. He had worked in Vancouver and we shared perspectives on the incredibly abundant restaurant scene in the city.
Shortly after we were seated, we were presented with a glass each of Nino Franco Primo Franco Prosecco di Valdobbiadene Brut from Veneto, Italy on behalf of Amanda's friend, Paul, who works as a pastry chef at the restaurant. We followed this up with a glass of 2006 Cave Spring Oliver & Bonacini "Canoe" Riesling from the Niagara Region.  I puzzled over the name till Doug brought me a card listing Canoe and the four other restaurants in the Oliver and Bonacini group.
We were served an amuse bouche of parsnip and white chocolate veloute with a sliver of foie gras and a drop of herb infused oil. It was very tasty and I was delighted that it was served in a spoon so I could actually lick up every last drop of flavour without seeming uncouth.  The basket of two irresistible types of bread came with a black-eyed pea and caramelized onion spread which I found a little bland.
For starters we chose the Canoe plate and the Foie Gras and agreed to swap tasting portions. The usual components of the Canoe Plate are a Foie Gras terrine, a deliciously piquant and crunchy salmon tartare, and chilled lobster on soba noodles. To this is added a Chef's addition which varies from day to day. This time it was an oyster wrapped in a slice of beef carpaccio with crème fraiche. The pan seared Foie Gras came served with a chicken liver French toast and was topped with a quail egg sunny side up. Tart chokeberries cut the richness of the foie gras.
Although we decided not to do the Canoe Tasting Menu, the main courses caught our attention and we decided on the caribou and sablefish entrees. The
Yukon
caribou hind cooked medium rare was just perfect. It was served with a pork tortiere and celery root with SOMA chocolate-coated walnuts. The BC Sablefish was broiled to perfection and also served with a touch of foie gras and a mustard dressing.
We agreed to share a dessert and after some negotiation settled on a Fireweed Honey Butter Tart topped with Mill Street Porter foam and served with walnut ice cream and lingonberry sauce. The sweet richness of the pastry and butter tart was set off deliciously by the lingonberry sauce. Altogether very satisfying. We rode the elevator down from the 54th floor to the lobby where I changed back into my heavy walking shoes before venturing out onto the snow encrusted pavement.