Review From The House
READ IT • SEE IT • TASTE IT • LIVE IT
Vancouver Theatre: Romeo and Juliet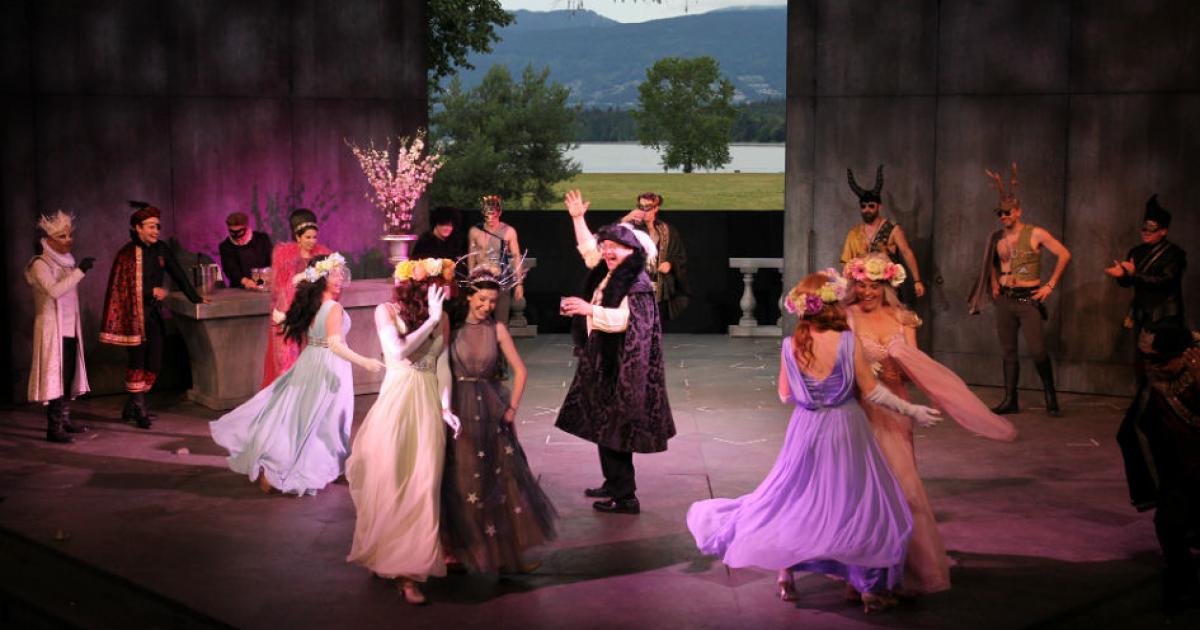 Vancouver Theatre: Romeo and Juliet
Sunday, June 19th, 2016
Romeo and Juliet by William Shakespeare
Directed by Kim Collier
Bard on the Beach Shakespeare Festival
BMO Mainstage at Vanier Park
June 3 to Sept 23, 2016
Vancouver, BC:  Shakespear's tragic tale of young love doomed by outside forces they are powerless to control, is a timeless drama beloved of diverse audiences around the world. The Vancouver rain was pounding on the big tent in Vanier Park as we listened to Artistic Director Christopher Gaze tell us that this pair of star-crossed lovers, Romeo and Juliet, will soon take their lives. An interesting choice to have Gaze start the play proper seamlessly from his welcoming statements, and joined for the last lines of the Chorus by the complete ensemble.  As Juliet and Romeo, Hailey Gillis and Andrew Chown, both newcomers to Bard on the Beach, took comand of their roles with a breathy vigor.
The chilly grey weather in no way dampened the liveliness and illumination of the action on the stage. The visual and aural aspects of the show were outstanding. Pam Johnson's huge concrete walls glided from position to position either setting up impassible obstacles or letting chinks in the armour allow swift passage through to other spaces.  Gerald King's lightening helped give the romantic scenes their heart.  Brian Linds' sound design was an exquisite anachronistic mix, but the love theme that often reprised for Juliet lingered just outside my memory as a piece of music with which I was familiar.  Nancy Bryant's rich tones costumed the characters into factions and set up a contemporary feel with Renaissance influence.
In an all around solid cast there were two performances that stood out: Jennifer Lines in her role as Juliet's Nurse was mercurial in her turns from gentle fun to serious tragedy, often from one line to the next. While feisty, she helped ground the character of Juliet. This Nurse was very different from the traditional interpretation of the Nurse, who is often portrayed as much slower of mind and lower of class.
For similar reasons, Andrew McNee as Mercutio was mesmerizing. His use of Shakespeare's language and ideas was exuberant, from fornicating with the floor to bidding Romeo a romantic feminine adieu over the orchard wall. Mercutio's death was so filled with both pathos and hilarity that with his last broken utterance plaguing both the houses of Capulet and Montague, I found myself crying over his death and wishing he'd get up and entertain us further.
Scott Bellis as the quick thinking and ultimately devastated Friar Laurence, Ben Elliott as the rational but playful Benvolio, and Dawn Petten as the icy and possibly abused Lady Capulet were also excellent in their roles.
Kim Collier is a Vancouver gem and one of the best directors in Canada. Her productions always make me think. She has a knack for bringing something new, especially to shows that I've seen multiple times. Yet this Romeo and Juliet, like many of Collier's shows, left me more intellectually engaged and visually impressed than emotionally touched.