Review From The House
READ IT • SEE IT • TASTE IT • LIVE IT
Vancouver Theatre: Blue Stockings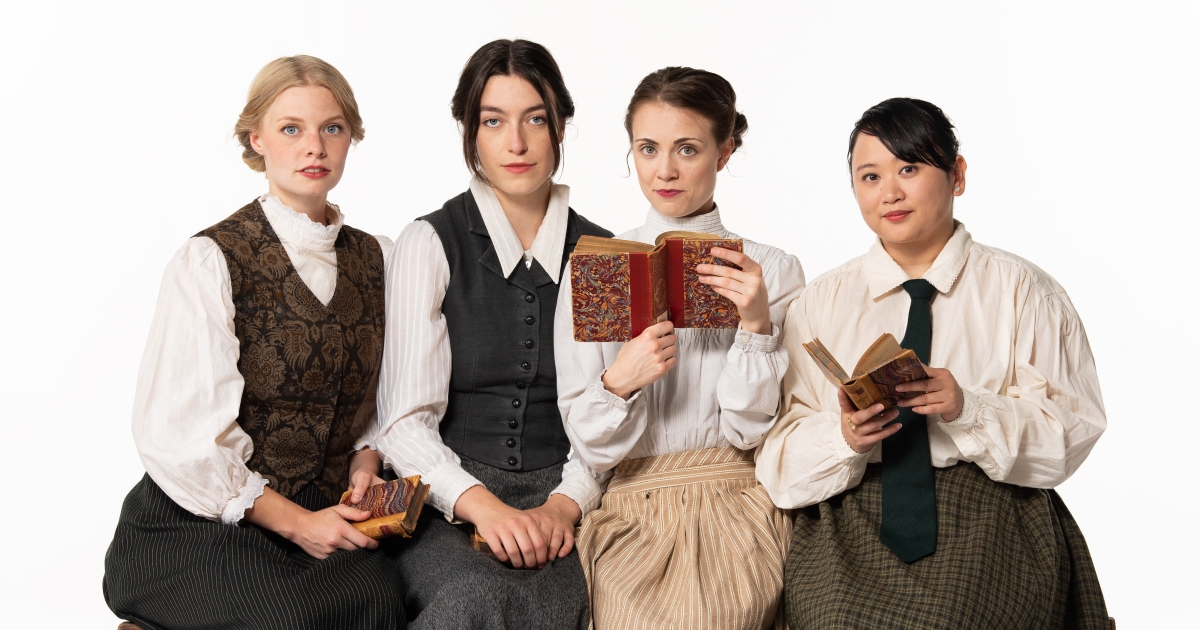 Vancouver Theatre: Blue Stockings
Monday, October 10th, 2022
Blue Stockings 
by Jessica Swale 
Directed by Jamie King 
Studio 58 at Langara College presentation 
Performance Works, Granville Island  
October 6–16, 2022  
Vancouver, BC: On the day I entered medical school, one of a small group of women in our class, it never for a minute occurred to me that if we women completed the 6 year program, we would not be awarded the MBChB degree, along with our male colleagues. I took it as a given, just as I took for granted my right to vote. Girton College, the first women's College in Cambridge was established in 1869. Yet it was 80 years later, and a mere 15 years before my enrolment at med school, that Cambridge University actually awarded the first degrees to women. I soberly reflected that while my university did not discriminate against would-be women doctors, government policies prevented black students from entering the Faculty of Medicine until 1986.  
Blue Stockings is set at Girton College in 1896, where four talented women undergraduates more than hold their own academically against their male counterparts. The Head of the college, Mrs Welsh (Sarah Conway), is pushing for Girton to be able to confer degrees on the students, against a political back drop of the suffragette movement, and a biased psychiatric world view of women, as incapable and unworthy of anything more than being "barefoot and in the kitchen." 
Based on the premise of the play, I was eagerly anticipating a provocative and emotional afternoon. But things got off to a rocky start with a far too long pre-show scene of loud, raucous male students, getting themselves dressed and ready.  In fairness, things picked up in the second act, and there were moments throughout the play when I felt the range of powerful emotions this script was intended to evoke.  The opening misogynistic rant from Dr. Maudsley (Damion LeClair) declaring that women's biology made them unfit for education was in a way reflected back in the behaviour of the men, particularly the viciousness and vitriolic attack by Lloyd (Adam Weaver). Other moments were the careless, class-based betrayal of Tess (Zoe Autumn) by the smooth talking Ralph (Rhys Davies), contrasting with the steadfast willingness of Will (Kevin Nguyen) to wait for friendship to become love. And the infuriating fate of the brilliant Maeve (Kahlila Ball) sent back to care for her siblings, by Mrs. Welsh, who believed that smart women are worthy of getting degrees but if they are working class, family needs trump their academic aspirations.  
Overall, despite the clunky script, I think that there were many thought-provoking issues brought out, especially at a time in our society when free speech and civilized debate is under attack, as are many hard-won women's rights.  I'd love to hear your thoughts.
There are still 6 shows left. For tickets click here