Review From The House
READ IT • SEE IT • TASTE IT • LIVE IT
Vancouver Theatre: Othello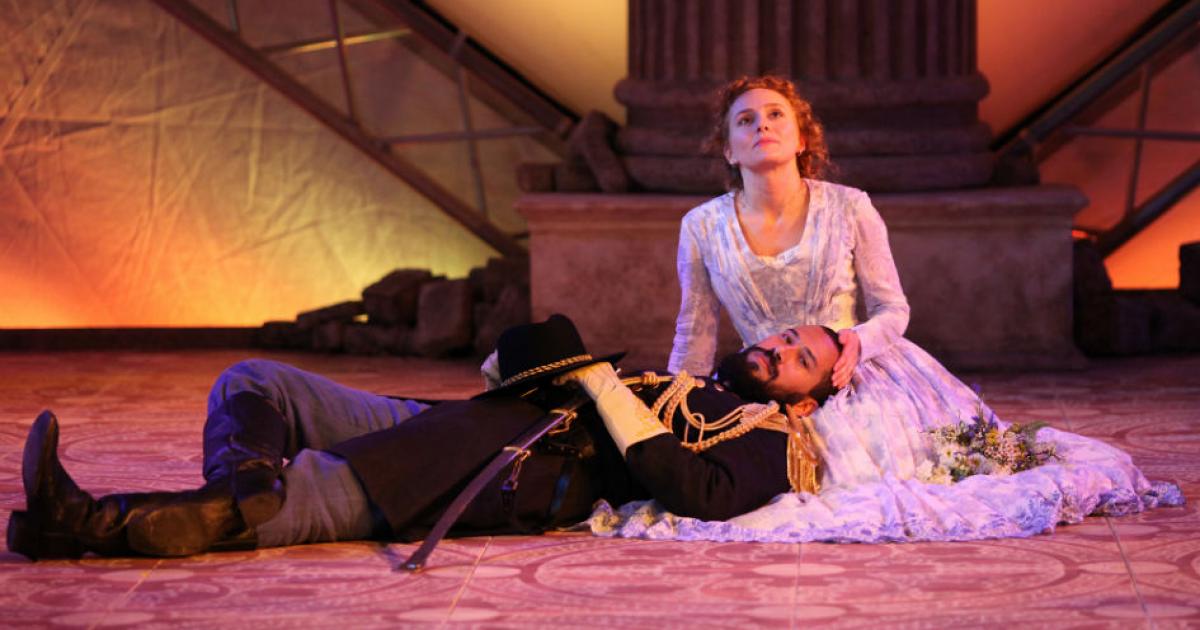 Vancouver Theatre: Othello
Friday, July 8th, 2016
Othello by William Shakespeare
Directed by Bob Frazer
Bard on the Beach Shakespeare Festival
Howard Family Stage at Vanier Park
June 24 to Sept 17, 2016
Vancouver, BC:  In my review of the Bard on the Beach 2009 production of Othello, I commented that Othello ranks as number one favorite on my list of Shakespeare's tragedies. Despite some pushback from those who champion Macbeth or Hamlet, I still favor Othello because the complexity of the characters of Iago and Othello leave so much room for interpretation and debate. With a stellar cast on Amir Ofek's intricately tiled stage, enhanced with lighting by John Webber, Mara Gottlieb's distinct costumes, and the directorial theme of the play, this 2016 production was for me as engrossing as the earlier production.
Fraser transposed the location and time of the play from the original settings of 16th century Venice and Cyprus to the American South during the Civil War in mid-19th century. Here Othello (Luc Rodrique) is a heroic general on whom the Duke (Ian Butcher) relies for the defense of their city. Though respected for his valour, as a black man he is an outsider in this society. As a guest of the merchant, Brabantio (David Warburton), Othello enthralls Brabantio's young daughter Desdemona (Kayla Deorksen). They fall in love and marry much to the anger of Brabantio. Othello is dispatched to fight and Desdemona accompanies him.
Othello has angered one of his subordinates, Iago (Kayvon Kelly), who is enraged that Othello has made him an ensign while Michael Cassio (Jeff Gladstone) was appointed his lieutenant. Iago plots to get rid of Cassio and  get his revenge on Othello by convincing Othello that Desdemona has been unfaithful to him with Cassio.  In the process he also manages to steal from  Roderigo (Andrew Cownden), another suitor of Desdemona, and get him killed, and inveigles his own, unsuspecting wife Emilia (Luisa Jojic)  to help him betray Desdemona though a complicated scheme involving Bianca (Sereana Malani), Cassio's mistress, and a lost embroidered handkerchief. This is not a Disney movie plot and things turn out badly for all involved.
Othello and Iago are two epic characters; Iago the villain and Othello the hero. Bob Frazer who directed the current production, played Iago in the 2009 version, and his director notes focus on the motives for Iago's determination to destroy Othello, imputing racism as the driving force behind Iago's hatred. Interestingly Kayvon Kelly was deliciously machiavellian in his villainy. If he was driven by racism that did not come across to me and  it was hard not to like him even though one knew he was a bad, bad man!
Rodrique was an imposing Othello and as I watched the drama unfold this time, the more interesting question for me became what it was about Othello that rendered him so vulnerable to Iago's wiles? Perhaps racism played a huge part in that too.  If Othello did not have an unshakeable faith in his own value and that he, a black man in a white dominated society was worthy of being loved by Desdemona, he would have no resistance to the suggestion that she would betray him with another man. Kayla Deorksen was a convincingly naive Desdemona and Luisi Jojic was excellent as Emilia.
While I appreciate the concept, I found the transposition of the setting to the American South contrived and uncomfortable in reality. I did enjoy the freedom that it gave Steve Charles in his sound design but other than the use of location names like Charleston, the geographical and time setting seemed irrelevant in the context of the sweeping themes of jealousy and betrayal. Some plays more than others lend themselves to translocation. There were no Moors nor Dukes in the American South. But this is a minor quibble about an excellent show.