Review From The House
READ IT • SEE IT • TASTE IT • LIVE IT
Vancouver Theatre: King Lear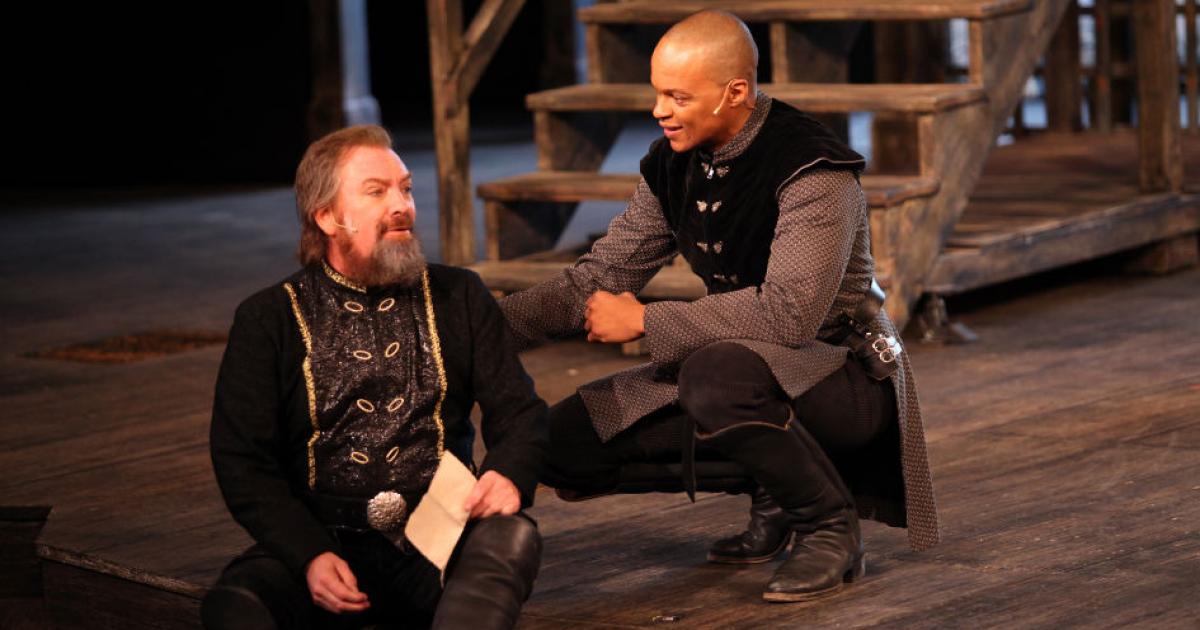 Vancouver Theatre: King Lear
Saturday, June 27th, 2015
King Lear
By William Shakespeare
Directed by Dennis Garnhum
Original music by Dave Pierce
Bard on the Beach in collaboration with Theatre Calgary
BMO Mainstage at Vanier Park
June 18 to Sept 20, 2015
Vancouver, BC:  For some reason this production of King Lear sparked an unusual and different emotional reaction in me than I usually experience in response to this play. I thought it was one of the better productions of Lear that I have seen and when intermission came, I couldn't believe that an hour and a half had passed.
My study of King Lear in the last year of high school in South Africa,  was my initiation into a lifetime of interest in Shakespeare's great tragedies and I can still remember much of Lear's railing against the elements as he wandered on the moors.
From that time,  and in most productions I have seen since, my perception of Lear has generally been of a proud, foolish and vain king, whose narcissism makes him susceptible to flattery and incapable of appreciating honesty and genuiness. But Benedict Campbell brought a different Lear to the story; an aging man who fears getting older, and amidst his  irrational behaviour, sudden bursts of rage and sometime loss of presence, as occurs in early dementia, is painfully aware that his worst fears are coming to be.
King Lear (Benedict Campbell) has decided that, to prevent strife after he dies, he will divide his kingdom among his three daughters, Goneril (Colleen Wheeler),  Regan (Jennifer Lines) and his favorite, his youngest daughter Cordelia (Andrea Rankin). He expects that he will no longer have to be bothered with the burden of ruling, but that his daughters will continue to treat hm as a king and he will retain the trappings and respect of royaty.
Despite warnings from his trusted advisor the Earl of Kent (John Murphy) he succumbs to flattery  and hands over his kingdom to his two older daughters  who profess to love him.  When Cordelia refuses to be forced into false excssive declarations of love for him he disowns her.
Once having acquired his power, lands and property, the older sisters make life unbearable for Lear, finally casting him and his faithful fool (Scott Bellis) out into the stormy elements. Woven into the story of Lear's betrayal by his daughter is a sub-plot of another filial betrayal in which the Earl of Gloucester (David Marr), is fooled by his bastard son Edmund (Michael Blake) into believing that his legitimate Edgar (Nathan Schmidt) has betrayed him.
I really enjoyed Campbell's portrayal of Lear and Bellis's fool was a senstive and powerful counterpoint to Lear's growing madness. LInes and Wheeler played off each other beautifully, each growing in viciousness as they vied wth each other to hurt their father and seduce the villainous but most handsome Edmond. I loved the rich colour and look of their dresses by costume designer Deitra Kalyn, and those of Cordelia and her husband, the King of France.
Overall I thought it was an excellent production and well worth seeing.