Review From The House
READ IT • SEE IT • TASTE IT • LIVE IT
Vancouver Theatre: Cymbeline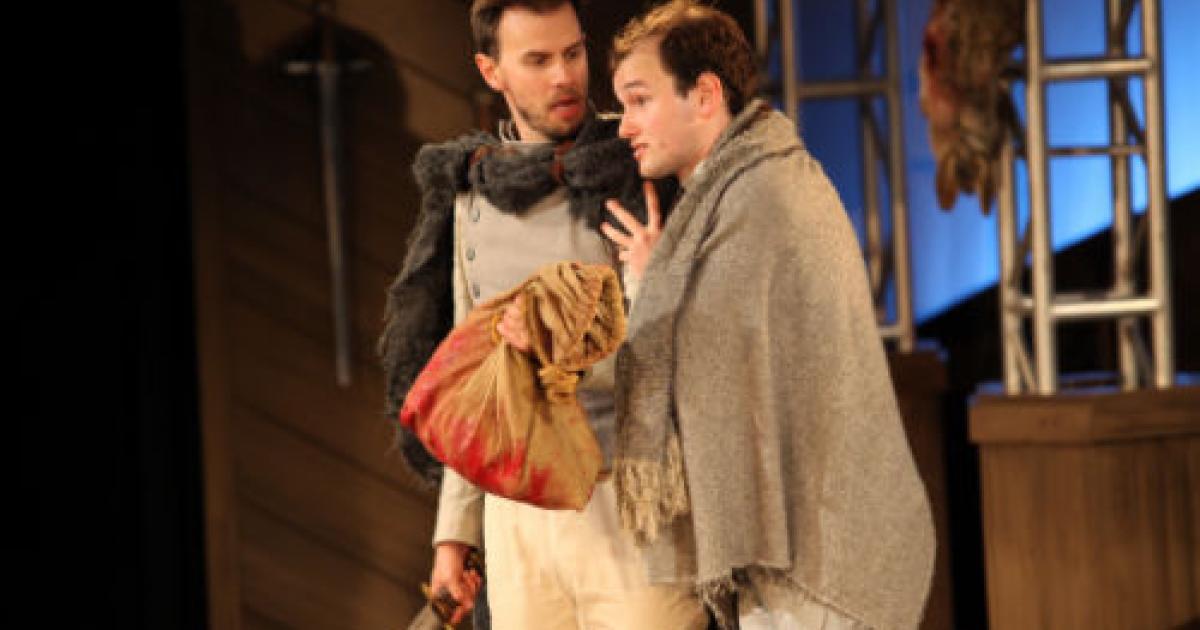 Vancouver Theatre: Cymbeline
Sunday, July 27th, 2014
Cymbeline
by William Shakespeare
Directed by Anita Rochon
 Bard on the Beach Shakespeare Festival
Howard Family Stage, Douglas Campbell Theatre, Vanier Park
July 4 to Sept 17, 2014
Vancouver, BC: Cymbeline is one of the lesser known Shakespearean dramas with many characters taking on alternate identities. It is one of the few Shakespeare plays that I have never seen performed, studied or even read until now. In Cymbeline, the plot is rather convoluted and the Bard uses many of his familiar devices and characters - the poison that simulates death, disguises that are un-believably effective, lost royal heirs that are raised in poverty, the deceitful betrayer who besmirches the reputation of the virtuous heroine - and I honestly wasn't expecting to be riveted to the stage as when I watch one of his great tragedies. 
But I really loved this production. Anita Rochon's direction was crisp and incisive and this talented group of actors were able to push the limits of the multiple role casting to provide the comedic sharpness that this play needs.
With the characters adopting different identities, the actors also playing multiple roles and several stories intertwining things can get a bit confusing, specially when  reading the play. To help me navigate the plot and figure out who is who, I put together this brief summary of the various storylines although in the end the production was so good I had no difficulty keeping up.
The British King Cymbeline (Gerry Mackay)  is a subject of the Roman Caesar, Augustus. The latter dispatches Ambassador, Caius Lucius (Bob Frazer) to demand that Cymbeline pays tribute. Cymbeline's refusal to pay ultimately results in a battle with the Roman army.
Cymbeline's only daughter, Imogen (Rachel Cairns) has secretly married a courtier Posthumus Leonatus (Anton Lipovetsky) who was deemed unsuitable by Cymbeline and promptly banished.  The Queen (Shawn Macdonald) is planning to marry her son, Cloten ( Lipovetsky again) to Imogen, and then poison both Imogen and Cymbeline, so that Cloten can rule. The court physician, Cornelius (Benjamin Elliott) foils her plans by switching what the Queen believes to be a deadly poison, for a drug that induces a death-like state.
Posthumus flees to Italy to stay with Philario (Anousha Alamain) where he raves about Imogen's beauty and chastity to  Iachimo (Frazer again). Iachimo bets that he can seduce Imogen and bring proof to Posthumus. Failing in his seduction attempt, Iachimo hids till Imogen is asleep, steals Posthumus's bracelet from her and later convinces Posthumus that he has seduced her.   An angry Posthumus sends a letter to Imogen  telling her to meet him at Milford Haven on the west coast of Wales. He also sends a letter to Pisanio (Alamian again) , his servant, ordering him to slay Imogen at Milford Haven.
Meanwhile Belarius (Macdonald again ) banished twenty years earlier as a traitor for conspiring with the Romans, stole Cymbeline's two sons Guiderius ( Elliott again) and Arviragus  (Lipovetsky- third character ) and is living in a cave with them in the Welsh Mountains. Here a disguised Imogen meets and bonds with them, not knowing the boys are her brothers. Ultimately all the various characters (that have not been killed off) come together after the battle between the Brits and the Romans, and that's when the lightening quick character changes happen.
The double and triple casting with actors changing characters on stage provided costume designer mara Gottler with a challenge that she met more than admirably. With the actors clad in what Gottler describes as neutral shaded fencing-style uniforms, merely substituting a cap, jacket or skirt, or an item of colour, such as the red of the Roman soldiers,  instantly allows the audience to identify which character they are at any one time. That same power of imagination allows the hoisting of an arras or banners on Pam Johnson's set to transport the audience from England to Italy or Wales.
The trio of Macdonald as Morgan, Elliott and Lipovetsky as Belarius's supposed sons, were particularly awesome and funny towards the end, flipping back and forth between their various characters with rapid minor costume changes. I, like the rest of the packed house, laughed in awe as  Lipovetsky metamorphasized in seconds between Cloten, Arviragus and to Posthumus. Elliott is a versatile musician and composer. His sound design, the music and singing of this trio together with the other cast members, greatly enhanced the show. Although Iachimo is reminiscent of Iago and almost as treacherous, Frazer played him he was more mischievously seductive than evil, though Imogen could well have met the same fate as Desdemona. Rachel Cairns was delightful as Imogen. As my friend remarked later, the play should really have been called Princess Imogen, as she  far more than the King, was the protagonist.
Suffice it to say, I really liked this show and it's on my "don't miss it" list. It's rare that one will have the opportunity to see it, and this production is excellent.