Review From The House
READ IT • SEE IT • TASTE IT • LIVE IT
Supping in Vancouver: SALT Tasting Room : A Savory Sensation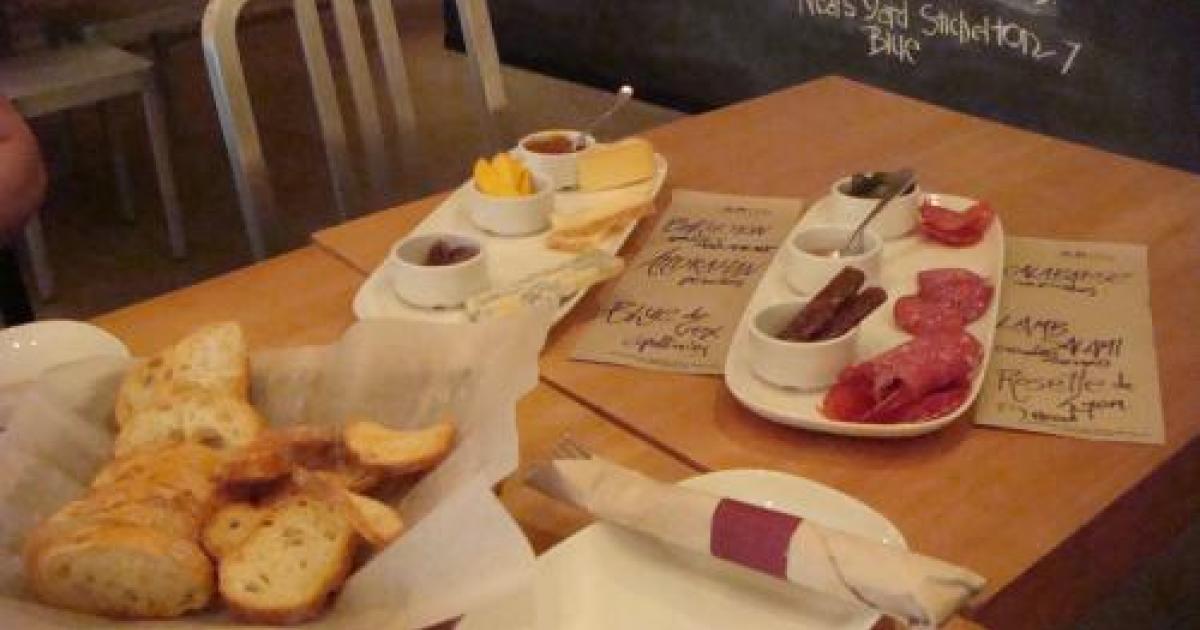 Supping in Vancouver: SALT Tasting Room : A Savory Sensation
Tuesday, September 30th, 2008
SALT Tasting Room
45 Blood Alley, Gastown
Ph: 604-633-1912 or Reserve Online
Sweet tooth? Not I. I choose salami over strudel any time.So it is appropriate that the first supping experience I report occurred at SALT, a restaurant specializing in charcuterie and cheeses. Mmmmm. Just thinking about it sets my mouth watering.
Wandering with a friend around Gastown at lunch time, I remembered an enthusiastic report on SALT from my son on his recent visit here from New York. Making our way though a less than savoury looking lane , Blood Alley, we found ourselves outside the restaurant just as it opened for lunch. We were greeted by  Curtis, friendly and efficient. Rather than sit at the long refectory style table which would be fun for a larger party, we chose a smaller table against the wall.
Curtis then explained how we would construct our order from the items listed on the large chalk board on the back wall of the restaurant.
Cheeses were listed in the left column, meats in the centre column and accompaniments on the right. We agreed to share a meat plate and a cheese plate. This meant that we had to choose three cheese items and three meat items and for each plate, three accompanying condiments.  Listed in order of my favorites, we chose apricot marmalade, cipolini onions, Late Redhaven peaches, fig bread, cornichons and mustard.
As the flavour of the cipolini blended with blue cheese on a slice of bread, I was transported back 7 years to a farmhouse kitchen near Lucca in Tuscany, where on several evenings we consumed cipolini and gorgonzola washed down with several glasses of amazing Italian wines.  
To accompany our savory meal we each had a glass of Joie Rose from Joie Winery in Naramata. The deep rose pink wine was an attractive visual complement to the attractively presented platters and a perfect lunch time sipper.
I was in savory tooth heaven when I left and I look forward to a return visit soon.