Review From The House
READ IT • SEE IT • TASTE IT • LIVE IT
ReView From The House: Influence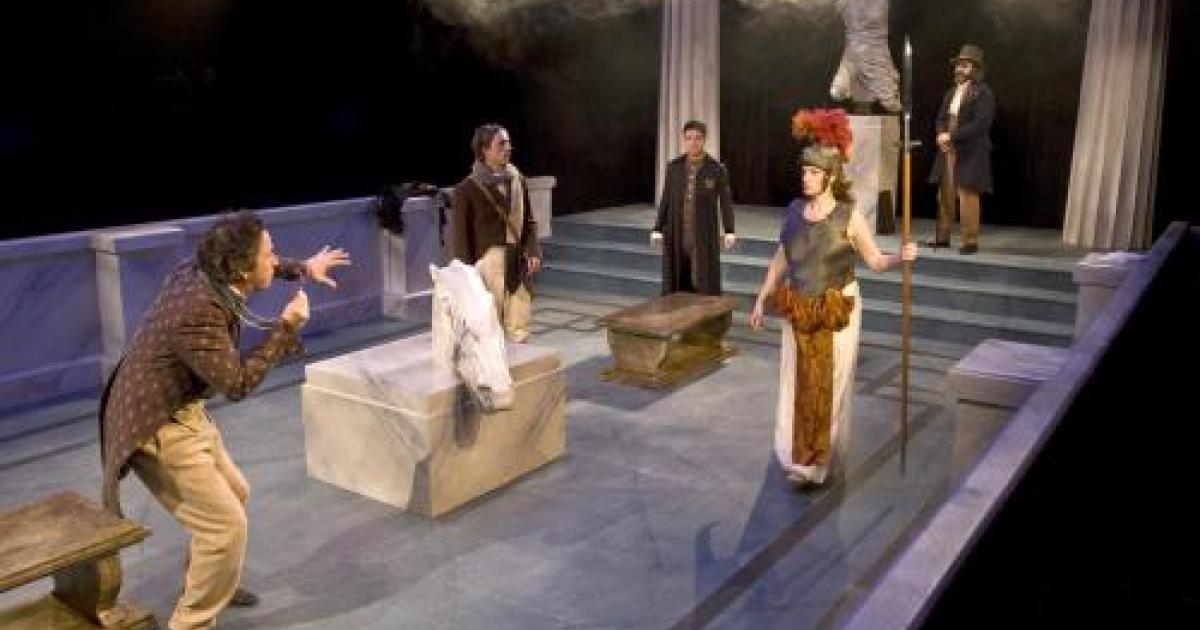 ReView From The House: Influence
Saturday, November 8th, 2008
Influence by Janet Munsil
Directed by Katrina Dunn
Performance Works
Touchstone Theatre
Nov 6th -15th, 2008
Daniel Arnold, Mike Stack (see below) and the cast of Influence
Photos by Tim Matheson
Vancouver , BC:
One of the exciting aspects of seeing theatre in a versatile, performance space like Performance Works, is that as you enter the space you never quite know what layout to expect. For  Touchstone Theatre's world premiere of Victoria playwright Janet Munsil's play, Influence, set designer David Roberts  has re-created the room of the British Museum in which the collection of statues and metopes known as the Elgin marbles are displayed.  The audience sits corridor style, on either side of a long rectangular space with doric pillars at either end. Displayed on marble stands are large realistic renditions by Heidi Wilkinson, of  some of  the original Greek sculptures, including the Selene horse head from the Parthenon.
Lighting by Jonathan Ryder enhanced the sense of 'being there". One of the joys of theatre is that anticipatory frisson that happens as the lights dim and the play starts. Whether I end up excited, challenged, disappointed or bored by the show that follows, it is that sense of hopeful expectation that keeps me going to  live theatre.  Here, as the house lights faded  through a last single beam of light into darkness, I got a really visceral feeling of what the term "to set the stage" can encompass.   From the original music and sound design (Owen Belton) to Sheila White's costumes, Katrina Dunn's  production is impressive.
Janet Munsil's script is a pleasure to listen to,  with a poetic rhythm worthy of the subject. But what's it all about? I find it hard to find the centre of the play;  the theme, the meaning or message that the writer is trying to convey.  I think it is about the source of  creative genius.
Munsil imagines  the young apothecary, newly turned poet, John Keats (Daniel Arnold), at the British Museum, brought by  painter  Benjamin Robert Haydon (Mike Stack) to see the Elgin marbles. Unbeknown to both men,  Athena (Colleen Wheeler), bright-eyed daughter of Zeus, accompanied by Hephaestus (Donald Adams), lame god of technology, crafts and fire, has come to take back the marbles ripped from her Temple. In his guise as museum guard, sun god and prophet, Apollo (Frank Zotter), is watching over  Keats, whom he knows has a scant 4 years left to write before tuberculosis kills him as it did his mother and brother. Keats and Haydon find themselves caught in a battle between these sibling gods.
Dunn draws strong performances from all her cast especially Adams as the vengeful spurned wanna-be lover of Athena, and Stack who hits every note perfectly in portraying the complex character that Munsil has constructed for Haydon -   self-important braggart, failed historical Romantic artist, mentor and financially strapped whiney sycophant.. And despite the acting and the great production values  I left the theatre feeling a little let down.
Possibly it's because the idea that genius is bestowed by  the gods is a bit of a tough concept for me to buy into and specially on behalf of Keats.  John Keats was apprenticed as a surgeon/apothecary and only began to write poetry around his 18th year. In the four years from 20 to 24 he created a body of work that most of us could not dream of creating in a full lifetime. But Keats not only wrote poetry. In his letters he also described his thoughts on the development of a poetic soul. Countering the concept of earth as a "vale of tears" from which God will redeem us and take us to heaven, he names the world  "the vale of soul making"  where we, through our  hearts (actions and behavior) and minds (our intelligence) interacting with our environment, make our own immortal souls. I don't think he would have much liked the idea that his genius came from the actions of an angry Athena! (see Gillian's Kitchen: Musing on the Romantics)
But I am probably guilty of trying to interpret a script in a way  that was never intended by the writer. It's that "play as literary genre versus dramatic genre" dichotomy that we discussed in my One-on-one with Professor Errol Durbach.
In the end,  I think I must conclude that rather than telling a story or plumbing great thematic depths, Munsil is simply describing an imagined moment frozen in time, much as Keats described his Grecian Urn.
                                                           "Beauty is truth, truth beauty, " - that is all
                                                             Ye know on earth, and all ye need to know.
For art that is enough.