Review From The House
READ IT • SEE IT • TASTE IT • LIVE IT
Othello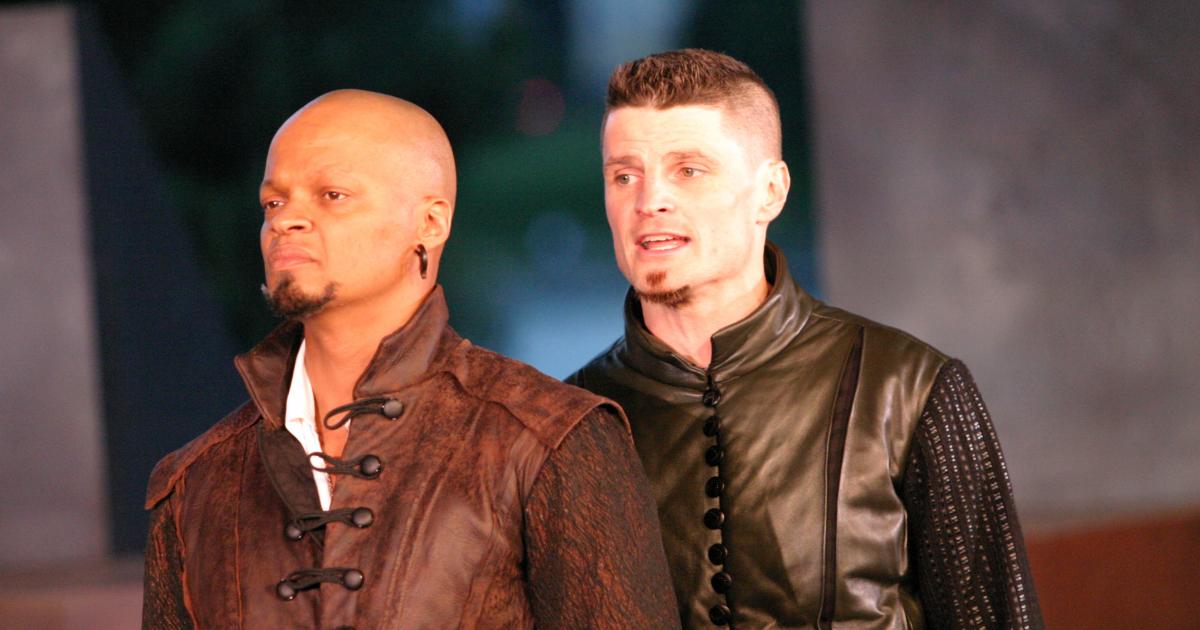 Othello
Sunday, June 7th, 2009
Othello by William Shakespeare
Directed by Dean Paul Gibson
Bard on the Beach
Mainstage  at Vanier Park
To September, 25th, 2009.
Vancouver,BC: Of Shakespeare's great tragedies. Othello ranks as number one in my list of faves, just ahead of King Lear. I think it is for me that the play is about an epic  battle between two larger than life characters - Iago, arguably Shakespeare's greatest villain, and Othello, the archetype "hero with a fatal flaw." The immense dramatic irony is that Othello, the great warrior General , doesn't even know he is involved in this battle, yet the audience knows that bit by bit he is losing the most important war of his life. As Harold Bloom puts it, it is Othello's tragedy but it is Iago's play. Iago, the master manipulator pulls strings like a puppeteer, weaving a web of deceit that ensnares everyone - including ultimately, himself. 
With Bob Frazer as Iago and Michael Blake as Othello, director Gibson has cast two actors who are well matched in both physical stature and commanding stage presence.  Naomi Wright is totally convincing as the  young Desdemona, glowing with luminous innocence in the love of her heroic husband, fiery in defence of her choice, confused and disbelieving in his rejection of her. Jennifer Lines brings a gentle warmth to Emilia's relationship with Desdemona that magnifies her horror as she realizes her role in the tragedy. With strong performances from the entire cast, the tension throughout the play is electric.
The basic plot is familiar to most people. Othello, the Moor is a heroic General on whom the Duke (Shawn MacDonald) and noblemen of Venice rely for the defense of their city. While being fasted by Venetian senator, Brabantio (Neil Maffin), Othello tells tales of war and bravery that  capture the heart of  Desdemona, Brabantio's young daughter. Incited by Iago, Brabantio is horrified to find that the Moor has married Desdemona and despite his initial protests, Desdemona goes off with Othello to  Cypress.
Iago is ambitious and greedy, and enraged that Othello has made him ensign while Michael Cassio (Kevin MacDonald) has been appointed lieutenant. Iago plots to get rid of Cassio and  injure Othello by getting him to believe that Desdemona has been unfaithful to him with Cassio.  In the process he also manages to relieve Roderigo (Parnelli Parnes), who is after Desdemona, of both his money and his life. He even gets his wife Emilia unwittingly implicated in a complicated scheme involving Bianca (Amber Lewis), Cassio's mistress, and an embroidered handkerchief.  And in the end, of course almost everyone dies - at least all the characters you care about.
Of course one has to wonder how on earth everyone - and that really is everyone from Emilia to Desdemona herself - is so readily fooled by Iago but Frazer's interpretation makes it seem so obvious. He is like Janus, the two-faced Roman god. Loyal, caring and everybody's friend when he talks to them - he seems so nice and oh so honest; until they exit and his amoral, devious, vicious face appears, to be seen only by us, the audience. And the audience just loved this Iago!
And I loved the way Kevin McAllster's simple circular set transformed into Desdemona's bedroom; a hidden bed is rolled out onto the stage, and red lit drapes drop dramatically to the ground. Voila -a boudoir - about to run with blood.
With a play about passion, jealousy, evil plotting and self-doubt,  false accusations, betrayal, and bodies everywhere - how can you miss? Add in strong performances, tight directing and location, location, location - this Othello will draw the crowds - and deservedly so.