Review From The House
READ IT • SEE IT • TASTE IT • LIVE IT
Supping in Vancouver: West Restaurant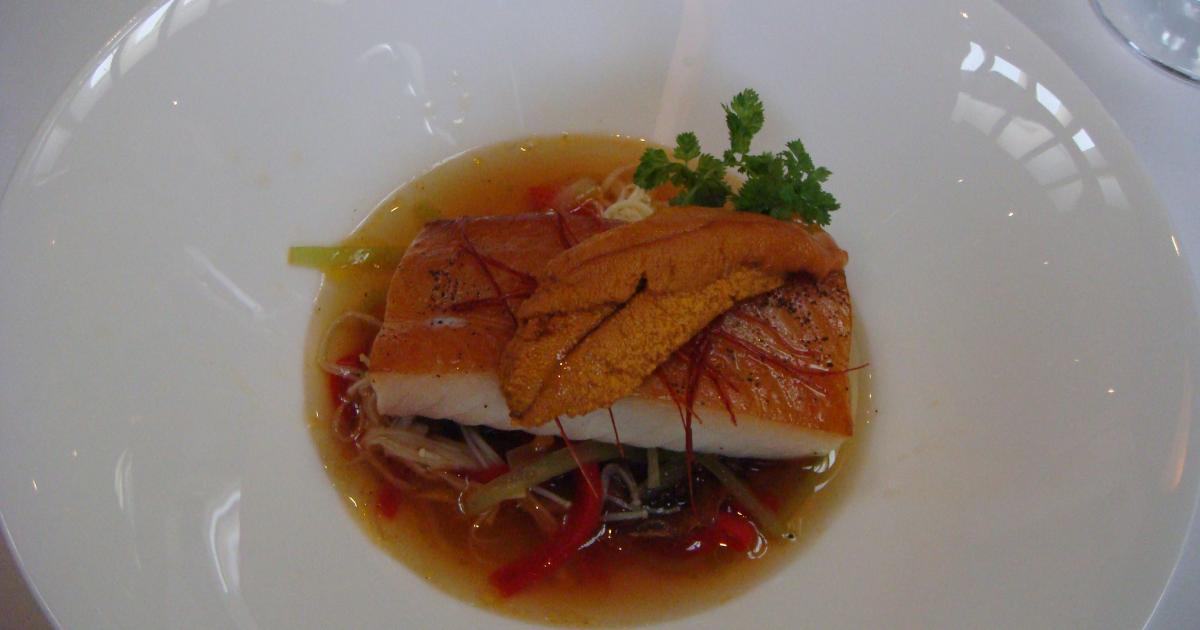 Supping in Vancouver: West Restaurant
Thursday, May 21st, 2009
West Restaurant
2881 Granville St.
Vancouver, BC
Ph:  604 738 8938 or Reserve Online
It is a while since I have been to West; certainly before the changing of the guard so to speak,  to executive chef Warren Geraghty. With tickets to Les Misérables at the nearby Stanley Theatre we decided to splurge a little and check out West. This was a first time eating there for my dining companion so I pointed out their wall wine storage system that I have always admired. The whole wall behind the bar is built like library shelves with  a sliding ladder that can be moved from end to end to access items on the higher shelves - only this shelving system is refrigerated and holds wine bottles instead of books. Since I first saw this system I wanted to build something similar for my books but having downsized - well, my apartment hardly has that amount of space and I would probably trip over the ladder, anyway. So my wine is in a small wine cabinet and my books on conventional shelving.
We were promply seated  at comfortably sized tables.  and studying the menus. After some discussion I settled on the fillet of smoked sablefish "en papillote" with uni, served with a shitake mushroom salad in a smoked tea broth. Uni being one of my favorite sushi items I asked our server how much uni was in the dish. H responded that it was just a strip.  So I asked if he could request a little more than a strip. And when the dish arrived a sushi-serving size partion of uni was perched on the sablefish. Nice touch. The fish was the perfect texture and the entire dish quite delicious. Meanwhile my companion was making equally appreciative noises over his prime rib entree.
  Then came the dessert menu. I mentally drooled over some of the items and firmly closed my copy of the menu. However I "reluctantly" agreed that if the trio of chocolate desserts should happen to find themselves at our table I would  help ensure that the plate returned empty to the kitchen. Right!
All three items were delicious: a chocolate filled charlotte with passion fruit tapioca, a chocolate passion fruit linzer tart,  and frozen white mousse dipped in dark chocolate and served with chocolate hazelnut ice cream. He, the dessert tempter,  who ordered the chocolate trio, tasted the first one and said it was the best he had ever tasted, and then promptly declared that the second was even better. By the time he got to the third he was clearly in chocolate heaven and despite working with a lot with numbers in his day job, was making "rational" statements like "definitely a 12 out of ten". Hmmm... So how do I resist a taste, and then a second taste just to check that first impressions were right?  and I have to admit that I enjoyed each dessert - pastry chef, Rhonda Viani is a dessert goddess!  but my sweet tooth still tends more towards dessert  wines and ice wines as my after-entree indulgence.
With the bill we were brought  two more treats, a truffle with apple crumble, and my favorite mouthful, two tiny meringue rounds sandwiched together by maple butter sugar cream. Yummy. 
Even with a glass of wine and a whisky, the bill was not much more than we have spent elsewhere for dinner. The service was excellent, the ambience good. But I do question the pricing of entrees, here and at other restaurants in the thirty to fifty dollar range. I would really like to understand better the economics of that kind of pricing.