Review From The House
READ IT • SEE IT • TASTE IT • LIVE IT
Supping in Vancouver: The Smoking Dog Bistro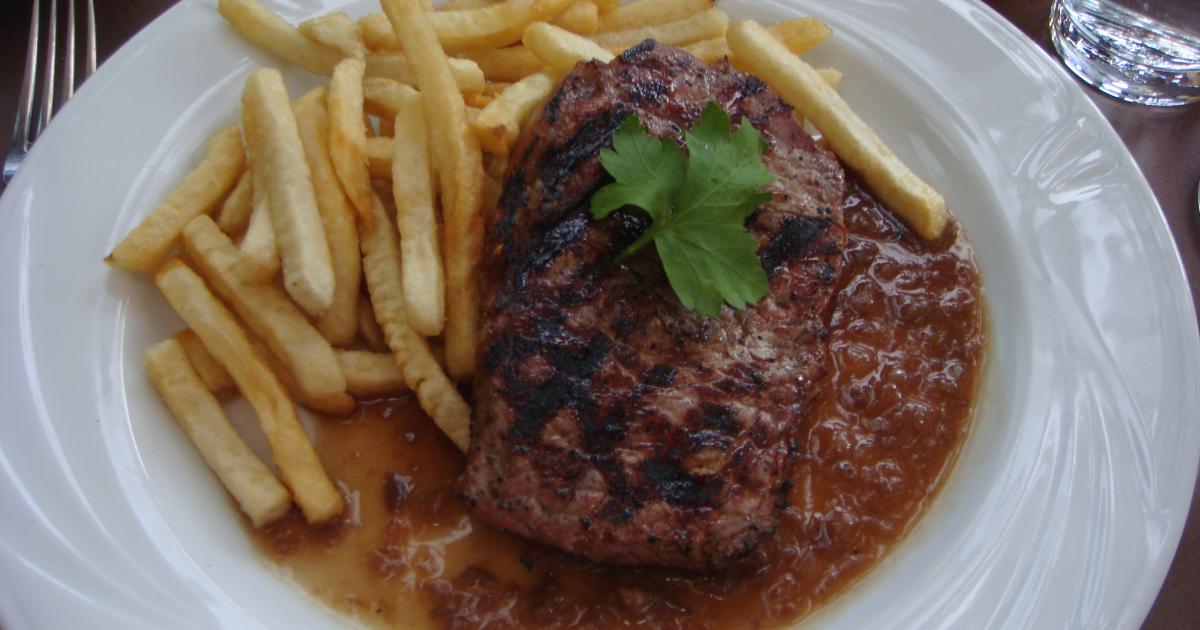 Supping in Vancouver: The Smoking Dog Bistro
Saturday, June 6th, 2009
The Smoking Dog Bistro
1889 West 1st Avenue
Vancouver, BC
Ph: 604-732-8811
The Bard-on-the-Beach 2009 season has officially begun and we were off to Vanier Park to see Othello. Surfing around for restaurants close by I thought that this Bistro at 1st and Cypress would be a pleasant walk away from the Bard location. Although Kitsilano's neighbourhood Smoking Dog French bistro has been here "forever" as I learned while my dining companion regaled me with its history,  this was my first time trying it out.
Our reservation was for 5:30 - early for dinner in Vancouver, as we approached the restaurant, I noticed that many of the outside tables along 1st Street were already occupied. A good sign. We were shown to the patio on the Cypress side of the Bistro and were able to get a table that was shaded from direct sunlight. Amazingly the air was still balmy. I remember the Bard opening of Twelfth Night on the same date in June last year - it was freezing cold and even with a thick jacket and a blanket I was chilled to the bone. But I thought that maybe tonight we would not even need a jacket.
Within minutes of being seated, we were chatting to our friendly waiter, whose accent declared his origin to be in France; and I was sipping a glass of a delicious white wine blend perfect for a warm spring evening.
To start I ordered the pressed ahi tuna tartar, beautifully presented as a mini-tower with avocado, tomato, lemon and olive oil. Delicious and a generous serving for an appetizer. My companion had the mimosa salad of butter lettuce, tomato, thinly grated egg, parsley with a creamy dijon dressing.
He elected to try the pork tenderloin special with mashed potatoes, which generated definite sounds of approval, though not quite the jiggle response of utter ecstacy. I have had a surfeit of salmon and chicken since that's what I mostly cook at home, so I went for the grilled New York striploin served with bordelaise sauce and - pommes frites. The fries were among the best I have ever had - an opinion concurred with by my companion who manfully restrained himself from reaching across the table to take more of them. For my taste the steak which should have been medium rare was a little overcooked.
I declined to read the dessert menu lest I be tempted. In my next reincarnation I definitely intend to be an ectomorph - tall, skinny and able to eat anything without gaining an ounce!
Disregarding my valiant attempt at restraint, he ordered the Grand Marnier creme brulee - and two spoons. I tasted it - and then had a second taste - creamy and delicious but the thought of the scale helped me resist further temptation.
Overall a pleasant meal - the setting somewhat marred by one man who walked up and down talking loudly on his cell phone, and another who came out for a smoke a couple of feet away from the patio. But that's beyond the restaurant's control.
It was a pleasant ten minute walk down to Vanier Park, spiced with a lively discussion about the actions and reactions of Othello and Iago, that we were soon to see. Ah - passion - jealousy - vindictiveness - self doubt. Nothing we hear about on a daily basis, of course.