Review From The House
READ IT • SEE IT • TASTE IT • LIVE IT
Supping in Vancouver: Relish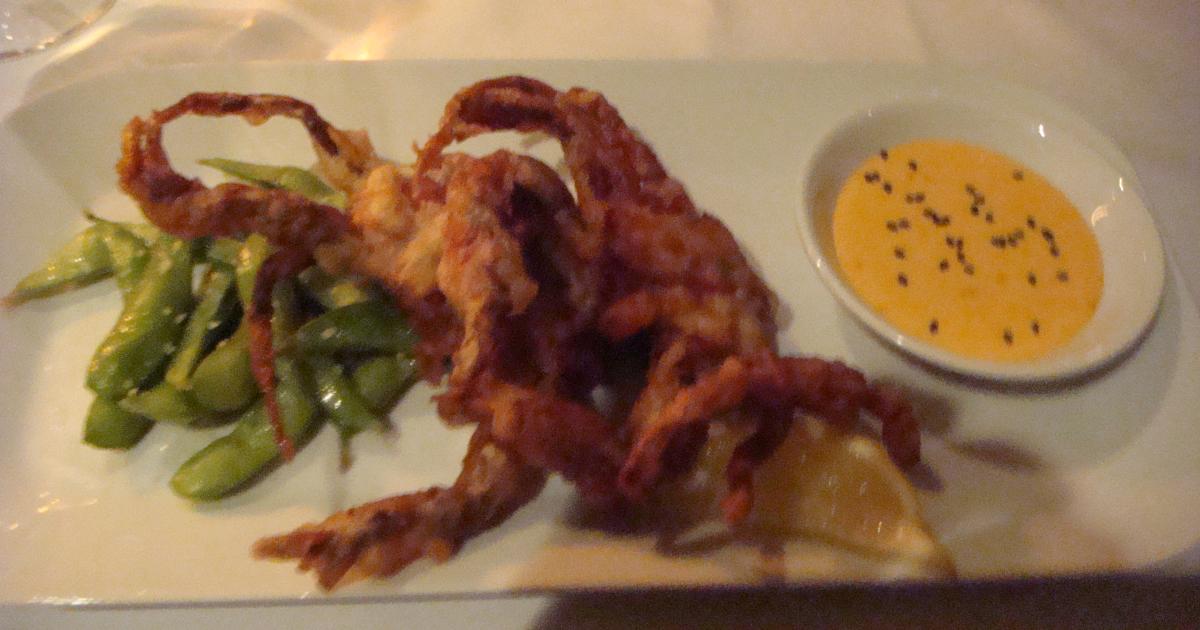 Supping in Vancouver: Relish
Sunday, February 8th, 2009
Relish
888 Nelson Street
Vancouver, BC
Ph: 604 -669-1962
Visit 1: Chilled by the icy wind and still stunned by the film we had just seen, (the Boy in the Striped Pyjamas) we settled gratefully into the comfortable booth we were offered  and began to thaw. It was not quite 5:30 and quiet so we had the opportunity to chat  to Tracey, our charming server, about the restaurant and menus.  Although I was tempted by many of the other a la carte items on the menu, the Prix Fixe special that offered a soup or salad, an entree from the fresh sheet, and a dessert or cheese plate, was too good value to pass up.  And it was a good choice too.
We both started with salads; he had the house salad and I took the caesar salad. Very tasty and satisfying, with plenty of parmesan shavings. A glass of  2007 Pentage Gewürtztraminer was a nice sipping choice. Our mains were excellent; a seared duck breast cooked to perfection and a mocha crusted  sirloin  served with gnocchi and asparagus in a parmesan cream sauce.
He chose apple pie but I couldn't pass up the two-cheese plate.  I picked the featured Guiness Cheddar and Cambazola.   When Tracey brought the  cheese, apricots, candied walnuts  a couple of grapes and toast slices served on an attractive slate, she noticed that instead of the chosen Guiness Cheddar there was a different cheese.  She promptly brought an additional side plate with some Guiness cheddar. Nice touch.
As we left, we agreed that this menu was an excellent value, Tracey provided great service and the food was great. Before I had time to post my review I left for Mexico, where poor internet connections hampered posting. Since my reviews focus on current dining, I decided to update my impressions.
Visit 2: So last night, having just seen Gran Torino at  the cinemas on Burrard and Smythe, we wandered along to Relish for a later dinner. This time near 9 pm the place was packed but we only waited a couple of minutes before  table was ready.  Tracey was our server again. She told us  that they now have three menus, for lunch, one for dinner and a separate lounge menu.They also have a sliding scale for their Relish Prix  Fixe so that it costs several dollars less early in the week. So good value becomes really great value.
It was a bit late for me to indulge in a three course meal so I  did something I almost never do - ordered a pasta dish. While my companion ordered a salad, chicken and apple pie from the Prix Fixe.  (I confess I did have a couple of forkfuls of  his delicious vanilla ice cream with a yummy caramelly sauce.)  My lobster ravioli was very tasty but the best was the soft shell crab appetizer served with a chili lime aoli and lemon edamame. Simply the best soft shell crab I have ever had. My mouth is still watering at the thought.