Review From The House
READ IT • SEE IT • TASTE IT • LIVE IT
Supping in Vancouver: Cassis Bistro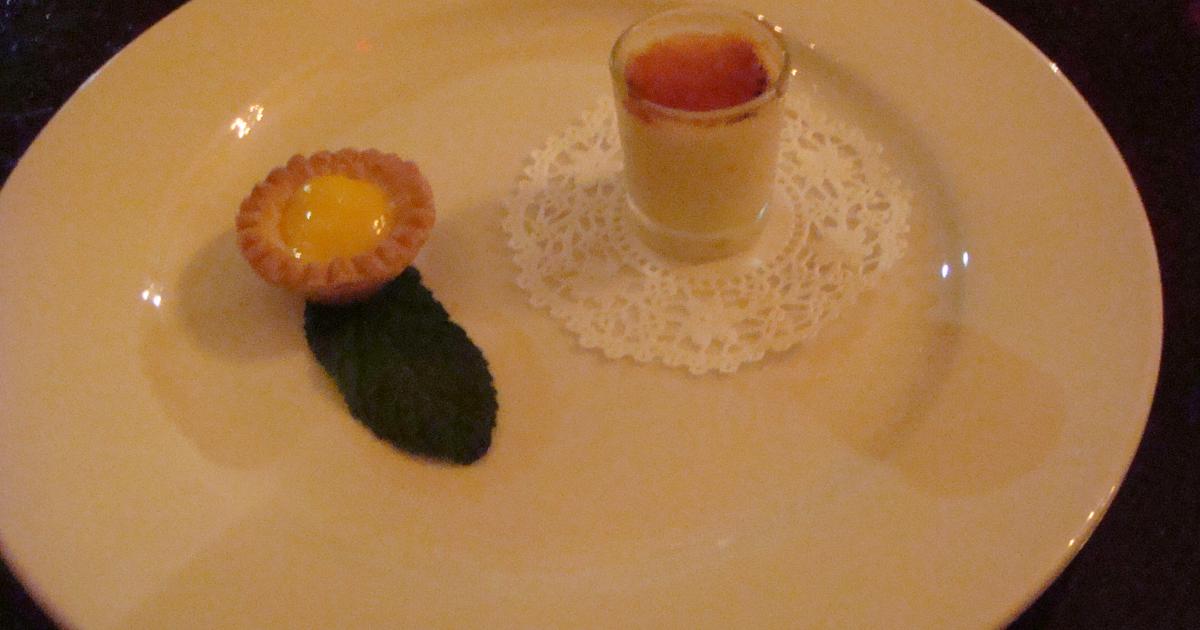 Supping in Vancouver: Cassis Bistro
Sunday, March 22nd, 2009
Cassis Organic Bistro
420 West Pender St,
Vancouver, BC
Phone: (604) 605-0429
This review covers my latest two visits to Cassis Bistro although I have been there several times before. Cassis is about two blocks away from the Vancouver Playhouse so it is very convenient  for pre-show dining. On previous occasions at Cassis I always opted for their entree of Muscovy Duck braised with oranges, so I thought it was time to try their other dishes.
The last time I was there we were going to see The Drowsy Chaperone. Since we arrived early at the restaurant we decided to try their special Pre-Show Menu.   They started us off with an amuse bouche, attractively presented in a long dish: sliced pickled cucumber, olives and an antipasto-like mixture. Delicious but a little difficult to scoop it out of the dish.
The first course was a half cured smoked salmon on  fennel salad with basil oil  which was very light and tasty. It was followed by citrus marinated sable fish with a potato pave.  The sable fish was melt-in-your mouth tender and also quite delicious. The next course was smoked pork served with potatoes in a dijon jus. I usually enjoy charcuterie but this was not my favorite dish of the evening.  The piece de resistance was the satisfyingly creamy,  vanilla bean creme brûlee and lemon tart dessert. Overall I thought the pre-show menu was good value and well presented.
My most recent visit was prior to seeing Toronto, Mississippi, also at the Playhouse. My companion opted for the pre-show  menu choosing the tomato -basil soup,  the daube de boeuf served over pappardelle pasta. The dessert was a crepe with strawberries,  blueberries and cinnamon, flambéed and served with ice cream. More about that later.
I somewhat self-righteously decided that three courses would be a bit too much for me after my decreased level of activity for the last 3 weeks in California so I chose the lobster bisque served with halibut cheek crepe and house made ricotta, followed by a crepe filled with duck (what can I say - I like duck), orange preserve, goat cheese and mozarella.  We were also served slices of fresh tasty baguette accompanied by  a puree which tasted of creamy mushroom. Very nice. A creature of habit, I sipped on  Wild Goose Riesling which went well with everything.
I then proceeded to blow my credibility totally by tasting my companion's dessert course -multiple times. But I have an excuse. The crepes were prepared table side by Ben Griffiths, an enthusiastic expounder on some new techniques he was trying out. As he juggled a blow torch, a liquid nitrogen tank, and Appleton Rum which I learned has a 75% alcohol content (gulp), he told us about his background as a bartender and competitor in cocktail competitions in Australia and England, and how he came to Cassis - he loved the food and came back so many times he came to work here and now is a partner and dessert experimenter extraordinaire.
While we were savouring the crepes and doing the   "uhuhuhuh! jiggle,jiggle"  foodie's delight dance , Ben told us about some of the other table-side desserts with which he was experimenting  and gave us a taste of a chocolate cup filled with creme brûlee. We were so engrossed in watching him (and indulging in the creme brûlee - so much for my self righteousness)  that we left it a little late to get to the Playhouse and had to hustle over instead of taking a leisurely stroll.
Lots of fun. I am quite intrigued to see what the final result of the experiments will be.