Review From The House
READ IT • SEE IT • TASTE IT • LIVE IT
Supping in Vancouver: Boneta Restaurant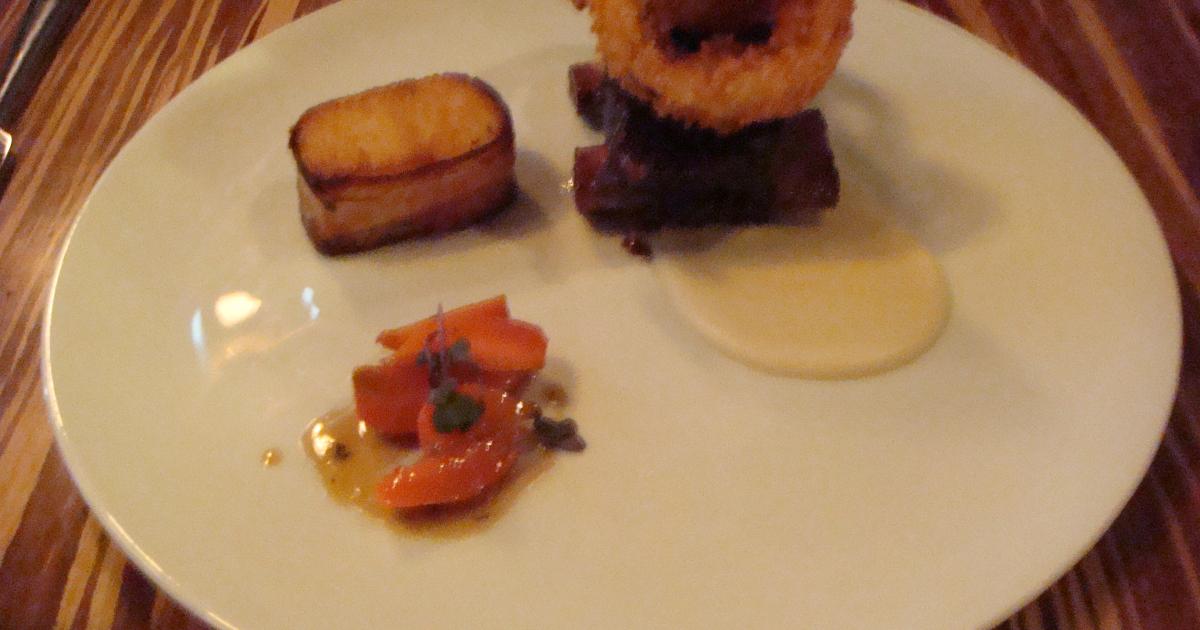 Supping in Vancouver: Boneta Restaurant
Saturday, February 21st, 2009
Boneta
1  West Cordova,
Vancouver, BC
Ph: 604-684-1844 or Reserve Online
When I really really really enjoy the first taste of  a dish, I sometimes spontaneously break into an odd little shoulder-jiggling dance accompanied by sounds of appreciation that I don't quite know how to spell. Sort of like - uhuhuhuh! Jiggle,jiggle, jiggle -uhuhuhuh. When I realized some time ago that I have this tendency I worked hard to control it - It's not very dignified to be making incoherent sounds of bliss when you are trying to be objective in your approach to evaluating your meal. Still every now and then I forget - the food is great- and the jiggle appears.
At the first taste of  the smoked bison carpaccio appetizer at Boneta - uhuhuhuh- jiggle, jiggle, jiggle.  It could have been embarrassing but seated opposite me, my dining companion was reacting to his first taste of  the carpaccio in the same way. Hmmm.  Maybe it's a universal sign of appreciation. Served on a bed of arugula with a sherry vinaigrette, the carpaccio was accompanied by shavings of parmesan, walnuts and quail's egg and was really quite delicious. 
  As we waited for our next courses we admired the way in which the menu is projected onto the wall. It is very clear and easy to read - and I imagine easy to change if need be at the drop of a hat. Our server brought us bread, warm from the oven. It was a buckwheat sourdough loaf, very tasty. And the butter was at a spreadable temperature. 
I am not sure why but rather than my usual Riesling or Gewürtzraminer, I had the idea of a Rosé wine stuck in my head when I got there. Luckily there was a Rosé listed by the glass - a Louis Jadot Clair Dau Marsannay 07. I found it much drier than I usually expect a Rosé to be but it went well with the carpaccio and the hamachi sashimi with caviar and julienned  cucumber and daikon that I had next.
More jiggles and uhuhuhuhs.
  My companion ordered a main course of braised beef short ribs served on a parsely root puree with braised carrots and Zuddas potatoes, wrapped in bacon.  This beef dish also elicited the jiggle response so I could not resist a taste. The beef was wonderfully tender and full of flavour.  My companion declared the onion rings to be the best he had ever tasted. An inquiry about the potato component led to the brief explanation that the the chef had called the potato style - Zuddas - after a mentor.
After the meal we had decaffeinated coffee - Americano style. It was a bit strong for me but a request for cream instead of milk was promply responded to and I enjoyed the result. 
We both thought the food was outstandingly good. You can't beat a three out of three jiggle/uhuhuhuh response.  I understand that the menu changes weekly so a return visit will be in order, sooner rather than later.