Review From The House
READ IT • SEE IT • TASTE IT • LIVE IT
Supping Away: Perennial - Chicago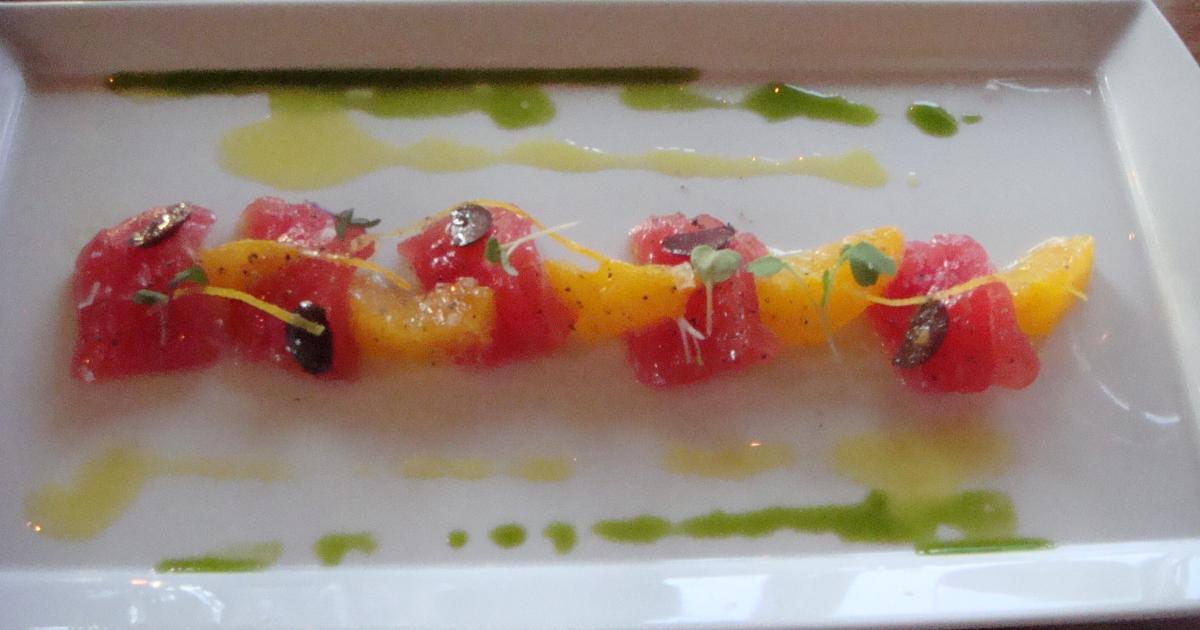 Supping Away: Perennial - Chicago
Tuesday, July 28th, 2009
Perennial
1800 North Lincoln Ave.,
Chicago
Ph: 312-981-7070
For our Monday night dinner, my friend chose Perennial on North Lincoln Avenue. We were delighted that it was open as it appears that, in the same way that most theatres are dark on Monday nights, many restaurants here chose not to open on Mondays.
We decided against ordering a bottle of wine as I wanted white wine and my friend wanted red so instead we each ordered a glass of wine. I chose the Pine Ridge Chenin Blanc-Viognier from California and she ordered a Babich Pinot Noir from New Zealand.
We also decided to share our appetizers so we could maximise our tasting of the food.   We picked a Big Eye tuna crudo or sashimi served with pickled grapes, orange , and a basil oil reduction. The orange was a good contrast to the tuna.
We also picked the Charcuterie platter with country pate, and foie gras torchon. It was served with pickled cherries and a tart plum compote.
For our main courses I tried the beef filet mignon which was served nicely medium rare with shallot puree, green beans, onion marmalade. The grilled salmon was served with roasted beets, beet greens, pickled scallions with a port reduction. We looked at the dessert menu which had several enticing items, but our meals had been fully satisfying and so we declined dessert.
All in all we had a relaxed and pleasant evening with good conversation, lots of catch-up,  and well prepared, nicely presented food.
On the way home we drove past the theatre at Steppenwolf where we going to see "Up" - the play, not the film - the following night. My friend pointed out the restaurant BOKA, sister restaurant to Perennial, across the road from the theatre. I thought I might check it out.