Review From The House
READ IT • SEE IT • TASTE IT • LIVE IT
Supping Away Las Vegas: Japonais at the Mirage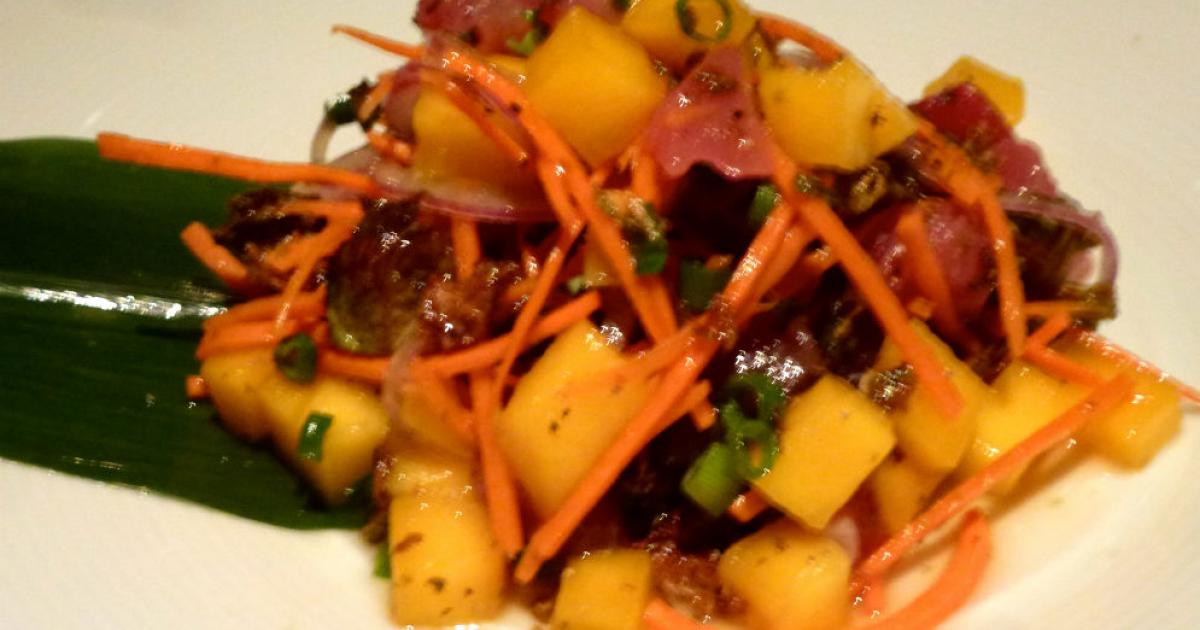 Supping Away Las Vegas: Japonais at the Mirage
Sunday, November 30th, 2014
Japonais at the Mirage
3400 Las Vegas Boulevard S,
Las Vegas, NV
Ph: (702) 791-7111  or Reserve Online
Footsore after a full day of exploring lavish lobbies and displays but exhilarated after our panoramic view of Las Vegas from 550 ft in the air on the High Roller, we were famished as we approached the Mirage Hotel, our last planned stop for the day.
The spectacular Volcano eruptions had just begun as we got there and we watched for a while until hunger pangs drove us inside where we faced an important decision - steak, seafood, Chinese cuisine - it appeared that there were at least seven equally appealing dining options at this hotel alone, but in the end we decided on sushi and wandered into Japonais.
Although we did not have a reservation we were seated promptly. While we looked through the menu, I enjoyed a glass of a 2012 French Rosé D'Anjou while Alo opted for a glass of the 2012 Monchof Riesling from the Mosel.
Our first choice was the tuna and mango sashimi. The sweet yet slightly tart mango went well with the richness of the tuna sashimi.  The grilled shrimp and scallop skewers were light and well prepared.
We ordered two rolls to start and then decided to try a third. The crispy shrimp and salmon roll was a panko breaded shrimp roll topped with soy-marinated salmon and wasabi tobiko sauce.
 The Bakuchi roll contained spicy yellowtail with green onions and crunchy tempura topped with yellowtail, white onion and jalapeno. Both were very good. Then we had the soft shell crab roll, also very good.
We ordered the spicy calamari - an interestingly different way of preparing the calamari. It looked to me like slices of octopus and I half anticipated that it would be tough and chewy but actually it was very tender and tasty.
To finish off our meal we shared the apple toban yaki. (Toban yaki means to heat on a ceramic plate). This is like a deconstructed apple tart. Green apples topped with sugar crumble and served with vanilla ice cream on the side. Acompanying our dessert, we each had a glass of Brancott Sauvignon Blanc from Marlborough, New Zealnd.
Pleasantly replete, I almost fell asleep in the taxi going back to our hotel. We had a really fun day touring the hotels and an excellent dinner. We were happy campers! well- not exactly campers.