Review From The House
READ IT • SEE IT • TASTE IT • LIVE IT
Supping Away: DBGB - New York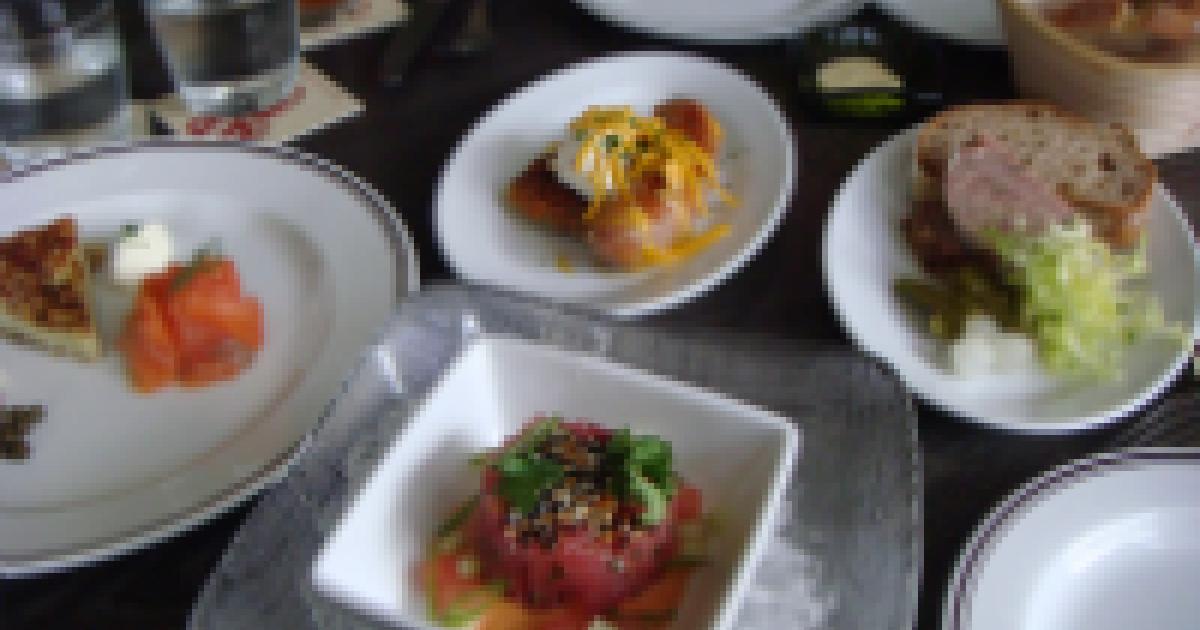 Supping Away: DBGB - New York
Monday, September 14th, 2009
DBGB Kitchen and Bar
299 Bowery
New York
Ph: 212-933-5300
As mentioned in Part I of my  New York 2009 travelblogue our lunch visit to DBGB Kitchen and Bar was spur-of-the-moment as we walked by the restaurant en route to pick up our luggage before heading off to Brooklyn Terminal for a four night Labour Day Getaway Ballroom dancing cruise. On hearing that we had only a short time for lunch,  the staff seated us  at a comfortable table, promptly brought water, bread and the menu, and assured us that whatever we ordered would be right up.
We were seated in the outer bistro section. The decor was simple with a minimalistic style that appeals to me. The menus were painted in white on large wall mirrors round the room.  Our waiter, Frank, told us that this bistro in the Daniel Boulud group of restaurants, had only been open since May.
We decided to share four appetizer dishes, all of which were quite delicious.
The tuna tartare was served with a sesame-harissa sauce. Harissa is a hot red chili pepper sauce of North African origin, and it added a nice kick to the dish. The tuna tartare  was served with sliced cucmber, radish and crispy rice.
Our other fish choice was  the DB smoked salmon with crispy potato latkes and sour cream - nice but the portion seemed a bit small. Or maybe the plate was too large!
From the charcuterie side  we picked the Vermont smoked pork and cheddar sausage link served with hash browns and red onion creme fraiche, and the  paté campagnard made of pork and chicken.
The breads served were sour dough and ciabatta. The bread is baked in-house at  Daniel restaurant. The charcuterie comes from Bar Boulud, the charcuterie focused restaurant opened about eighteen months ago by Boulud, who brought in Parisian charcutier, Gilles Verot  to produce the patés, terrines and sausages. Hopefully I will find time on this trip to visit Bar Boulud.
It would be interesting to see how it compares to our Vancouver wine and charcuterie specialty restaurant, called Salt who have regular special wine events like the Riesling tasting I attended there.  But for now we finished our light but delicious meal all too quickly and had to decline dessert as it was time to get to the cruise terminal. So much to do, so little time!