Review From The House
READ IT • SEE IT • TASTE IT • LIVE IT
Supping Away: Braai - New York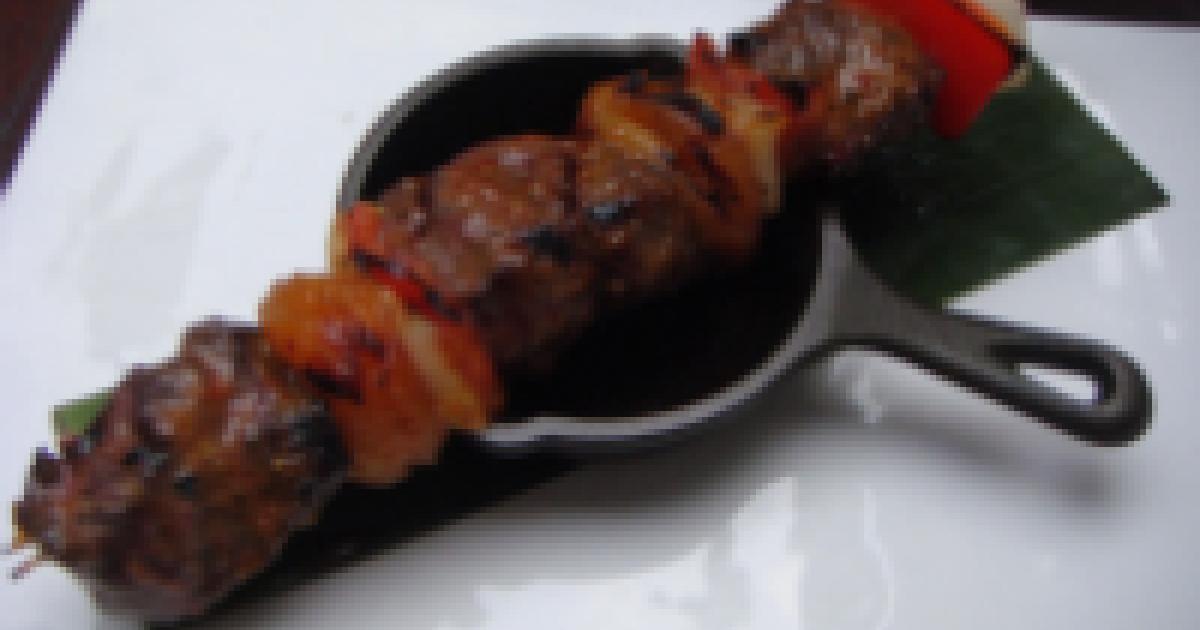 Supping Away: Braai - New York
Monday, September 14th, 2009
Braai
329 West 51st Street,
New  York
Ph: 212-315-3315
My attention was caught by the name of this restaurant when I was deciding which of the many eateries I should sample in this too short 7 day theatre and food visit to New York. Braai is a South African term for barbecue, and just reading the name evoked pleasurable memories of my childhood. So how could I not try this? My reservation was for 6 pm and I was heading to the theatre for an 8 pm show. 
I almost walked past the entrance, but then noticed the steps leading down below street level to the restaurant with a small courtyard adjacent. There were three small tables in the courtyard and I was seated at one of them. I liked the touch of fresh rose petals scattered around the candle holder.  To expose the public to a wide selection of South African wines, they feature three white wines by the glass and change the selection each night. I chose a glass of 2008 Steenburg Sauvignon Blanc.
The sliced bread came with olive oil for dipping, and an interesting blend of Malay spices called dukka  - in this case, sesame, fennel and cumin seeds in a light curry powder. Nice.
I was amused by the menu headings which were in a sort of pidgin English/Afrikaans mix. There were the Istatahs or appetizers and the Main Kos or entrees. They also offered a prix fixe with choice of appetizer, main course and the ubiquitous (in South Africa) Malva pudding (a cake-like pudding flavoured with apricot jam and served with warm custard) for dessert. 
I was specially interested in the game dishes. They offered sosaties of ostrich and venison as well as chicken.  A sosatie is the Cape Malay term for skewered marinated meat,  blending the terms sate for skewer and sous  for spicy sauces.
I decided to start with the Safari salad which sounded promising.  Dried apricots, mango and kiwi fruit served over baby arugula with feta cheese in a mint yogurt dressing.  The salad looked great and was plentiful but there was something in the dressing that overwhelmed the flavours - I think it was ginger although they did not list it as an ingredient. Anyway I found it quite unpalatable so I scooped up the bits of fruit and left most of the greens. Disappointing.
   When the ostrich sosatie arrived I was quite looking forward to it. On previous occasions when I have eaten ostrich meat it has been quite tender.  Again the portion was plentiful and looked good but I found it hard to remove the meat and vegetables from the skewer, and the meat was not as tender as I would have liked. 
To accompany the dish, they served an attractive dish of 5 accompaniments. The first was diced fruit which was tasty. Next was grated coconut which unfortunately I don't like. The middle portion of cucumber yogurt was fine. Then came atcha- hot spicy pickled mango which I couldn't eat, and lastly a nice mango jam.
Overall this was the first meal I have had on this trip that left me feeing disappointed, which is even more unfortunate since I was predisposed to enjoy the food. The two women seated at the table near me seemed to  be enjoying their meals, so maybe I just picked the wrong dishes. But I left the restaurant craving ice cream or chocolate. Not a good sign.