Review From The House
READ IT • SEE IT • TASTE IT • LIVE IT
The SASSYS taste Rosé Wines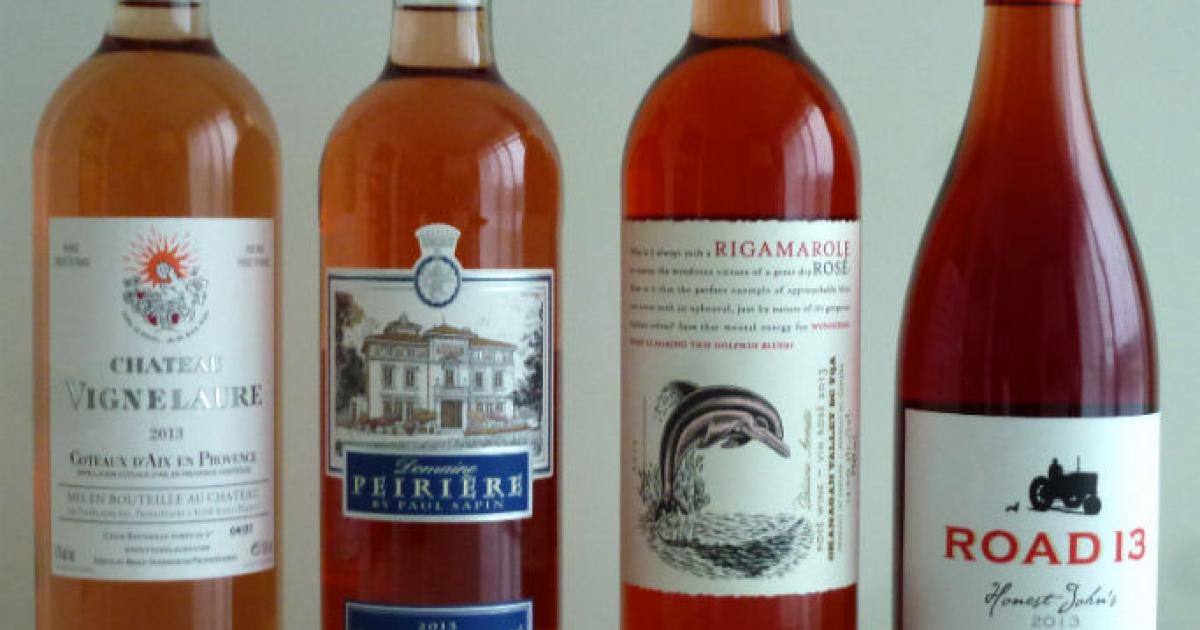 The SASSYS taste Rosé Wines
Tuesday, December 9th, 2014
Wine tasting with the SASSYS is always fun, unpredictable and often surprising. We all like wine, drink socially but never to excess.  None among us claim to have palates discerning enough to distinguish a hint of gooseberry from a touch of mango but we all know what we like and don't like.  So although we follow the standard tasting procedures, our tastings are more fun than formal and the  primary point of our wine tastings is to decide whether or not we like the wine, find it good value  and would choose it again.
On this occasion I organised a spontaneous blind tasting of four rosé wines. I had just picked up the two French rosé wine selection I had ordered through the Opimian Wine Society and I happened to have two local rosé wines from British Columbia's Okanagan wine region. For convenience and for future comparisons I used price range categories  < $15, $16 -20, $21 to 30 and  $31-40.
The tasting was done blind - the bottles numbered 1 to 4. After all four wines were tasted and ranked, we shared our opinions and I revealed what the wines were.
The first French wine was a 2013 Grenache Rose from Domaine Peiriere in Pays D'Oc. Price Category < $15. It had a medium intensity strawberry-pink, sweetness 1/10, and according to the wine description has banana, pear drops and red berry fruit flavours. It was tasted as wine 1.
The second French wine was a 2013 blend of Grenache, Syrah and Cabernet Sauvignon from Chateau Vignelaure in the Coteaux D'Aix en Provence. A light intensity salmon pink it was in the $31 to 40 category. The description was of a complex wine, sugar 0/10 with mellow flavours of strawberry and cream. It was tasted as wine 4.
The two BC wines were from wineries in the area of Oliver in the South Okanagan. Oliver is about 25 km north of the 49 th parallel, where British Columbia borders Washington State. I had a great weekend of wine tasting in the South Okanagan several years ago and also attended an Okanagan Wine Festival on my destination travel to Kelowna (See the links below). But many new wineries have opened since then so another visit should happen soon.
The first BC wine was a 2013 vintage Honest John's Rosé from Road 13 Vineyards in Oliver, in the South Okanagan. An intense cranberry-pink colour, this wine is a blend of Merlot and Gamay, with flavours of cranberry, strawberry and stone fruit. Price category $15 - 20, it was tasted as wine 2.
The fourth wine, tasted as wine 3 was Rigmarole Rosé, a Merlot and Cabernet Franc blend from the Rigmarole Winery in Oliver.  A medium strawberry-pink colour intensity, it is described as an aromatic  pink sipping wine. Price category $21 - 30.
As expected among 8 women with very different tastes in wine,  when the rankings were tabulated and then discussed there was only a moderate agreement about favorites.  The wine ranked most frequently as 1st or second was wine number 4,  the rosé from Provence.  Second favorite was wine number 2, Honest John's Rosé. 
My visits to Okanagan Wine Country.
A Taste of the South Okanagan
Destination Travel: Kelowna in the Okanagan Wine Country
The Four Wineries
Domaine Peiriere
Chateau Vignelaure
Road 13 Vineyards
Rigmarole Winery