Review From The House
READ IT • SEE IT • TASTE IT • LIVE IT
Chicago Diary July 2009 - Hotel territory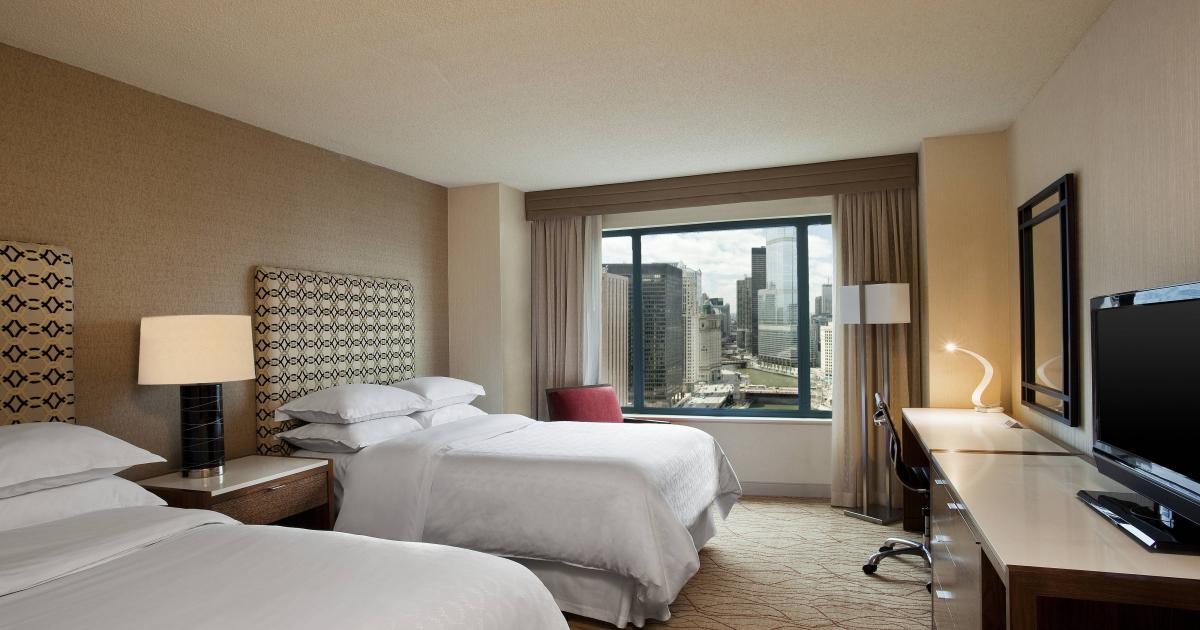 Chicago Diary July 2009 - Hotel territory
Tuesday, July 28th, 2009
Tuesday, July 21st- Day 3.  Chicago riverside, food and theatre.
For my last two nights of  this trip to Chicago I was booked into the Sheraton Chicago Hotel and Towers on E. North Water Street. The hotel is located on the north side of the branch of the Chicago River that once drained into Lake Michigan.  This was the headquarter hotel for the Canadian Society of Clinical Chemists and next day's Canada Party would be hosted in one of the Sheraton ballrooms. 
My friend dropped me off at the hotel around ten on her way to work. I thought that they may not have a room ready for a rather early check-in but luckily I was wrong. I was surprised to see  only two people working at the desk and a couple of people in each lineup. One was for Starwood members and one the regular check-in. Both seemed to be taking a long time to deal with their current customer. It was probably only about 5 minutes that I waited but it seemed a lot longer.
When I finally got to the desk my check-in took only a couple of minutes and I rode up to my room located on the 21st floor with a good view of the city.
After unpacking I wandered around to see where the next day's event was to be held, and what else had changed in the hotel since the last time I stayed there. Because it was going to be such a short stay I didn't bring workout clothes and shoes, so instead of going to the gym I headed out for a walk along the riverside, which is quite spectacular- with skyscrapers  overlooking quite a broad swath of water.
Around noon I decided to have lunch at the hotel restaurant along the river edge. It turned out to be the Chicago Burger Company. I debated whether a burger was what I should have for lunch but I really wanted to dine outside and the setting was quite appealing. So I opted for lunch at the sidewalk cafe.
The weather in Chicago has been great - my friends  told me that it was unusually pleasant for this time of year - pleasantly warm but not bakingly hot, and minimal humidity.
Anyway  I enjoyed a very pleasant lunch alongside the river, watching the  tour boats go up and down the water, and the people passing by along the river walk.
I spent a leisurely afternoon wandering around before heading back to my room to change to go out.   We had tickets to see Up, at Steppenwolf 's theatre and I was to meet my friend there at 7:30. Since I had to take a taxi there, I thought it might be fun to go earlier and have supper across the road at BOKA restaurant, the sister,  or maybe parent restaurant to Perennial,  where we had enjoyed a nice dinner the night before.
So by 5:30 I was in a cab for the ride to North Halsted Street where both the theatre and the restaurant were located. The distance was relatively short but rush hour traffic was horrendous so it took nearly half an hour to get there.   At BOKA I enjoyed a light meal and then wandered across the road to meet my friend in the lobby of the theatre.
After the play she drove me back to the hotel - at 10:30 the drive took closer to 10 minutes than the 25 it had taken to drive out there. Despite a really relaxing day I was quite tired and appreciative of the firm bed and soft pillows in my room.