Review From The House
READ IT • SEE IT • TASTE IT • LIVE IT
Southeast Asia Ballroom Dance Cruise -. Dancing through the Yellow Sea and the East China Sea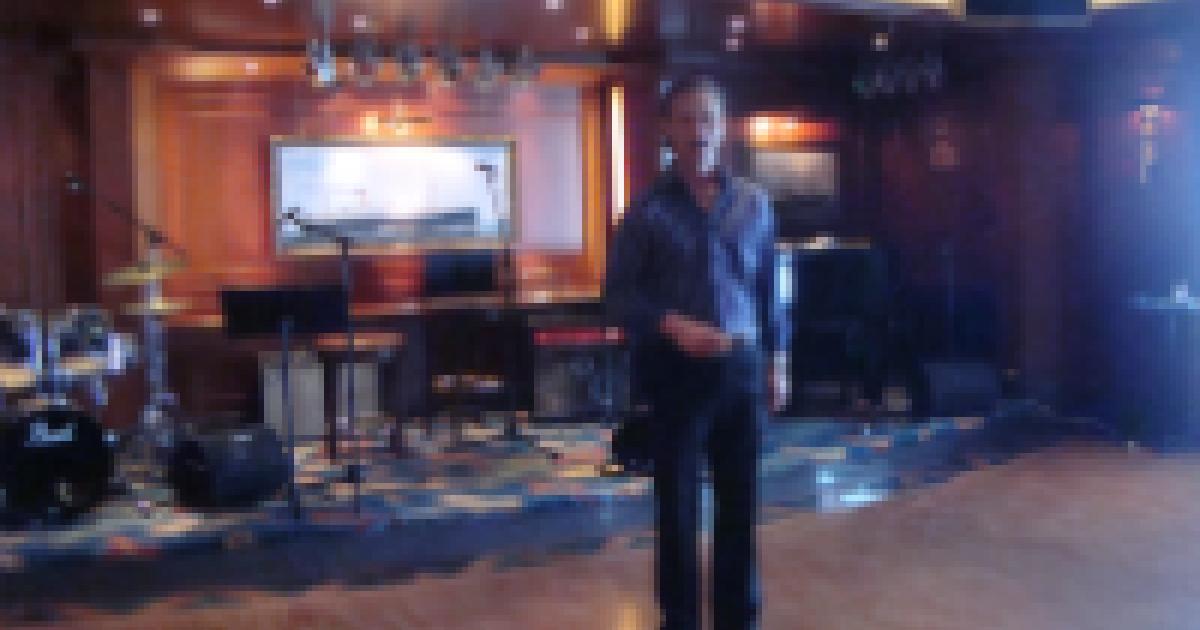 Southeast Asia Ballroom Dance Cruise -. Dancing through the Yellow Sea and the East China Sea
Thursday, November 19th, 2009
After dinner on our first night of sailing, tired though everyone was, we were determined not to miss even one evening of dancing so we headed off to the Wheelhouse Lounge to dance for an hour or so and then we had an early night. Dancing would start in earnest the next day with the first of our dance workshops in the morning, and then a full evening of dance in the evening.
Saturday, November 7 - Of Foxtrot, rhumba and dance parties
Dance-wise this first full day at sea kicked off, so to speak, with two dance workshops. We met at 9 am in the Wheelhouse lounge where all our workshops will take place. The floor is slightly larger than the one on the Pacific Princess and alright for a group lesson with a small group.
In this group there are no beginners. In fact all the women are quite good dancers and the age range I suspect is much narrower than on previous cruises I have been on. So in our group we have 9 fit, active, dance-crazy women guests, Bernie, Carol (who is not yet on board),Helene, Kim, Joan, Jean, Linda, Marcie and me, one couple, Julia and Harry, and the hosts, Brian, Craig, Greg and Raoul.
I have noticed that sometimes when there are couples in the group the men dont dance with any of the other women while the wives dance with the hosts, which alters the one-to-three ratio but Julia and Harry are just great. They are a delightful couple, fit right in to the group and Harry cheerfully dances with all of us. Unusually, in this small group, four of the 16, me, Helene, Julia and Harry, are Canadians. We joked that we were almost ready for a Canadian takeover.  
Anyway I digress from the workshops. Greg ran the first hour teaching an foxtrot sequence. Everyone picked it up really quickly. Then Brian took the second hour to introduce a rhumba sequence that gave us an opportunity to work on cuban hip motion, rhumba walks and spiral turns. Both workshops went  really well. In this small group it was easy for people to rotate in and out and we all had a turn to practice.
We all love our dance hosts. They have really strong leads, are a pleasure to talk to and are like energizer bunnies - they just keep going, dance after dance. I guess it makes their job easier when they have dancers that they don't have to drag around the floor. In fact of the group, I think I have probably been dancing for the least amount of time, and because most of my training has been in the International Standard and Latin, I have only  learned the basics of some of the dances in the past few months- since May in fact - so I think I am doing pretty well considering.
But because these guys are so easy to follow I can usually do most of the patterns they try and the rhythms are pretty simple so I feel quite comfortable now with dances like the hustle and night club 2 step and I am definitely finding it easier to follow more complicated moves. Just gotta remember to count "don't hop, two, three," for the syncopated hustle and it feels much smoother and easier. I am still not mad about salsa- need to go to some salsa dances back in Vancouver to get better at it and I still have to get my Argentine Tango lessons with Carlos back on track. But first I have to be back in Vancouver long enough to get back into my regular dance and fitness routine.
Although I find I am having a lot of fun doing these American style social dances, I guess realistically it is mainly because of the chance to dance with so many excellent partners. I still love the discipline and formality - if that's the right word to describe it - of the International style. I hope to be able to do my gold level routines in Standard and Latin sometime next year but although I really love my dance lessons,  without a regular dance partner I just dont get the opportunity to practice - or just to dance for enjoyment.
As one of my new friends commented wrily - "maybe its time for you to move south". They say there is much more opportunity for social dancing in some areas of the southern US. I may visit some of them and check it out for a short stay. But I would not leave Vancouver as I love my home in my beautiful city too much to leave permanently, even to dance every night!. 
It seems from talking to women from almost everywhere in the US that there are many more dance clubs and social dances in the parts of the US that these women come from. Perhaps its because it seems that anyone who takes their dance seriously are almost strong-armed into competing. And once you have spent all that time and money on that sort of training its natural to want to dance regularly.  I guess I have just not done the research, but I am not aware of too many places in Vancouver that have regular dances where you can go without a partner and still actually get to dance rather than sit around waiting for a dance. Excluding salsa and Argentine Tango clubs of course.
Actually if anyone has any suggestions about dance parties in Vancouver I would love to hear about them. I think there are Sunday night West Coast Swing parties on Granville Street, and there are lots of salsa  and Argentine Tango dances but I dont feel comfortable enough yet to try the Argentine Tango dances yet.   
Back to the workshops. Both Greg and Brian are excellent teachers; very clear and patient. Wendy has set up workshops for each of the days at sea so we will get to do a bit of bolero, salsa, nightclub 2 step,samba for example as well as the usual chacha, rhumba, waltz and foxtrot. After the lessons today  it was time for me to to get properly organized as I really did not have time to unpack properly the day before: so I changed, had a light lunch in the Horizon Court buffet area, and then sorted out things like internet access (500 minutes @ 35 cents a minute!) and a massage appointment.  
We met for supper at 6 in the Savoy Restaurant where we have a table for 6 and a table for 10. The two main places for dancing are the Wheelhouse Lounge which features a band called Flare who play a lot of Latin music. Club Fusion, which has a great dance floor,  rather disappointingly seems to have a DJ and canned music but there are more waltzes and foxtrots there. Also they take up time with various games and things so the dance floor is not usale during those times.
So we danced for 45 minutes at one place then after seeing a show in the Princess Theatre - a "Musical Comedy" which I thought was  not great - we moved to the other floor to dance.  I think it takes a few days for the guys to get to know the dancing styles and capabilities of the women and for us to get used to their individual foibles. 
Sunday, November 8 Of waltz and Cha Cha Cha
Today we were having workshops on Cha cha cha taught by Greg and then Waltz, taught by Brian. I decided to avail myself of the luxury of having breakfast served in my cabin. I was awake a little later than usual at 6:30 - I never seem to make it asleep till my wakeup call which
I had set for this morning at 6:45. Promptly at 7 there was a knock on the door and my tray with fresh fuit, non-fat yogurt and coffee with cream, was brought in.
I enjoyed my breakfast at leisure, working away at my computer and even managing to talk briefly to Michael on Skype. We are 16 hours ahead of  Vancouver, 13 hours ahead of New York and Toronto. For the time we will be in Okinawa we actually move an addional hour forward, so 17 and 14 hours will be the  respective time differences.
By 9 am I was down in the Wheelhouse Longe and ready to go. Greg started off with a pattern that involved swivels. So following what I would call a New York to my left and a cha cha back to face partner, you do two swivels and another cha cha cha, and then repeat with a sort of  syncopated step and hold - da da! - before you do another set of swivels.  Hard to put in words because I dont know the technical terms  but it  was quite a cool step.
The timing -2, 3,chachacha,swivel,swivel, lockstep chachacha with left in front, then forward back chachacha, swivel,swivel, and one is the da da before the and swivel and swivel, and then a new york into a double spin. Hmmm.... make sense to anyone?
Brian then introduced a new pattern for waltz - new to me at any rate. Involving first the lady turning underarm, then the man, then the lady. It is  a very open flowing pattern, quite pretty when done well and easy to follw
  After the workshop I went up to the gym to do some weights and then back to the cabin to get some writing done. 
For dinner I sat with Harry and Julia, who are from Kamloops, Brian, Kim, Helene and Carrie. It takes a while  to get to know people but gradually we will  sort everyone out.
Later that evening in the 750 seat Princess Theatre we saw an excellent song and dance show called Words and Music, featurring four very good vocalists with the dance team that I think consists of  5  female dancers and four guys.The latter seem to have a ballet background judging from how they moved. I thoroughly enjoyed the show.
I am so impressed with the shows they manage to put on  on these ships. Except when they get "comedians" who do dumb things like getting the audience to wear animal heads and sing Old MacDonalds Farm - give me a break! There may be a lot of seniors on board but most of them are not senile! But this show was just stright song and dance and it was terrific.
Tomorrow we dock near Shanghai- I am curious to see how the city has changed since my last time there. We have an excursion booked so lots to do.