Review From The House
READ IT • SEE IT • TASTE IT • LIVE IT
Mexico and Me: Days 5 to 10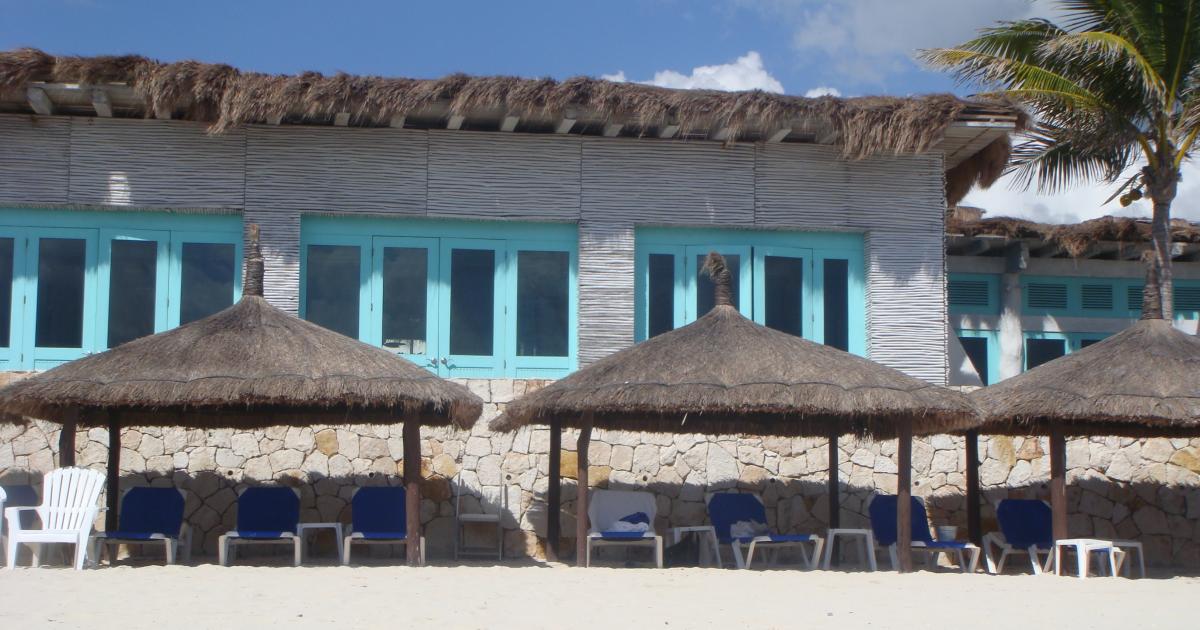 Mexico and Me: Days 5 to 10
Sunday, January 11th, 2009
Mexico and Me: Day 5 (Tues 23rd): Oops – what is happening to our minds? Too much sun?
We still have not figured out how it happened but we were chatting around 10:45 when the Brio Spa called to tell us we had missed appointments for massages. How do three compulsive detail oriented individuals do that? We were all completely bamboozled and somehow had 2 pm in our heads instead of 10 am. We are feeling very stupid and also deprived as we were anticipating getting our stiff muscles kneaded and stretched.
 
We ended up having lunch at Balche, the poolside restaurant and then spent a few hours at the pool. We had supper in the room and played bridge the rest of the evening. An uneventful and relaxing day.
Mexico and Me: Day 6 (Wed 24th): A day at the pool
At the gym early followed by a day at the pool.
It appears that people have figured out that Gong restaurant is now open as it is now necessary to phone for reservations. We decided on our usual early dinner and tried some of their interesting fusion food. We shared a hamachi tartare with jalapeno. Also crispy shrimp served in a mayo based cocktail sauce. Then we shared their Peking duck. Two wrappers filled with plum sauce, scallions and shaved duck. The remainder of the duck was then stir fried with vegetables. Quite delicious.
Apparently the chef worked in the US for about 12 years and that was where he learned to make the Peking duck. Currently at Gong he says he prepares two ducks a day so I guess if you come late and want to try the Peking duck you may be out of luck. I suppose as it catches on he will do more of them.
Mexico and Me: Day 7 (Thurs 25th): Seafood dinner in Playa del Carmenc
It is Christmas Day and as the song goes, it is hot, hot, hot. This reminds me of South Africa where we usually spent Christmas Day at the beach. My memories of Christmas lunches and dinners revolve around sand in food: cold chicken, potato salad, fruit on flimsy paper plates, wolfed down by hungry kids sitting on damp towels, encrusted with sea salt and sand.
We have been here at the resort for a week and I have noticed that there seems to be some sort of respiratory virus going around. Every where you go there are people coughing, both staff and guests. I bet the gym equipment is a great breeding ground for infections too.  I have developed a cough though it is not too bad. Amanda has a bit of a cold. Mike at the moment seems fine.  
Mike made arrangements for us to have dinner with friends of his from New York who are visiting Cancun. Our concierge had already made us a reservation at Casa del Agua in Playa del Carmen so we changed the reservation from 3 to 5 people. The restaurant is on the second floor of a corner building on the 5th Avenue strip in Playa. We drove into Playa early so we could spend some time walking along the Avenue.
The 5th Avenue strip seems to stretch for miles.  It is lined by shops selling everything from jewellery and clothing to anti-bug spray.  I must confess that I am not the kind of tourist that these places need as I really don't go much for shopping. And I am a write off for the bars too since I am really not much of a drinker either. Despite that we stopped at a bar to try to figure out where Mike's friends were. While Mike and his pal tried to connect via cell phones we enjoyed some drinks. Boring me had a virgin pina colada – I love the coconut cream, but don't drink rum. So calories but no buzz!
We finally met up with Qazi and Victoria and had a really good dinner at Casa del Agua. Mike and I both tried their lobster bisque and declared in one of the best we have tasted. I suspect it is loaded with cream but it was quite delicious. Lobster seems quite ubiquitous on restaurant menus here so I think we will get to try other examples of the bisque.
Mexico and Me: Day 8 (Fri 26th): Lobster delight at Tramonto
Well it is Boxing day and sure enough we will get a chance to compare lobster bisques. On Friday nights Tramonto features lobster dishes and we decided to check them out.
We headed off early for our daily workout as we were also running out of groceries for our breakfast and lunches and needed to make a trip into Playa. We headed off to the Walmart. One of the interesting things is the lack of consistency in the shops. I guess I am used to stores where the layout has been preplanned – optimized to part you from as much money as possible – but still; one knows where to find the various fruits and vegetables, and most of the other stuff you want. Here something you found on your last visit is quite likely not to be available the next time or the quality is a bit off.
I have been looking everywhere for coffee cream – real cream not the vegetable oil based stuff. It is one of my few fat indulgences. A tablespoon of 6% cream in my morning coffee at home brings out a luxurious flavour that I really look forward to each day. But liquid crema is almost impossible to find her. I found crema para batir – whipping cream that actually pours but I have not been able to find that brand again. So I resorted to the ultra-pasteurized thick stuff that stands on the shelf and does not need to be refrigerated till it's opened. But it does not dissolve well in the hot coffee so I shudder to think what it does to arteries.
Lobster dinner at Tramonto. We tried their lobster bisque which was certainly very tasty but was more heavily tomato based so you get the tomato flavour more than the creamy lobster flavour. Probably healthier but not as decadent. The lobster tails here are huge – again probably enough for two to share. See those potato wedges on the plate? Yummm.
Mexico and Me: Day 9 (Sat 27th): Muscles and massages
We have been working out hard and consistently so we all thought we would try out the massage offered at the Brio Spa. I had what they call a sports massage. Blanca was quite tiny but could exert a lot of pressure. However good as she is, she obviously can't do the kind of targeted massage that I am used to. Actually I have not encountered an RMT anywhere that is as good and as effective as Julie, back home. Julie if you are reading this, wish you were here!
We came back to our suite for a salad lunch before heading off to the pool.
I had enjoyed the grilled shrimp at lunch at Havana Moon a few days before and thought it a reasonably healthy meal so we decided to try Havana Moon for dinner. I had the shrimp grilled with salad but it was really not very good this time. Overcooked. We also found an insectos in the spring roll salad- they took it off the bill but that was not the point. I felt vaguely ill at the thought and did not feel inclined to return. Amanda pointed out that the restaurant is on the beach and very open to the environment. So insects are a possibility. Made me more determined to stick to the indoor restaurants at night.
Mexico and Me: Day 10 (Sun 28th): Sayonara Son
Today Mike leaves to head back to NY – a week earlier than he had hoped but at least he managed a week here without being on the computer and the phone all the time. He booked the shuttle for 1 pm so we decided there was ample time to get some exercise first.
We started the morning by going to the gym at 7:30 for a good workout and stretch. The place has filled up for the New Year week and there is now much more competition for the equipment. I was able to find a vacant treadmill – it was the one on the raised platform that actually gave me quite a good view of the gym so I got in a hard 45 minute aerobic workout and was also able to see how the equipment turned over. They unfortunately have only a couple of ellipticals and cross trainers and that seems to be the high demand equipment, I guess the gyms take a while to catch up with visitor trends and preferences.
 
On the way back Mike suggested breakfast at Café del Lago and although I really want to avoid buffet meals, it seemed the simplest thing to do. I stuck to an omelet, a bit of fruit and a cup of coffee but I watched most people pile their plates high with deep fried carbohydrate stuff, and go back for more. I think the psychology of buffet meals is interesting. There is this sense that you want to get your money's worth and try a bit of everything so it takes a sort of discipline to turn the thinking around to the fact that you have the choice to eat exactly what you want and the buffet simply provides the options. Anyway I still prefer to avoid them so I don't have to test my dietary discipline. I am determined that when I step on the scale in my bathroom at home I will not only have avoided gaining weight but will be back to the  weight I was before I hurt my back last April. Six more pounds to go. You can do it, Gill. Maybe I should be saying "yes I can!"  or is it "just say no!" I get the slogans mixed up now and then. But any way the bottom line is just continue to increase level of fitness and sense of well being while enjoying  the sunshine, getting back into a regular writing routine and working on improving my  Spanish accent.
I was sorry to say goodbye to Mike because I don't know how soon it will be before we can get together again. Hopefully it will be in California in March. Mike, Keith and Cailey all celebrate March birthdays and the new little one will also be born in March.  So hopes for a family get together are high.
Amanda and I discussed possible excursions. Since we have done a number of the excursions here before, like Chichén Itsá and Xcaret, we thought we would wait till after the New Year week and then decide where we want to go. I want to get some serious writing under my belt and Amanda's intent is to spend several hours each morning working through the plays for her research so we want to see how this week pans out with that too.
Dinner at Tramonto – Amanda and I shared the chateaubriand. Food was good but even sharing the steak I found the portions a bit big. Need doggie bags.