Review From The House
READ IT • SEE IT • TASTE IT • LIVE IT
Mexico and Me: A Day at XCARET: Aquatic Recreational and Ecological park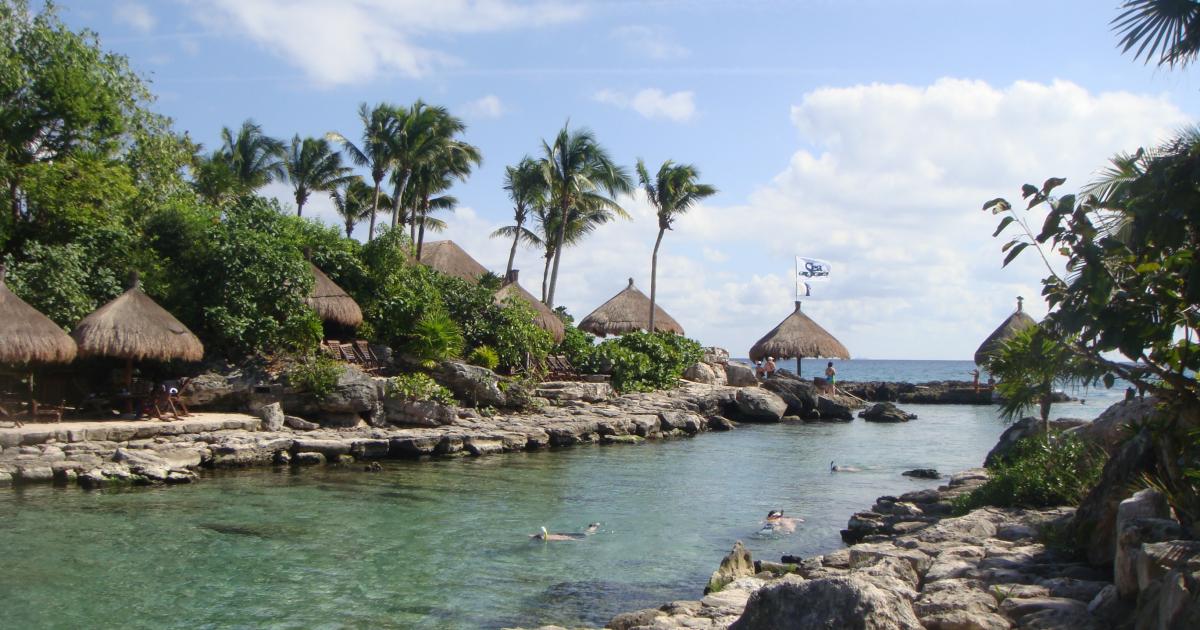 Mexico and Me: A Day at XCARET: Aquatic Recreational and Ecological park
Sunday, January 11th, 2009
XCARET – THE WATER PARK
Xcaret (which means small inlet in Mayan) was once an important port for the Yucatan Peninsula and also served as a Mayan ceremonial centre. Today it has been developed into an aquatic recreational park where you can float down underground rivers, swim and snorkel in pools and lagoons, and see turtles, dolphins and even sharks up close and personal. While one can drive to the park and just pay the admission fee, from the hotels it makes sense to sign up for one of the tours which gets you ground transportation in an air conditioned bus and admission to the park.  For US$110 we took the XCaret Plus package which also includes a buffet lunch at one of the many restaurants, a locker, snorkeling gear and a towel.
 
The bus picked us up at 8:50 and it took about 40 minutes for the drive to XCaret. The guide, Daniel gave a 20 minute presentation in Spanish on what to expect, followed by the same presentation in English. I listened really carefully to the Spanish part and was surprised at how much I actually understood. Obviously my efforts at learning "muchas nuevas palabras" each day are getting results. At least my vocabulary is increasing even if my grammar may be a bit wonky. For example I think I wrote "many new words" using the correct feminine form of the adjectives "mucho" and "nuevo." Wish I had a teacher here with whom I could check the grammar.  Mind you my Spanish is probably at a kindergarten level, if that and I don't think they teach grammar in kindergarten!
Once we arrived at the park, our guide came through the bus putting bar coded wrist bands on each of us. As you come to the "entrada," you pass through a turnstile that is operated by a bar code scanner. So you hold your wrist band up to the scanner and it unlocks the turnstile. The modern crowd control systems contribute to the incredible efficiency with which they manage hundreds of visitors that pass through the park each day.
At the Xcaret Plus area we first picked up our towel and left a refundable deposit of 200 pesos each for the snorkeling gear. We left our gear except the stuff we needed with us in the lockers, then we got our life jackets and placed our sandals, wraps, camera and things in a large numbered bag to which we were given the key. This bag would be waiting for us at the "salida" of the underground river when we finished our swim through the caverns.
At the river entrance there are two options. One route is entirely underground – skylights let some light through. The other river runs partly underground by also has parts that are open to the sky. As someone who can stand on the edge of a cliff with no fear, but who has battled claustrophobia all my life, I opted for the part open option. The underground river runs for about 700 m, winding through caves and tunnels carved out of limestone. We sat on the steps leading down to the river, tightened our fluorescent pink life jackets and put on our flippers. Amanda put on her snorkel gear. I decided to just carry mine until she found something worth looking at underwater.
We were early enough that there were no large crowds to disturb the tranquility of the river. We followed slowly behind a family of father and four daughters; keeping far enough behind them that at times it was as if we were alone in the limestone caverns. The water was refreshingly cool and we alternately swam and floated along in the stream. The roof of the long sections of limestone tunnel was high enough and light was visible at each end of the tunnel so I never felt confined at any time. At one point you swim into a large circular chamber where the open skylight has been replaced by a large stained glass window. We floated on our backs for a while enjoying the beauty of the light filtering through the bright colours of the glass.
At the river end we retrieved our belongings from the numbered bag and then made our way along paths bordered by luxuriant foliage to the tidal pools bordering the Caribbean Sea. This was where I planned to work on my snorkeling! It may seem crazy to anyone who is not claustrophobic but it is really hard for me even to put a mask on let alone keep my face in the water so this represents a challenge for me. These pools were deep enough for swimming but in places shallow enough for me to stand – just right for fighting phobias.  We spent about half an hour swimming from one tidal pool to another and I managed to spend much of it with my face in the water. There was enough of a variety of fish around me to distract me from thinking – medium sized fluorescent blue and striped fish, needle fish that were almost transparent, and several schools of tiny fish darting almost frantically back and forth. Maybe they thought I was a giant predator!    
We dried off as we walked towards the sandy beach areas, near La Peninsula restaurant where we planned to sample the buffet later.  The beach areas were quite crowded with families; parents watching their youngsters play in the shallow water. We kept walking in the direction of the second beach section to the north-east of the park. Finally we came to another lagoon area which was almost deserted except for four people who left shortly after we arrived. The life guard stationed there was rather bored, but we were delighted to have the area to ourselves for a while.
We decided to immortalize my achievement at sticking my face in the water as proof for my other kids that I actually did snorkel. I debated whether to post Amanda's video of my grand demonstration since I couldn't decide if I looked more like an upright whale or an uncoordinated frog but what the hell? Who cares? And I must admit it is funny. Now I just have to figure out how to post video using this editor.
Shane, help!
By the time we had had enough swimming and snorkeling it was almost 1:30 and time for lunch. We headed off to the buffet at the Peninsula restaurant. They featured lots of salads, fruit and vegetables as well as grilled fish, probably tilapia, chicken and some kind of steak. They had a dessert table which did not tempt me at all and an ice cream machine which did. I watched people stacking up their ice cream cones with swirl after swirl of gelato. One guy managed to get a large clump to land on the floor. I had a small cone-full of the vanilla ice cream but decided that it was not worth the calories.
So nourished, hydrated and satisfied that we had swum enough, we wandered back to hand in our gear, change and head off to explore the ecological aspects of the park.