Review From The House
READ IT • SEE IT • TASTE IT • LIVE IT
Fish and Chips at Hout Bay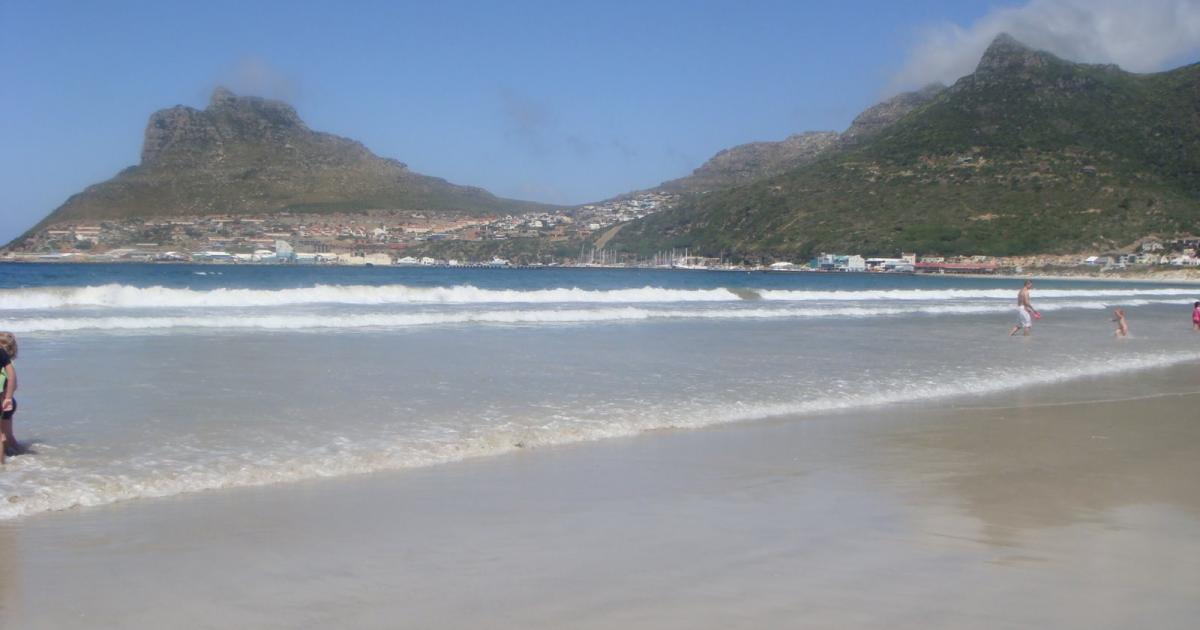 Fish and Chips at Hout Bay
Sunday, January 27th, 2008
I realize that most of my photos involve people sitting round a table ready to eat. Or else beaches and mountains. More coming.
Brin and Sherida fetched me at around 10 am. It was already blazing hot. I had a swim suit on under my shorts and was eagerly anticipating a swim in the warmer waters on the south-west side of the peninsula. We picked up Sandra, Sherida's sister, who lives on High Level Road in a flat with an amazing view out over the ocean, and the 4 of us drove out to Hout Bay.
I remembered it as a quiet small village where people used to drive out to for tea on a Sunday afternoon. Then it went through a period of being the "in-" place to stay and some magnificent homes were built out there. In the last ten years horrendous squatters' camps have metastasized up the mountainside. Polluted water drains down into the bay and even the water on the beach has an unclean brownish appearance.
The living conditions in these squatters' areas and in the "townships" just off the main roadways are horrendous – corrugated iron shacks with no running water.. Illegally linked wires tap electricity from the main grid contributing to the major energy crisis. I wonder how many people have been electrocuted just trying to hook up these power lines?
Anyway the drive around the mountain to Hout Bay was as always stunning in the sheer magnificence of mountain and ocean but the wind howled and beat at the bushes and trees. At the beach we went ahead with our plans to go for a long walk but the combination of howling wind and polluted water put an end to any thought of swimming in my mind. What a shame. W ell, we are planning to go to The Boulders and Muizenberg on Wednesday, very early in the morning. Hopefully I will get at least one ocean swim in before I leave.
We were going to drive a way along Chapman's Peak, another stunningly beautiful drive, but came to a toll road. Apparently there were major rock falls and a tourist was killed a few years ago by a falling rock. So they decided to do preventative work including putting nets up although told that they would be ineffective. The tolls are to pay for this supposedly. So there are signs up warning about the dangers –like we have at home. We decided to turn around and go to the fish and chips place. The fish is called hake- a firm white fish- and again great chips. Ok how can you not eat chips at a fish and chip stand? Hopefully my body will acknowledge the reality of that thought and not maliciously use the chips to re-expand my waistline just as I was back to my pre-travel svelte (really!) state.The heat was quite draining and we drove back to Sea Point . I meant to write a bit but instead fell into a semi-stupor.
Carole had arranged for the Lockitch cousins of our generation who are still living in Cape Town to come over for a light supper. With the present day diaspora, most went to Sydney, Australia (Gerda, Ricky, Judy, Linda and Leslie), then Vancouver (Bob), London (Blanche) and Tel Aviv (Alan). So the cousins in Cape Town are Barry and Brin, Avril and Jeff, and Steve. Apart from Carole and Sherida, the partners were Len, Bev and Celeste. So there were eleven of us around the table. I learned some things about the previous Lockitch generation from Avril. Her mother, Sadie, and her first husband Barney were apparently excellent ballroom dancers, as were Bob's parents. So that's where Bob got his great sense of rhythm and loved of dancing from. Who knew?