Review From The House
READ IT • SEE IT • TASTE IT • LIVE IT
Eastern Caribbean New Year Ballroom Dance Cruise: Part IV. Dancing at sea via Nassau to Fort Lauderdale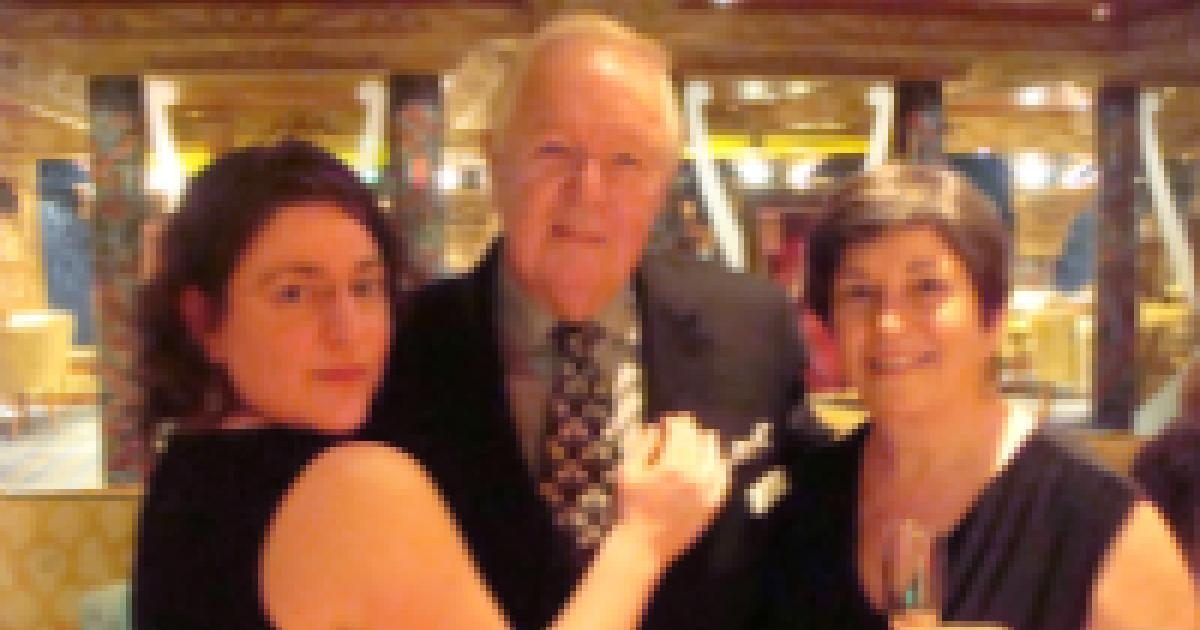 Eastern Caribbean New Year Ballroom Dance Cruise: Part IV. Dancing at sea via Nassau to Fort Lauderdale
Wednesday, January 13th, 2010
 Friday, January 1st, 2010 Dance workshops while cruising back through the East Caribbean
Last night we had a raucous and fun-filled New Year's Eve party. Despite  only a couple of hours sleep I was as energetic as usual when I woke up - though I was really craving coffee.  i think Mike got to bed about the time I usually wake up at home so I didn't think he would make it to the workshop at 10 am.  When our coffee and breakfast did not arrive at the expected time I called to find out where it was. Apparently some yoyos had taken the room service card off our door - it later turned up outside the door of an empty cabin further up the corridor.
Jeoffrey however worked his magic with the kitchen staff and a tray of coffees arrived quickly. We poured cups of coffee, expresso and cappucino down our throats - and "presto- we were dancing fools". That's a great quickstep number by the way -  "Dancing Fool"  by Manilow - the version I have is really nice but a very quick quickstep!
By the time we had to assemble for the workshops we were all ready to go. Surprisingly considering last night was a wild party, almost everyone turned up for the workshops. And they concentrated.
Here are some of the guys learning their parts.
Wendy had scheduled Robert to teach a tango workshop first. He showed us the sequence, dancing it  with Wendy.
Starting in promenade position it was a walk to a ronde, fallaway to two pivots and then - tango close.  Huh! I think I actually used correct terminology. I also wrote down the timing because that makes it easier for me to think about it.
So it is
SQQS(ronde with right foot)
QQS& (thats the fallaway- step pivot)
S& (that's the next step pivot)
QQS
George then taught a lesson on East Coast swing. The sequence was triple step, two walks - sort of like a whip - triple step, two walks, then a J lead (I think that's what he called it) with backs together for a double flick, and triple step back to face partner. A very technical description as usual! sigh! gotta learn the terminology.
I had trouble with the turning- I think it was something to do with the hand hold - did not see anyone really get it right. Its cool but obviously needs more practice - like all these things we learn. 
Hey wouldn't it be great to be able to do the time travel bit. I think I would go back to being around 17 and instead of going straight to university I would take a year off and spend it learning to dance, and get into the habit of stretching so my body would not feel like it's made of concrete when I get to the age I am now.  Phew- that's a bit of a mind-bending thought.
After the two workshops, Mike's complimentary lesson with Carrie was scheduled and as we had done with the others, we decided to share the lesson. We decided to focus on West Coast swing and by the end of the lesson Mike was reasonably comfortable with leading the few basic moves and Amanda and i were following ok.
After lunch those  in our cabin who had less than three hours sleep (!) decided to nap while i trotted down to the 5th deck and sat in the Savoia lounge to use up the internet hours I had paid for. This actually has been the first cruise where i did not exceed my internet time and have to pay for more. Somehow we seemed to be busy all the time and I hardly had a minute to go on line.
Dancing in the Savoia before and after dinner was excellent - good music from the Trio Tringali and lots of space on the dance floor. I got to do a Viennese waltz and a quickstep among others.
It was so nice having Mike there to dance with. Amanda and I got to practice the samba steps we worked on with Brian earlier in the week and Mike and I practiced the chacha steps that we had learned. We got the swivels working fine but the sequence he learned at his studio took me a couple of attempts to pick up on and I was not always sure when it was happening.
 Saturday, January 2nd. Nassau (Bahamas).
The stop in Nassau was to be brief - arrival around 1 pm, all aboard by 5:30 and departure by 6 pm for Port Everglades  in Fort Lauderdale. As I have said  - probably too frequently - I don't really do these criuises for the locations, but for the dancing so I did not plan to go ashore in Nassau. Anyway as we had the morning at sea Wendy scheduled two more workshops. "Good on you, mate " as my Australian friends say.
Before we began Wendy updated us on upcoming cruises. Wow - if time and money permitted i would do them all - but alas, after my 5 trips in 7 months I won't be cruising again for a few months at least.
For the workshops  Brian taught a workshop on salsa with a sequence which again I think I picked up really quickly and promptly forgot when the workshops were over. So for those of you who may have a touch of obsessiveness like me - yes I did say "a touch" - and actually try and practice the new stuff we learn in these workshops, here is what I think he taught.
Brian if you read this and I got it wrong feel free to comment  and correct me. And actually that applies to any of you whose instructions I have tried to interpret and may have got totally wrong. I mean you dont want a whole bunch of Dancers at Sea guests on future cruises stumbling around, kicking you and tramping on your toes because i missed out a step, now do you?
So here goes with the salsa moves:
from 5th position break,
left hand loop over lady
right hand loop over man
both hand hold -swivel,swivel,swivel
both hand hold -swivel,swivel,swivel
spot turn
5th position- tap
5th position- tap
close
For the last hour Robert taught Bolero - yummy dance! I don't have the vocab to describe it properly but it was a beautiful sequence. We started with basic steps into three NY breaks into a turning basic. Then a spot turn into a cuddle hold, a spiral basic, 2 sways and a spiral into a basic. Something like that.  I think I can follow it easily with a good lead but can't really remember the sequence when I try to practice it on my own.
I sort of had it by the end of the class but luckily we had the half hour lesson with Robert to make up for the time we missed so he worked with Mike, Amanda and I until we had it. Then Mike and Amanda took off to go ashore in Nassau and I had a lesson with Robert. It is so interesting how one's, or maybe I should say "my" kinesthetic sense differs from reality.
It's almost like my singing - I know from testing that I am supposed to have a very good ear for pitch but although I can hear a note and know exactly how I want to reproduce it when I try to sing it I can hear that I am off-pitch. So similarly in dance, I feel that my frame and posture have greatly improved and my kinesthetic sense tells me I am stretching and extending - and then i see myself on a video and realize that the mental image I have is soooo far wrong i want to cry. Or maybe get on Procrustes' iron bed and just get stretched into shape.
So Bernice, I really do know how you want me to strech my right side but it "just won't move dat way!"  I maybe have to walk around all day in dance hold position and gradually my muscles may loosen up. Hmmm...  Maybe I will restrict that behaviour to inside my apartment - don't want to be arrested for odd behaviour.
After my lesson with Robert it was time to go back to the cabin and start packing so that I would be done when Mike and Amanda returned and wanted to start their packing.
They returned shortly before sailing and reported a somewhat disappointing experinece  - beach not great and it was  overcast and not as warm as they would have liked.
We met as usual at the Club Savoia before dinner but there was a frenzy of picture taking  more than dancing. Numerous bottles of champagne were opened and there was lots of hugging and more picture taking.
We had to get suitcases packed, labelled and out in the corridors so that the overnight staff would have them ready for disembarkation. So by midnight the party wound down with lots more hugging and goodbyes.
Mike, Amanda and I were staying over one night in Fort Lauderdale because of complications with flights for me back to Vancouver. So we were going to be picked up by the hotel shuttle and were not too concerned about getting off the ship early.
I went off to sleep around 1 and they partied on a bit longer.
MY SUMMARY OF THIS CRUISE
Much as I have enjoyed each one of the ballroom dance cruises I have taken, I think that I enjoyed this one the most.  Seven nights was a perfect length - time to get to know your co-dancers and not enough time for tensions to develop. The hosts were all terrific, wonderful to dance with and delightful company. And it was really great having the other male guests to dance with too.
Best of all, I loved being able to spend a week with Mike and Amanda where we could dance every night, and where none of us were glued to our computers, cell phones and PDAs. That's called a vacation - for all you other work a'holics.  And it is FUN
In case you missed the other sections of the Travelblogue:
 PART I:     Getting there: Vancouver - Toronto - Fort Lauderdale
PART II:    Dancing at Sea from Fort Lauderdale to St. Thomas
PART III:    St. Thomas and San Juan, New Year's Eve Afloat
 A Collage of pictures from new year's Eve 2009