Review From The House
READ IT • SEE IT • TASTE IT • LIVE IT
Eastern Caribbean New Year Ballroom Dance Cruise : Part II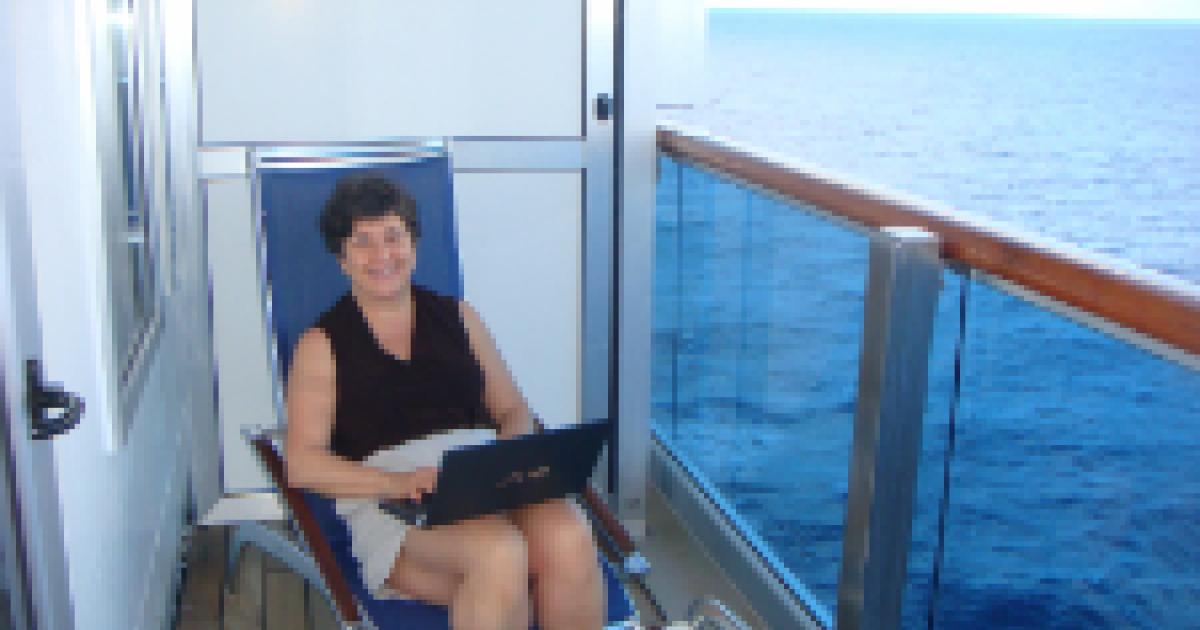 Eastern Caribbean New Year Ballroom Dance Cruise : Part II
Wednesday, January 6th, 2010
 Monday, December 28, 2009  Sea days - Dancing from Fort Lauderdale to St. Thomas
Today is the first of two days at sea and we have 2 hour dance workshops scheduled on both days; These will be on the 4 most common social dances  - rumba and foxtrot, and  waltz and chacha . On the return two days at sea, Wendy has scheduled bolero (one of my favorites), salsa (not my favorite), tango and swing. We were asked to be at Club Verde by 10  am.
As far as our cabin goes it is very comfortable and well designed, with adequate storage space  so that we are not tripping over each other's stuff.  The balcony has two long pool chairs and a table.  It has the best view of any office I have worked in except maybe my "office" on the Pacific Princess, traveling between Honolulu and Tahiti. 
We have two cabin attendants; Maricar is the steward and Jeoffery introduced himself as the "butler", who will help us with everything from booking excursions, making reservations,  bringing fresh fruit each day..  Hmmm...  I like the idea of having a butler.  I could get to want to live permanently on a cruise ship - although in the long run it would probably be cheaper just to get a butler at home.  Tihink about  P.G. Wodehouse's Jeeves, who  was so smart he even had a search engine named after him.  I would not need to rely on Google to dig out esoteric facts: on the other hand if  Alfred came to work for me I could even get my own Batmobile, and no longer have to battle traffic. Just imagine - breakfast in bed, laundry done, excursions booked - whoops, I meant theatre tickets!  Actually the reality is that  a butler in my apartment would probably die of boredom watching me at my computer.  So I will just enjoy being spoiled by our butler while on board.
On that note, this morning we slept in till 7:30 and then called to order room service as no breakfast card had been left for us to fill in. We forgot we should order through Jeoffrey, our Butler - not being used to this elite existence - but once we called room service he appeared promptly to take our orders. The  food, and more importantly the coffee,  arrived around 8:40 so I wolfed it down and then went to shower so we would not be late for the lessons.
The workshops were scheduled for  the Verde lounge.  As you can see from the picture it was a small dance floor - not too great for a large class, and this group is large.  I counted 42 people including Wendy. Most of our group turned up on time so there were about 8 women more than the men there. I was interested to see how Robert would handle a rotation schedule as each instructor has their own method, some of which work better than others. Robert used the "ladies tap in while men stay in place" method and it seemed to work well.
The first hour  was taught by Brian who showed us a nice simple pattern in the foxtrot. He began with a triple twinkle - then introduced a variation on the second step - moving forward and back, and then closing to your partner. Then we incorporated it into a basic step to start off and Brian added a slow, quick quick to the right, sways to the right and left, followed by 4 quick steps turning to the right and closing on 4. It is really very simple to follow. It's the guys who have it hard as they have to get the lead right.
After a short break Robert took over to teach us a step in the rumba, called the "left side catch, cradle and roll out". It starts off with what I would think of as a New York, back into an overturned spot turn finishing behind your partner (that is the lady is behind),  step forward on right foot outside partner and back, and then turning left to finish facing partner.  It is  a really easy step sequence to learn for the ladies but the lead is really quite complicated for the man. By the time we finished the rumba workshop I had almost forgotten what we learned in the foxtrot so we will see if anyone tries these moves tonight.
After the workshops we all met with  one of the three pros to whom  we had been assigned  for our private lesson so that we could to set up a time. Amanda and I both had been assigned a lesson with Robert - we took two adjacent slots for the next day at 3:45 and 4:45. Then Mike, Amanda and I headed up to the buffet for a light lunch.
Amanda and I then  went to check out Internet access while Mike decided to wander around and check out the scene.  I realized that I would have to bring my lap top up to the deck 5 to get wireless. Once you connect you just register on liine as on the other ships.  However  I wont get a chance to do it today probably as the life boat drill is at 3:15 and it will then be time to get ready for the first formal night.
 Mike and Manda had booked massages that would finish around 5 so I planned to shower and dress, and get out of their way so they had time to get ready.  Wendy has asked us all to meet at 6:15 for the photo instead of the usual 6:30 in the Savoia.
We met in the atrium and had a picture taken with the  Christmas tree in the background.
As you can see it was quite a deal juggling 40 or so people to get us all into one photo but Wendy managed it.
I really enjoy these formal nights on board. The men look wonderful in their tuxedos. The women glitter and glow in a wide array of styles and colours. It's really terrific.
Who gets a chance to get dressed up like that in "real" life except on board these ships?
After the photo we danced in the Savoia before dinner and then at 8:30 went to line up for the formal night gala dinner in the Michaelangelo restaurant. Because we have the second sitting they seem to be very late opening the doors. I guess they just can't turn things around quickly enough.
It took forever to open  and the crowds were getting very restless. People were pushing through to get to the front and  with this aggressive and rude behaviour I half expected an attack of cannibalism to break out. Our group of course was polite and patient though grumpy. Gordy, the perfect gentleman,  went into the dining room and got chairs for our older ladies to sit on while they waited,
By the time we sat down to eat I was so hungry that I could not resist eating a bread roll despite my resolution to avoid bread this trip. in fact I had two. They offered a special gala dinner for the formal night. I had a delicious snow crab quiche served with jalapeno scented mayonnaise sauce, followed bycrispy roasted duck a l'orange with berny potatoes.
 
At dinner we were joined by Dee and Do (Dorothy), Gordy, Steve, Muriel.
Then after dinner we went back to the Savoia lounge to dance till after midnight. We are travelling east so the clocks were set forward an hour and it suddently became one o'clock. By the time we got to bed it was closer to 2 am.
Tuesday, December 29, 2009 Day 2 of cruising
After the late night, and loss of an hour, we figured our internal clocks would tell us to sleep in so we set a wake up call for 7:45 and got our breakfast in our cabin. I stuck with my plan to be good, foodwise and had plain no-fat yogurt with fresh mango, and coffee.
By 10 we were walking through the Savoia en route to Club Verde when we saw Wendy and some of our group.  The ship personnel allowed Wendy to hold the first workshop in the Savoia which was great as it was a waltz lesson and we really needed the space.
The waltz pattern was taught by George.
Two quarter turns, two reverse twinkles followed by a developé, two more quarter turns into an over sway, twinkle and back to basic.
Then we moved back to the Club Verde where Robert taught a chacha lesson - crossover break to flick I think he called it. He used  different terminology for the components but in my terms it was a New York (Forward, back chachacha) then left foot forward to right, pivot to left with lock step (right in front) for chachacha, and a syncopated hold (and 1, 2 and -) followed by a spin chachacha turning to left.
I really need to learn the names for the moves in the American rhythm and smooth syllabi so I can separate the dances in my mind from the steps I learn at home. I think it will make it easier for me to remember them too.
For lunch instead of the buffet, Mike, Amanda  and I decided to lunch in the dining room. We were  joined by Bill, one of the hosts, a charming man and super-conscientious host, who Mike and I had met on the Labour Weekend cruise out of New York.
Amanda and I had our back to back lessons with Robert scheduled for mid afternoon.  we decided to ask him if all three of us could attend both lessons as it would be  as helpful for Michael to learn from him as it would be for Amanda and I. We ended up down in the disco as it was the only space avaible. A terrible floor for teaching on.  Great for disco dancing where you essentially stay on one spot so you dont have to worry about heels catching or sliding but hopeless for anything else. We spent a fair amount of time on posture, frame and movement rather than any specific steps.  Because we had started late, trying to find a spot, we had a half hour left so Robert suggested we reschedule at a later date.
 From 6:30 we were again dancing in Club Savoia to the music of the Trio Tringali and Antonio.  When the band went on break Wendy played her own dance music so we just kept going. I was starting to get an idea of the different dancing styles of the various hosts and what their strengths were. Although they are expected to be able to do most of the dances, it seems that Viennese waltz and maybe quickstep are the exceptions.  Not all the hosts can do them. Both Robert and Brian do a lovely Viennese waltz and I got to dance one with Brian.  I love it.
Wendy guarantees a ratio of 1 host per three single guests. That means in theory that you only dance one third of the time.  While there is never a problem for the male guests since so few single men seem to come, the 3:1 ratio for the women guests is pretty constant. Here we had actually had 21 single women and three women who were part of a couple (and not included in the ratio) for 8 dance hosts so theoretically this was better than the guaranteed number. With two of the men from the couples dancing with other guests as well, and 5 single men guests, the amount of dancing was actually much better than is usual.
I loved having Michael with the group. Even though he is my son, I feel free to boast about him because he was really great, dancing with many of the othe guests as well as getting a lot of time to practice with Amanda and I.  I was so impressed by the strides Michael has made in his dancing even since September - kudos to his teachers in New York, Aleks, Nadia and Yuri of the Midtown Fred Astaire Studio, who I met when I was in New York.
Ater a late dinner we returned to Club Savoia where the trio played till 1:30 am. Tomorrow we reach St. Thomas, in the US Virgin Islands.
In case you missed the other sections of this Travelblogue:
PART I:     Getting there: Vancouver - Toronto - Fort Lauderdale
PART II:    Dancing at Sea from Fort Lauderdale to St. Thomas
PART III:    St. Thomas and San Juan, New Year's Eve Afloat
 A Collage of pictures from new year's Eve 2009