Review From The House
READ IT • SEE IT • TASTE IT • LIVE IT
What Lies Before Us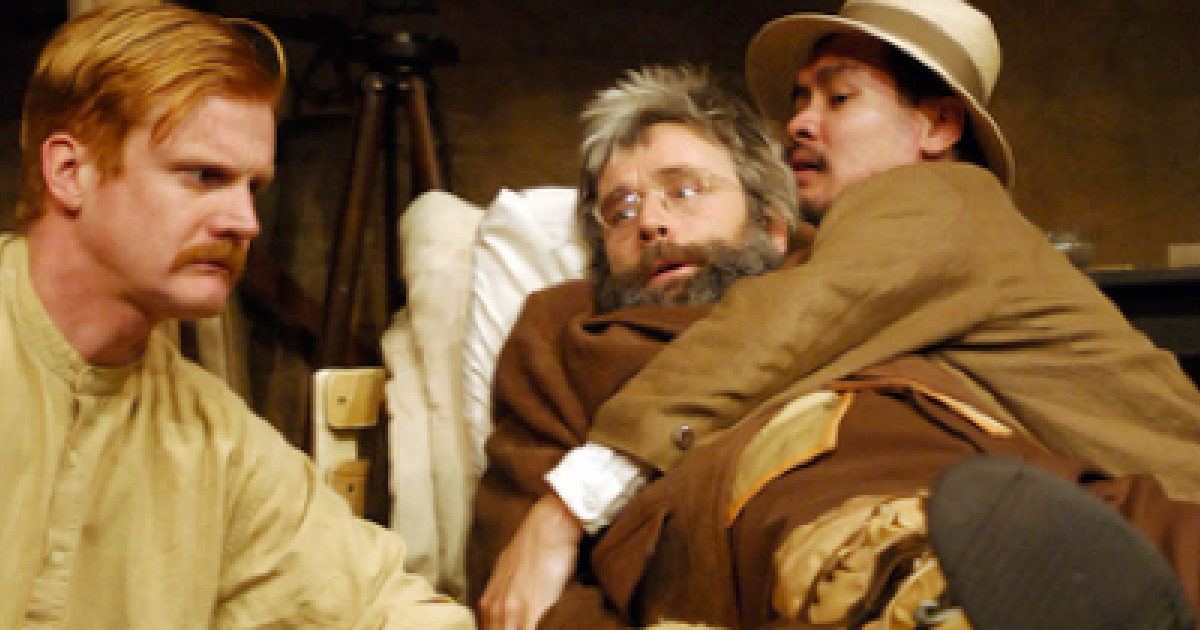 What Lies Before Us
Friday, February 2nd, 2007
What Lies Before Us by Morris Panych
Directed by Jim Millan
Canstage Berkeley
Jan15 to Feb 24 2007
Crow's Theatre
TORONTO, ON: Oh dear, just when I was becoming a mite gushy about great evenings of theatre, Panych dumps some cold reality into my theatrical experiences. Rather like being hit by the avalanche in this play. As I told you in my last Rant,I think I am chionophobic - don't like the frozen white stuff. And yes, it was so cold on our 40 minute walk down to the Berkeley that the synovial fluid in my knee joints froze!
Back to What Lies Before Us, a new play by Panych set in a makeshift camp in the Rockies. Two surveyors, Ambrose (David Storch), a Scot, and Keating (Matthew MacFadzean), an Englishman, with Wing (Wayne Sujo), their Chinese servant, are charting a course for the Canadian Pacific Railroad. Ironically they are lost, winter is upon them and they are waiting to be rescued by the Major, organizer of their expedition and his men.
The set (Ken MacDonald, Robin Fisher) is quite striking. Snowy peaks of the Rockies tower behind the tent with its two camp beds, a tin bath and battered wooden furniture. (So how do they get all that stuff up the mountain anyway?). A "mountain fog or mist" was in the air as people entered. It was quite amusing to hear people asking "is it my eyes or is it really foggy in here?"
Less amusing were the comments at intermission, when several people gathered up their coats and left. One woman, obviously of Scottish origin, complained loudly that Ambrose did not talk like a real Scot. Being only one-quarter "Scottish" (my granny emigrated from Glasgow and never lost her accent despite living in Cape Town for more than 60 years) I actually thought Ambrose sounded just like a "real Scot" and I could understand every word.
Regardless of accent quibbles I thought that both Storch and MacFadean delivered excellent performances. However I found the script underwhelming. The play starts off really strongly - the dialogue between the Englishman whose vacuous mind is preoccupied with the itch in his nether regions and the cerebral Scot who is consumed with documenting his life in his journal, is at first very funny. However the joke soon wore thin and I began to wonder where this play was going. Towards the end of the second act I began to meditate on the Beckett centenary, absurdism, Godot and homage; not a good sign. The play concludes with a monologue delivered by Wing in Cantonese (I think). A devilish twist but too late to counteract the tendency to doze off. As we filed out, I heard another vocal audience member grumble, "this was an expensive nap." Ouch!
I like the quote by Ralph Waldo Emerson from which Panych drew his title; "What lies behind us and what lies before us are tiny matters compared to what lies within us." And yes, I like plays that ask questions and make me think. But "the meaning of life" is just too metaphysically broad for an over-warm theatre on an icy Toronto night.