Review From The House
READ IT • SEE IT • TASTE IT • LIVE IT
Vancouver Theatre: Into the Woods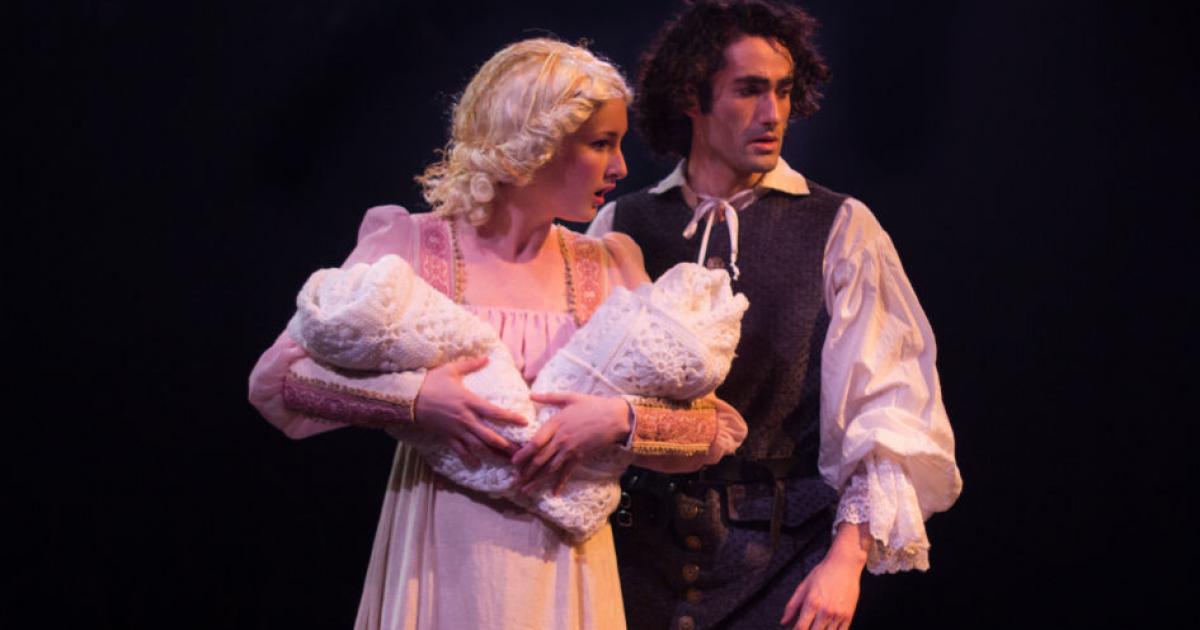 Vancouver Theatre: Into the Woods
Saturday, May 2nd, 2015
 Into the Woods
Music and Lyrics by Stephen Sondheim
Book by James Lapine
Directed by Ryan Mooney
Musical Direction by Angus Kellett
Fighting Chance Productions and Renegade Arts Company
Jericho Arts Center
April 28 to May 16, 2015
Vancouver, BC: I have always been bemused by the terms "fairy tales" or "children's stories" used to describe the collections of German folk lore compiled in the 19th century by the appropriately named Brother's Grimm, Jakob and Wilhelm. Although sanitized and glamourized into gentler, happier and pretty versions  as in the animated Disney films that even young children love to watch, the actual stories tell of violent acts and cruelty that don't always end with the protagonists living "happily ever after."
Just think of Cinderella, abused by her step-mother and sisters, without any help or intervention from her own father. There is the witch who wants to roast and consume Hansel and Gretel and the Wolf that wants to eat both Red Riding Hood AND her granny. And poor Aurora, the Sleeping Beauty, condemned to death by a disgruntled fairy whose nose was out of joint because she did not get invited to a party! (As an aside I recently saw the Vienna State Ballet dancing Dornröschen (Sleeping Beauty) in the elegant Vienna State Opera House. A magical experience that shows perfectly how the beauty of an art form distracts attention from the viciousness of the actual actions that initiate and underlie the story.)
But back to Sondheim's reframing of these folk tales. Into The Woods is not your average musical with a simple book, hummable tunes and catchy song-and dance numbers. The music is challenging, the lyrics are clever and the beats quick so I found I had to really focus at times to catch the words. This may in part have been because on opening night in this energetic, well-paced production there were intermittent problems with the sound system, which hopefully have been sorted out.
Nor is Into The Woods a sanitized straightforward retelling of the familiar Grimm's Fairy Tales. Sondheim introduces the characters of the childless couple, The Baker (Christopher King) and his Wife (Jennifer Suratos) whose search for four items to appease the Witch (Sarah Wolfman-Robichaud) provides the link that interweaves the tales of  Cinderella (Caroline Buckingham), Rapunzel (Olivia Lang), Red Riding Hood (Elise Sherwood), and Jack (Henry Beasley) and the Beanstalk, with grim themes of child abuse,  imprisonment, sexual maturation and predation, poverty, infertility and death.
It was a good decision of director Mooney and set designer Eleanor Gibson to stage  this in the round. In the centre the main stage was a stack of progressively bigger books reminding us of the fairy tale origins of these stories. Festooned with "greenery", this transformed the warehouse-like Jericho Arts Centre into The Woods. Each family had its own corner, symbolized by a few effective props and the pathways around the main playing space helped created the sense of journeying through the woods.
I loved that this production was not just about good singers and actors staging Sondheim but was full of heart, with many fine performances from the ensemble. My favorite number was "Agony",  the hilariously over-the-top self-centered whining of Cinderella's prince (Jason Cook) and Rapunzel's prince (Zach Wolfman).
Ryan Lino was an awesome Milky White (Jack's precious cow that he was forced to sell). It must  have been quite claustrophobic inside that costume, but Milky White engaged with the audience and stole every scene she was in with a tilt of her head and movements filled with emotion. As The Wolf, Cook made me shiver with his predatory approach to Little Red while Sherwood subtly conveyed how Little Red lost her youthful innocence. Real-life husband and wife Suratos and King with fine voices and heartfelt performances led us confidently along the often jumbled pathways of the journey.
In an unusual conjunction of two Stephen Sondheim musicals playing at the same time in Vancouver, I saw Into the Woods back to back with Vancouver Opera's grand production of Sweeney Todd. I applaud director Ryan Mooney and Fighting Chance Productions for taking on this challenging work and with minimal resources, creating a wonderful evening of entertainment. I enjoyed it a lot.