Review From The House
READ IT • SEE IT • TASTE IT • LIVE IT
Vancouver Theatre: The Waiting Room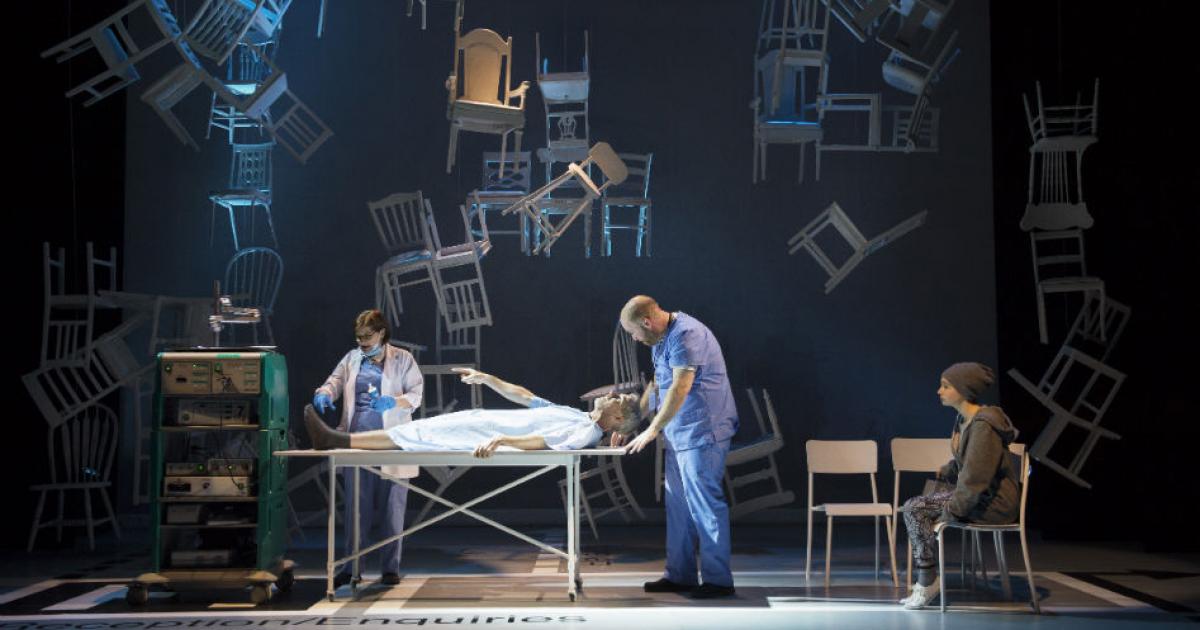 Vancouver Theatre: The Waiting Room
Friday, October 9th, 2015
The Waiting Room
Book by Morris Panych
Music and Lyrics by John Mann
Directed by Morris Panych
Arts Club Granville Island Stage
Oct 1 to 31, 2015
Vancouver, BC:  Less than a year after my husband succumbed to cancer,  I saw "Wit", in which Seana Mckenna played Dr. Vivian Bearing, a solitary, career-driven English Professor, undergoing treatment for terminal ovarian cancer. Despite the brittle humour and sardonic wit  which sustained the self-contained Dr. Bearing through several courses of aggressive chemotherapy, the sense of absolute solitariness in which each of us, like her,  will ultimately face death, permeated the play; and I remember that I cried silently throughout the play.
Knowing that The Waiting Room was based on musician/vocalist/composer John Mann's own encounter with colo-rectal cancer, and his album about it, called The Waiting Room, I was a mite apprehensive that this world premiere production would be similarly heart wrenching but it was in fact the opposite. Jonathon Young plays J, whose fear that there is something very wrong with his health, is confirmed when he is diagnosed with colon cancer. In his varied encounters with doctors and nurses as he goes through his diagnosis, surgery and eventual,discharge, he is "accompanied" by C, a ghostly nine -year girl who died of leukemia, charmingly played by Matreya Scarrwener.
Young is an amazing physical performer. his "experience" of a colonoscopy was a memorable sight to see.  But rather than fear, he conveyed a sense of almost bewilderment and dissociation from his illness.  Dressed in the similar clothing to Mann, he looks eerily like him. Meanwhile through the show, John Mann was upstage centre with the band. Irrespective of the lyrics, his music was rocking and generally upbeat, suggesting that  music was a major factor in getting him through his cancer treatment.
Ken MacDonald's set, with lighting by Gerald King, was great. The stark almost empty stage had lines and directions to oncology and radiology painted on the floor. The backdrop was lit with blues and turquoise green, - and then chairs in different configurations descended from above. The effect was truly striking.
Several of my friends had commented that they hesitated to see the show because they thought it would be heavy and tragic. Not so. There is a poignancy about the fact that having survived cancer, Mann now struggles with early dementia. But overall it's a courageous revelation of how one man survived his journey through the good and bad of our health care system