Review From The House
READ IT • SEE IT • TASTE IT • LIVE IT
Vancouver Theatre: Three Tall Women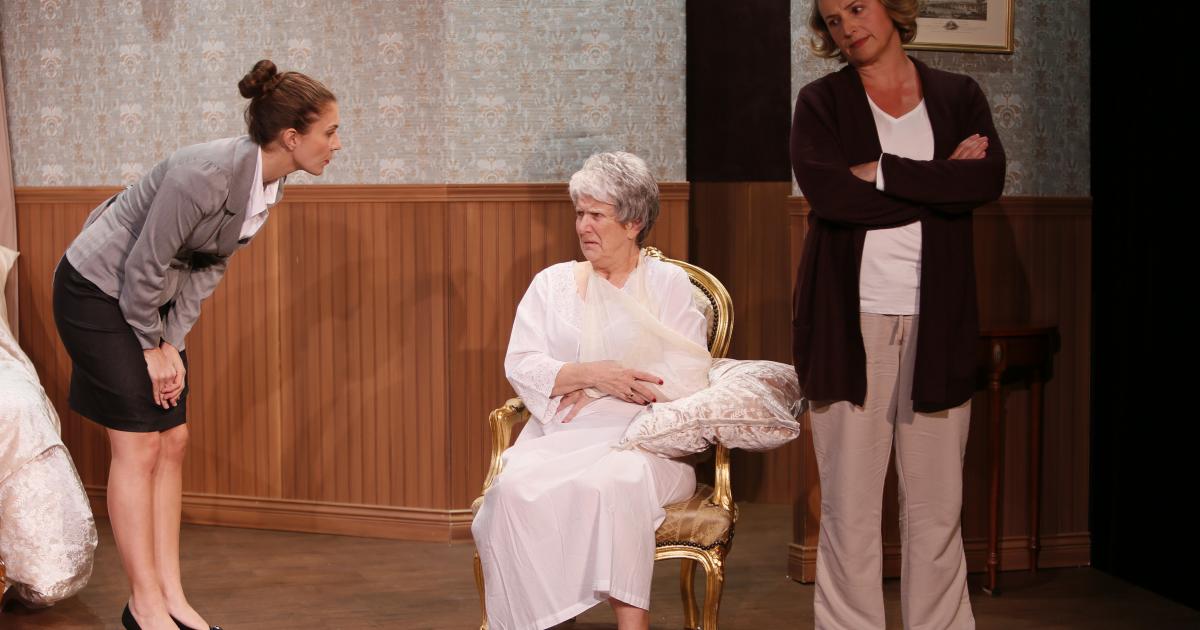 Vancouver Theatre: Three Tall Women
Sunday, October 26th, 2014
Three Tall Women
By Edward Albee
directed by Terence Kelly
PAL Studio Theatre (581 Cardero St.)
A Western Gold Theatre Society Production
Oct 23 to Nov 9, 2014
Vancouver, BC: I really liked this show; this is a play you do not want to miss. Albee's intriguingly crafted work is sensitively interpreted by the cast of Anna Hagan, Beatrice Zeilinger, Meaghan Chenosky and Matt Reznek.
When Three Tall Women premiered in 1994 off Broadway, it garnered for Albee the Pulitzer Award for Drama, the Drama Critics Circle Award for best play and the Outer Critics Circle award for best off-Broadway play, among many other accolades.  Interestingly I was not expecting to like it as much as I did. When I thought back to the 95/96 Vancouver production, the first time I saw this play, I remembered thinking at the time that it was a whole lot of talking and there was not much going on. This time,  being 20 years more "mature" and with two more decades of life experiences behind me, I understood, and was caught up in, just how much was in fact "going on" in this play.
There are three female characters. In the first act A (Anna Hagan) is a woman in her early nineties, physically frail, with her arm fractured in a fall. At 90 or 91 she is showing signs of dementia, yet she is still feisty and self-aware.  B (Beatrice Zeilinger) is her caregiver, paid to handle A's outbursts with patience and tact, and to help with  her daily living needs. C (Meaghan Chenosky) is a young lawyer who has come to sort out the mess of A's financial affairs. The two younger women listen to A reminiscing about her life; the joy of her youth, her marriage and her husband's infidelity, and her relationship with her son. B is relaxed with her, bringing her back to the present each time she forgets where she is.  C insists on accuracy and the right facts at the expense of upsetting A's fragile equilibrium. Finally A falls silent and they realize that she has suffered a stroke.
Switch to Act 2;  the same bedroom, with a body representing the ninety-year old woman comatose in  bed. A, B and C now represent versions of A at different ages. C is A at  26, B is in her fifties. Gradually the details of A's life are revealed and we see her transformation from the optimistic joy of youth, though  good and bad of the middle years, to the resignation and acceptance of old age. C questions everything. What happened on the life journey to form the personality of the woman now lying close to death?  The costumes by Naomi Lazarus distinctly defined the characters. I particularly liked the transformation of C from conservatively dressed young professional to fun-loving, optimistic "good" girl. Loved the flapper dress and I also liked the contrast between B's casual caregiver attire to elegant middle-aged suit.
The Boy, A's estranged son, (Matt Reznek) comes to see his dying mother, and sits, unspeaking, besides the bed. This play, written several years after the death of Albee's own adoptive mother, has strong autobiographical undertones. Like The Boy, Albee left home at 18 and was estranged from his parents. In the play The Boy has no voice - only tears. That says volumes.
I think this play will resonate more strongly with mature audience members but all should appreciate the compelling performances of the cast. I did.
Three Tall Women runs till November 9th with shows Tuesday to Saturdays at 7:30 PM and Sat/Sun at 2 PM. For tickets call (604) 363  5734 or book online