Review From The House
READ IT • SEE IT • TASTE IT • LIVE IT
Vancouver Theatre: A Thousand Splendid Suns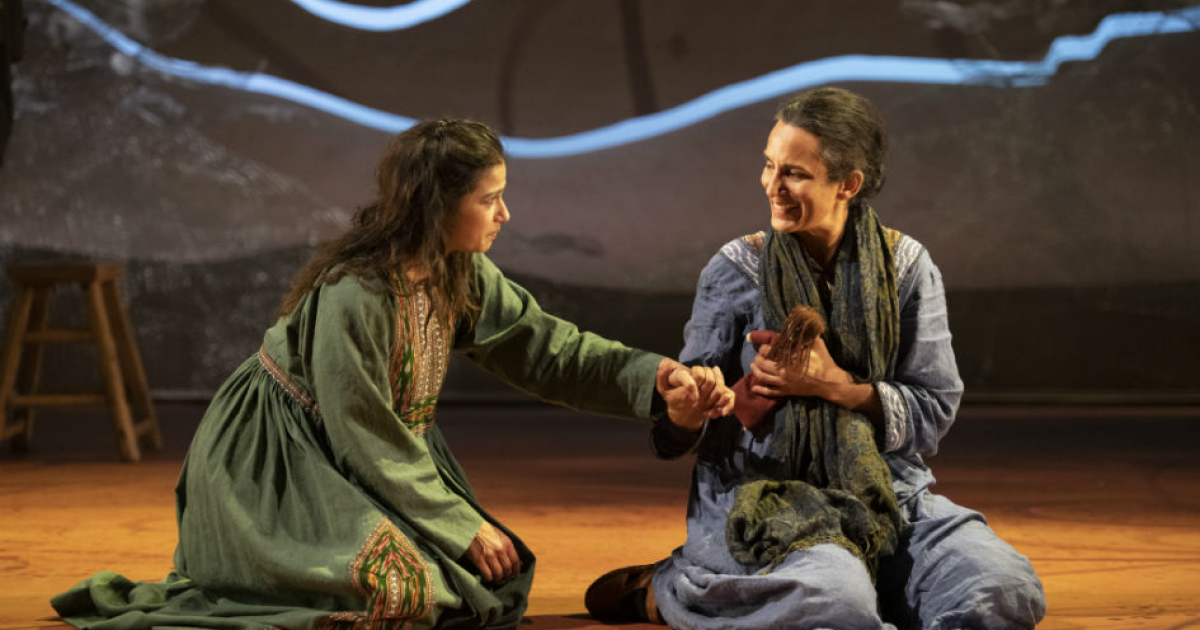 Vancouver Theatre: A Thousand Splendid Suns
Thursday, September 26th, 2019
A Thousand Splendid Suns
By Ursula Rani Sarma
Based on the book by Khaled Housseini
Directed by Haysam Kadri
Arts Club in partnership with Royal Manitoba Theatre Centre
Stanley Industrial Alliance Stage
Sept 12 to Oct 13, 2019
Vancouver, BC: This is a tale of two women, a generation apart, whose lives collide in a country shattered by external forces of war, and ravaged internally by an oppressive ,misogynistic governing culture. Playwright Sarma had an immense task to distill Housseini's epic novel into a two hour drama. Though harrowing with frequent moments of ugly brutality, it was engaging and emotional throughout.
In war-torn Afghanistan, 15 year old Laila (Anita Majumdar) and her parents  are preparing to escape to Pakistan when a bomb hits their house. Her parents are killed. Dragged from the rubble by a neighbour, Rasheed (Anousha Alamian), Laila is nursed back to health by his long-suffering wife, Mariam (Deena Aziz).  With no other means of support, Laila agrees to become the second wife of Rasheed.  Shamed and mocked by Rasheed for being childless and an uneducated, country girl compared to Laila's youthfulness and education, Mariam responds with  anger and bitterness towards the younger woman. When Laila gives birth to Aziza, a girl child resented by Rasheed, the two women unite in their fear of Rasheed's growing brutality.
With the rise of the Taliban, life for the women of Kabul becomes unbearable. As Rasheed loses more and more control of his life outside his home, his brutality towards the women inside his home increases. Alamian skillfully shows how Rasheed's increasing anxiety escalates his violence and loss of control. Events come to a head when the issue of Laila's childhood love, Tariq (Abraham Asto) comes to the fore.
Ken MacDonald's set  with the lighting design by Robert Wierzel and Andrew Griffin lent an almost poetic fluidity to the backdrop transitions from mountainous to  desert-like terrain, with the sun moving slowly across the sky. The visual renditions of some of the more harrowing scenes playing out on the stage heightened the emotional impact.  In contrast to the softer representation of nature, the harshly imposing metallic set pieces, representing man-made structures - walls and doors -was symbolic of the brutality of man in this culture.
This mirrors the contrast between the two conflicting life themes of the female protagonists.  For Mariam who had been betrayed and abused though out her life, life had merely to be endured. Laila, who had been loved, educated and exposed to the beauty of poetry, believed life was endurable through hope. Ultimately it was love that gave hope and drew these women together. But ironically it was also love that ultimately separated them forever. As Mariam and Laila, both actresses both were utterly authentic in their emotional journey from rivals to a mother-daughter like relationship, both united in the love of Laila's children and the fight for their survival in an alienating world.
for tickets: Arts Club Box Office