Review From The House
READ IT • SEE IT • TASTE IT • LIVE IT
Vancouver Theatre: Speed-the-Plow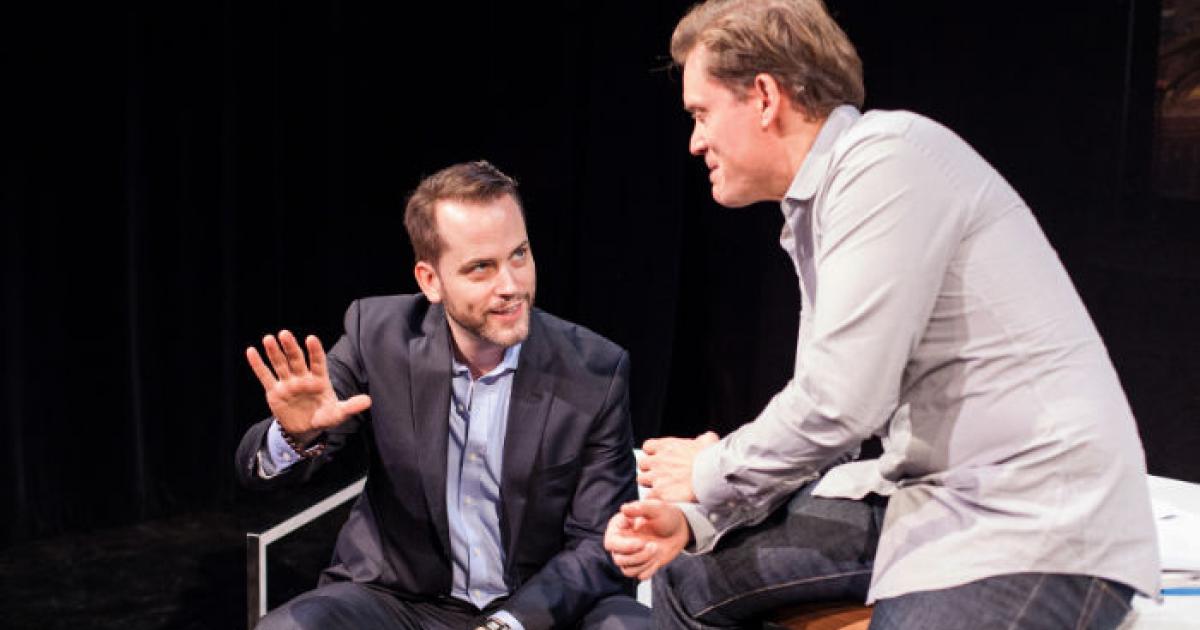 Vancouver Theatre: Speed-the-Plow
Wednesday, November 19th, 2014
Speed -the-Plow
By David Mamet
Directed by David Mackay
A Mitch & Murray Production
Studio 16 (1555 W 7th Ave., Vancouver)
Nov 13 to 29, 2014
Vancouver, BC: From their opening lines, Aaron Craven and Craig Erickson take off with the hypermanic intensity of Mamet's fast moving script. Bobby Gould (Erickson) is the recently promoted Director of Production in  a major Hollywood studio, headed by Richard Ross. Bobby's long time friend Charlie Fox (Craven), who has been waiting for ever for his own big break, bursts into his office with news that a big Hollowood name from another studio wants to "cross the street" and make a prison film of a script brought to him by Fox. But they have to get the project green-lighted by Ross before 10 am the next day.
Karen (Kayla Deorksen), a temporary secretary filling in for Bobby's regular secretary, comes in with coffee. When she leaves the two men make a $500 bet that Bobby can seduce her. Bobby gives her a copy of an arty book he has been given for a "courtesy read" and invites her to his place that evening to discuss the potential for making a film of it.
Next day as the deadline approaches, Charlie arrives to find that Bobby is dumping his viewer-friendly prison film for an arty creation based on the book about radiation and the end of the world.  Charlie is horrified. My favorite Charlie line is  his rebuttal of Bobby's reasoning, saying that he may love the yellow pages but he wouldn't make a film out of them. Bobby has to decide what to recommend.
Mackay's directing flawlessly captures Mamet's pace and rhythyms. Doerksen' portrayal of Karen is cleverly done. Wide eyed and naive at first,  by the end when she is fighting for her she becomes almost aggressive, leaving you wondering whether her naivete was real or a coverup for her ambition.  The stage chemistry between Craven and Erickson is palpable as they play off each other's intensity.
David Robert's set has two large cityscape "windows" demarcating Bobby's office and his home sitting room. With Gerald King's subtle lighting it's quite beautiful. The minimal lighting during the scene changes allows  one to just glimpse  Karen removing and putting on her footwear. It evokes the sensuality of what transpired between her and Bobby during the night, and as Charlie guessed,  the power of sex to cause a mental sea change.
This production is slick, well paced, and funny. The 80 or so minutes without intermission went by in a flash.
The show runs till the 29th. See it. You can buy tickets online