Review From The House
READ IT • SEE IT • TASTE IT • LIVE IT
Vancouver Theatre: Shrek: The Musical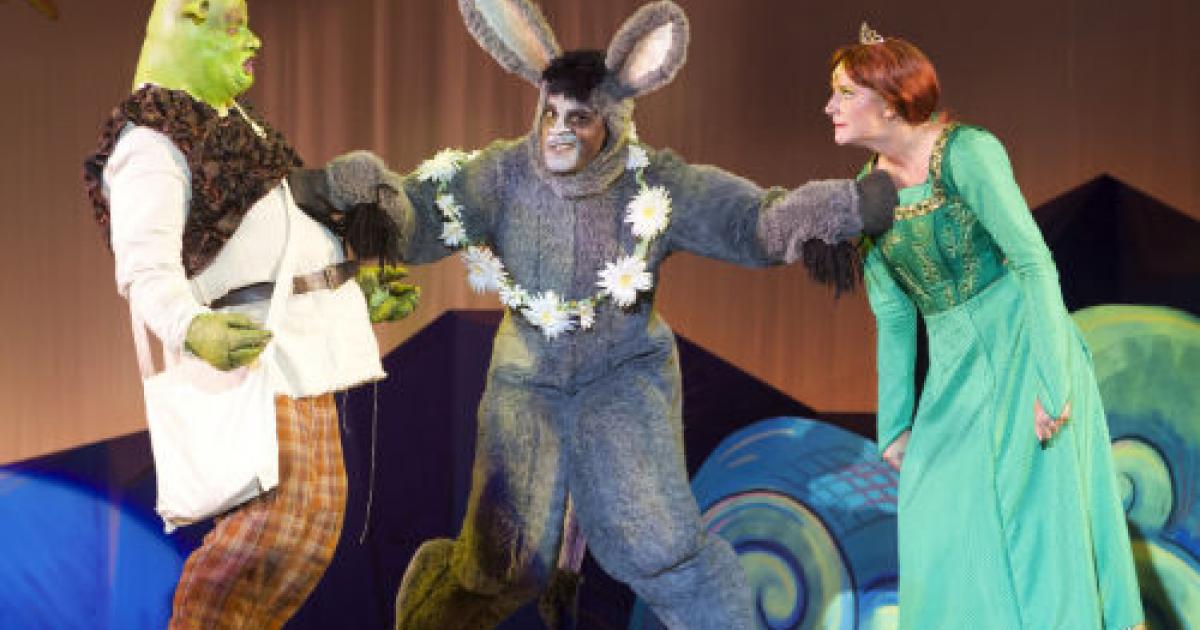 Vancouver Theatre: Shrek: The Musical
Thursday, July 17th, 2014
Shrek: The Musical
Based on the DreamWorks Animation Motion Picture and the book by William Steig
Book and lyrics by David Lindsay-Abaire
Music by Jeanine Tesori
Directed by Sarah Rodgers
Music Director Christopher King
Choreographer Julie Tomaino
Theatre Under the Stars
Malkin Bowl, Stanley park.
July 11 to Aug 22, 2014
Vancouver, BC:  With my grandchildren (one a five year old) in town, this was a great opportunity to take them to see a Theatre Under the Stars musical at Malkin Bowl. The story of Shrek, the friendly ogre was more age appropriate than Legally Blonde, which I had enjoyed last year. Seven of us trooped off to Stanley Park for the opening night of Shrek,  hoping for a beautiful summer evening, and we got just what we hoped for, a warm, almost cloudless summer night and good family entertainment.
Shrek: The Musical tells the story of how Shrek (Matt Palmer), a embittered ogre resigned to living alone in a swamp, is drawn into an adventure during which he nakes new friends and ends up finding love with the  enchanted Princess Fiona (Lindsay Warnock).
When the wicked Lord Farquaad (Victor  Hunter) banishes the Fairytale creatures from the kingdom of Duloc they migrate to Shrek's swamp, disturbing his solitude. Shrek sets off  to confront Farquaad and demand that  he lets the creatures return to Duloc, so Shrek can get his swamp back.
En route Shrek meets a garrulous Donkey (Ken Overbey), who  shows him the way to Castle Duloc. Here Farquaad has discovered that  Princess Fiona is trapped in a castle guarded by a fire-breathing dragon.  Farquaad tells Shrek that if he rescues Princess Fiona, Farquaad will give him the deed to his swamp. Shrek and Donkey set off to rescue Fiona. Not knowing that Fiona has been cursed with a magic spell that she keeps a secret, Shrek falls for Fiona.
Meanwhile the Fairytale Creatures, evicted from the swamp, need to find a new home. They realize that they need to confront Farquaad and set out for Duloc to do just that. There they finally learn to celebrate their uniqueness and understand that it's okay to be different. After many adventures complicated by misunderstandings and injured feelings, Shrek and Princess Fiona share the kiss that break's Fiona's curse... and  love wins out in the end.
Review from the grandchildren:  The 9 year-old loved it, especially Fiona's spunkiness and the weirdness of  Lord Farquaad, and she wished she could see it again. The 5 year  old, stayed awake, eyes glued to the stage, and assured us that Shrek was his favorite character and not scary at all.
My favorite number was Morning Person, in which Princess Fiona helps the Pied Piper gets the Rats a-tapping.
This is a fun musical to take the kids to, and the common culture references sprinkled through the story enhances the interest for the adults. I need to upgrade my pop culture knowledge as I did not get them all.
On a warm summer evening in Vancouver, watching Theatre Under the Stars with Shrek and the Fairy tale creatures is a magical experience for the family.