Review From The House
READ IT • SEE IT • TASTE IT • LIVE IT
Vancouver Theatre: Les Ballets Trockadero de Monte Carlo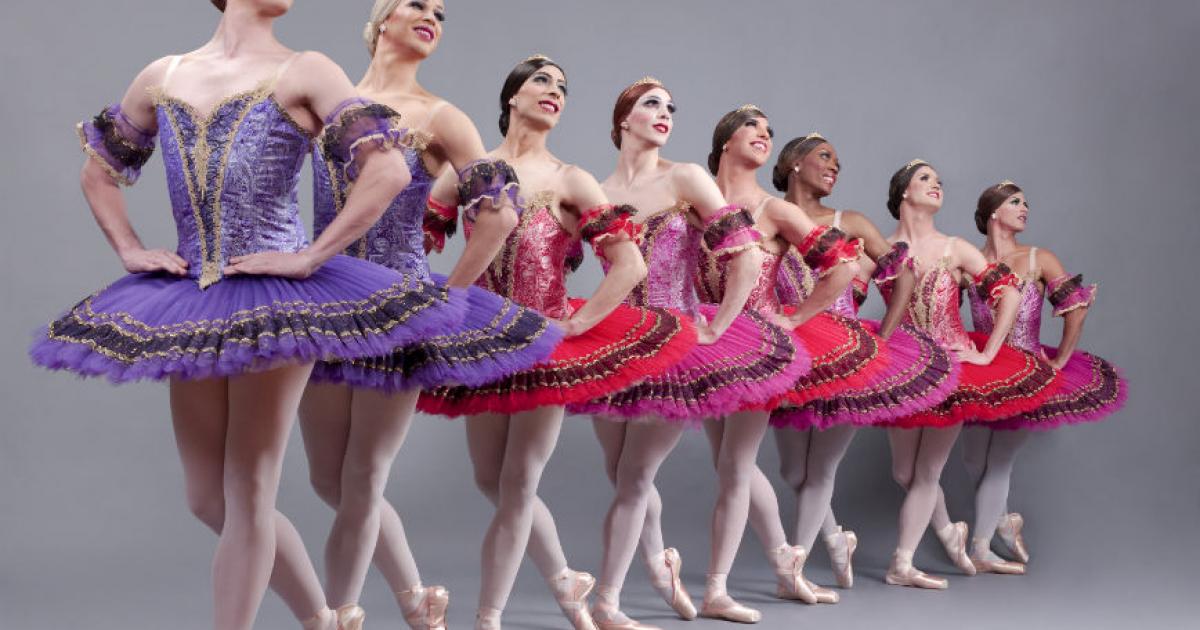 Vancouver Theatre: Les Ballets Trockadero de Monte Carlo
Tuesday, January 27th, 2015
Les Ballets Trockadero de Monte Carlo
Queen Elizabeth Theatre
January 24th, 2015
Vancouver, BC: The internationally renowned Les Ballets Trockadero de Monte Carlo is a New York based company of "professional male dancers performing ... ballet and modern dance including classical and original works in faithful rendition of the manners and conceits of those dance styles."
The comic effect arises from seeing masculine bodies performing movements normally danced by sylphe-like dainty ballerinas and  as the program notes state,  exaggerating the "foibles, accidents and underlying incongruities of serious dance." 
For me awe and admiration arose from seeing  how masculine strength powering great technique, whether dancing en pointe or jeté-ing across the stage,  adds a totally different dimension to a familiar dance.
The company was founded in 1974 and is celebrating its 40th anniversary season tour.  The one Vancouver performance  on January 24 th, marks the first time since 1985 Les Ballets Trockadero de Monte Carlo has played Vancouver and the 2765 seat Queen Elizabeth Theatre was sold out. I was surprised that there was only one show here as both Calgary and Edmonton had two performances scheduled.
The entertainment begins even before the curtain rises, on reading the Meet the Artists section in the program. The "biographies" associated with the artists' names (some of my favorites were Tatiana Youbetyabootskaya, Helen Highwater, Leftova, Paranova, Repelski) are clever and humorous.
The program we saw included parts of Swan Lake with Tchaikovsky's haunting and so-familiar music, Go for Barocco to music by J.S.Bach and  Paquita - variations on choreography by Petipa to music by Ludwig Minkus.
And then of course, not to be omitted, we saw the famous or infamous Dying Swan, originally created by Anna Pavlova and Mikhail Fokine to music from Camille Saint Saëns' Le Cygne from Le Carnival des Animaux and performed to great effect here.
The response from the audience was possibly the most enthusiastic I have observed at a performance with thunderous applause for every demonstration of technical mastery, and laughter at the comedic mishaps and strange facial expressions.
At the end of the evening the house gave these great performers a standing ovation. And I fully agreed that it was deserved. I loved the show. Hopefully it wont be another 30 years before they play Vancouver again.
Two side notes. The photos are from the company photo-gallery by photographer Sascha Vaughn. The dates are 2012, so not all the artists pictured may have been in the performance I saw.
The second note: although we were seated some distance from the stage I had with me my two pairs of Barska Opera Glasses. Although compact, they are great for seeing faces on stage as if up close, and so we caught many of  the contortions and comic facial expressions that heightened the parody.  I have used them at performances in New York and Vienna, and really appreciate the enhanced experience  together with the compact size of these glasses.