Review From The House
READ IT • SEE IT • TASTE IT • LIVE IT
Vancouver Theatre: Hairspray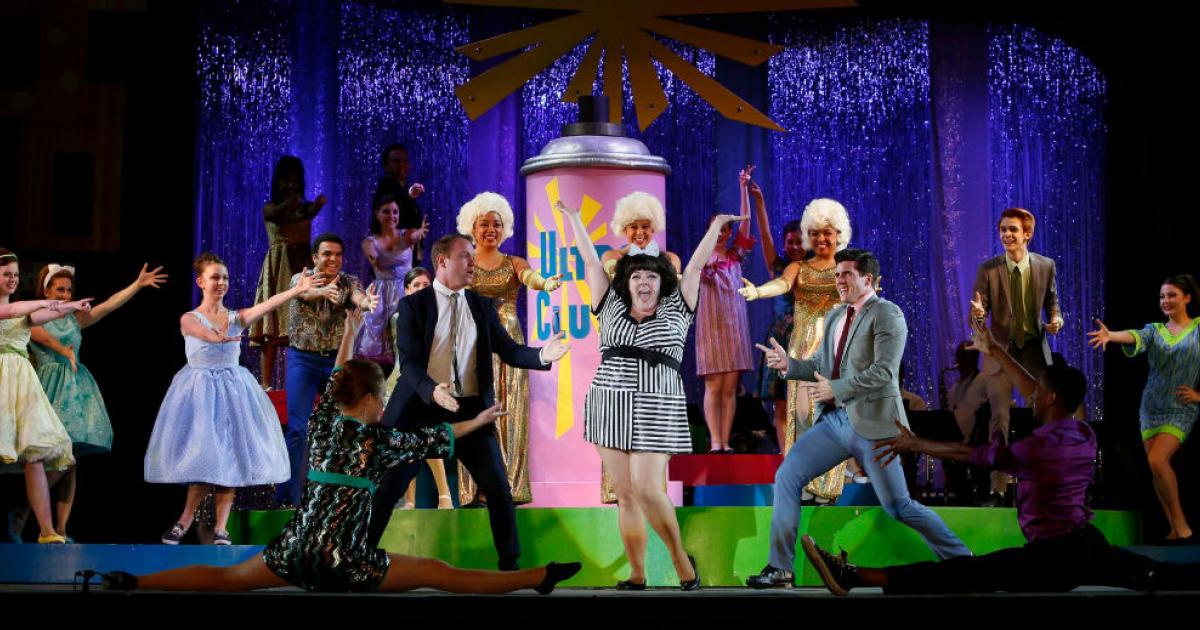 Vancouver Theatre: Hairspray
Friday, July 24th, 2015
Hairspray
Music by Marc Shaiman
Lyrics by Scott Wittman and Marc Shaiman
Book by Mark O'Donnell and Thomas Meehan
Directed by Sarah  Rodgers
Music Director - Chris D. King
Choreographer - Julie Tomaino
Theatre Under The Stars (TUTS)
Malkin Bowl, Stanley Park
July 14th, running on even days in July and odd days in August until August 21, 2015
Vancouver, BC. The two theatrical happenings that annually signal summer in Vancouver are the Theatre Under the Stars musicals at Malkin Bowl and  Bard on the Beach Shakespeare Festival.  This year's musicals are Hairspray and Oliver (which I have still to see). But with this delightful and funny production of Hairspray, TUTS has a definite winner - don't miss it.
Jam-packed with great musical numbers and choreography, performed with energy and enthusiasm by the largely amateur cast, the script also addresses serious issues surrounding acceptable societal norms and prejudices.  Although the piece, set in Baltimore in the 1960s, portrays a time in society when it was acceptable to bar black teenagers from participating with white kids on a TV dance show, and to mock and reject overweight people, racism is as much  a contemporary problem now as it was then as we see daily in the news. Hairspray holds up a mirror in which we can all examine our own prejudices, while all the time being wildly entertaining with music that makes us, or me at least, want to rock and roll!
With the opening number "Good Morning Baltimore", Erin E. Walker as Tracy Turnblad, commands the stage and continues to charm throughout the show. Tracy is  an overweight teenager who is loaded with singing talent, and dreams of appearing on the local TV dance show hosted by Corny Collins (Chris King). The show's producer is the icily beautiful prejudiced Velma Van Tussle (Lori Ashton Zondag) whose talentless daughter Amber (Elyse Malloway) is the "spoiled princess" of the show.  Tracy is  refused an audition by Velma, who also rejects Little Inez (Marisa Gold) because she is black.
Learning some great new dance moves from Seaweed (David Lindo-Reed), the son of "big, blonde and Beautiful" Motormouth Maybelle (Cecilly Day), who hosts "Negro Day",  on Corny's show, Tracy wins a part in the TV show, and proceeds to fight to integrate the program so that it can be representative of all the kids that watch the show. In the process Tracy helps her obese, housebound mother Edna Turnblad (Andy Toth) become more accepting of herself.
While it was evident that the whole cast poured heart and soul into their singing and dancing (what a wonderful way to spend the summer), Cecilly Day stunned with her rendition of " I Know where I've Been", and newcomer David Lindo-Reed was my dance standout.
Great show. You'll be singing "You can't Stop the beat" all the way to your car. And probably for days after.