Review From The House
READ IT • SEE IT • TASTE IT • LIVE IT
Vancouver Theatre: In a Forest, Dark and Deep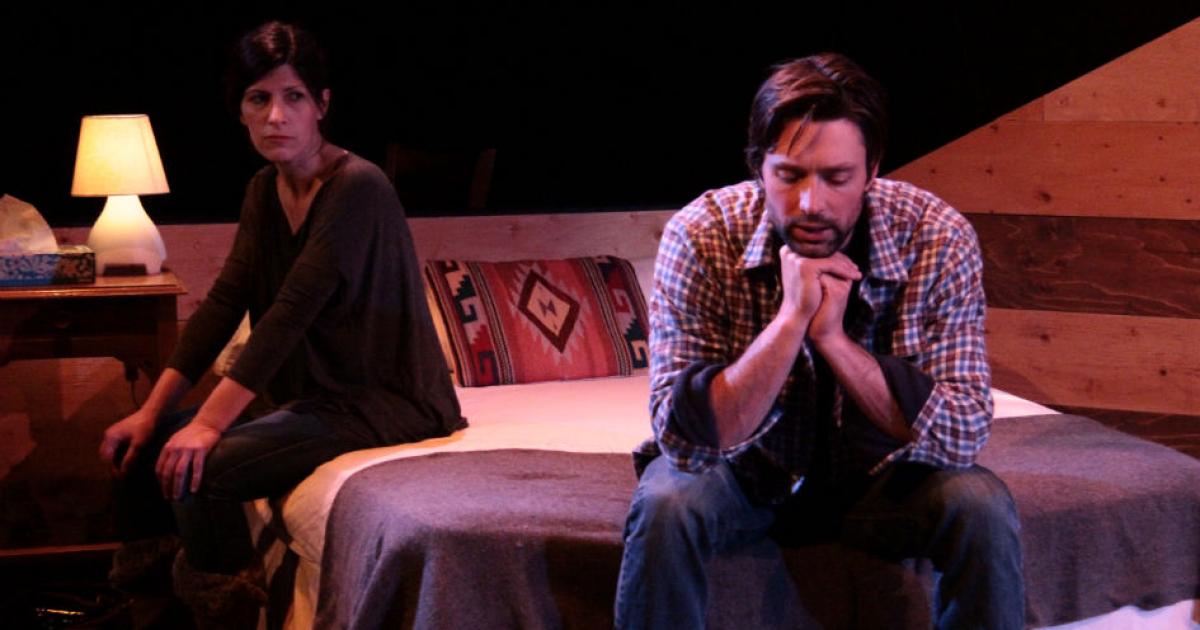 Vancouver Theatre: In a Forest, Dark and Deep
Monday, May 25th, 2015
In a Forest, Dark and Deep
by Neil LaBute
Directed by Tamara McCarthy
Naked Goddess Productions
Havana Theatre
20 - 30 May, 2015
Vancouver, BC. While a thunderstorm rages over an isolated log cabin deep in a forest, siblings Bobby and Betty, come together ostensibly to clear out a tenant's property from the cabin. But this is no Hansel and Gretel story of innocent siblings threatened by a mean step-mother and a cannabilistic witch with a fairy tale happy ending. Instead it is a dark exploration of the truth and lies  behind the emotions of an big sister-baby brother relationship, now connecting as adults.
Betty is an academic, an English professor and Dean at a small liberal arts college. As we learn, this is an unlikely status for her to have achieved based on her lifestyle during high school years; at least as seen through the lens of Bobby's memories. Bobby is a carpenter, who on the surface is a sexist, racist and homophobic, wife-beater but turns out to be Betty's savior and the one who has the stronger moral compass.
My time constraints meant that I got to see a preview instead of opening night but Carlo Marks (Bobby) and Sandra Medeiros (Betty) were show ready. Triane Tambay designed a set that worked well in the narrow rectangular playing space of the Havana Theatre.  I specially liked the effect of the window with the forest showing through. The sound design by Matthew MacDonald-Bain with lighting by Graham Ockley was very effective in evoking the storm outside that mirrored stormy bursts of suppressed violence in the sibling relationship.
Performed without an intermission, the show ran about an hour and forty minutes. There were several times when I felt they needed to pick up the pace in the sibling bantering when the words became a little too precious. But both actors were compelling to watch. Marks in particular has a powerful stage presence and was so relaxed and confortable in his role that he held my focus through much of the play.
However there are problems with LaBute's cript that I am not sure could be overcome by  direction or acting. Specifically both the two big reveals (no spoilers here) were overly predictable with the audience guessing well in advance what was to come. While this team did a great job with the material LaBute's dark commentaries on life make him  one of my less favorite playwrights.
As an aside, while I enjoy the intimacy of the Havana Theatre, they really have to do something to lessen the opressive heat and stuffiness in the theatre.