Review From The House
READ IT • SEE IT • TASTE IT • LIVE IT
Vancouver Theatre: Farewell My Lovely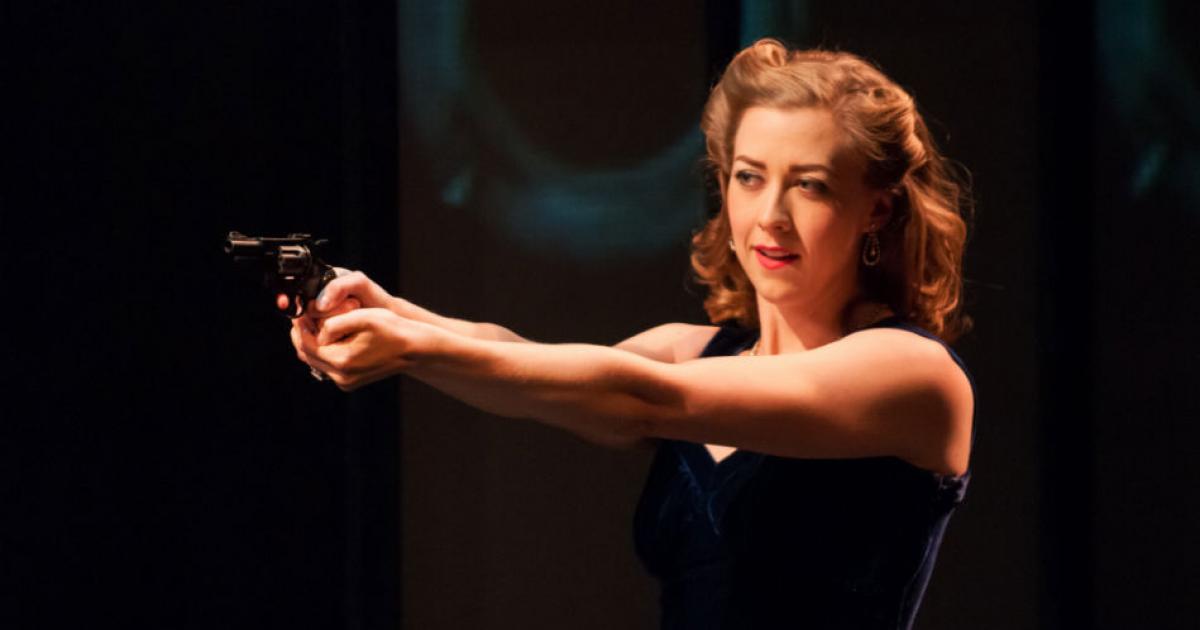 Vancouver Theatre: Farewell My Lovely
Monday, April 20th, 2015
Farewell My Lovely
by Aaron Bushkowsky
based on the novel by Raymond Chandler
directed by Craig Hall
Vertigo Theatre, Calgary and the Arts Club
Granville Island Stage
Apr 2 to May 2, 2015
Vancouver, BC:  Raymond Chandler's Phillip Marlowe is a tough, hardboiled, private detective, who operates in the seedy underworld areas of 1940s Los Angeles. First appearing in The Big Sleep, his second appearance as protagonist was in Farewell My Lovely, the novel that is the basis for this adaptation.
The storyline is a hard to follow but as expected in the genre of private eye fiction there are beautiful and mysterious but lethal women, guns, blood and bodies, and strangely a psychic who turns out to be ... someone else.
The three lovely ladies, are the mysterious Helen Grayle (Jamie Konchak), cop's daughter, Annie Riordan (Emma Slipp) and Jessie Florian (Lucia Frangione), widow of the owner of Florians, a night club. Amazingly they all fall for the rather prosaically boring PI.
Marlowe (Graham Percy) is hired by ex-con Moose Malloy (Beau Dixon) to find his girlfriend Velma, who used to work at a nightclub called Florians. While looking for Velma, Malloy kills the club manager. The detective assigned to the case is Nulty (Stephen Hair), who is lazy and really hopes that Marlowe will do his job for him. Marlowe also gets hired by as  a body guard by Marriott( Anthony Ingram) to protect him while ransoming stolen jewelry but Marlowe gets knocked and has to be rescued by Annie.
The best part of this play was the moving panel set by Scott Reid and and video projections by Jamie Nesbitt that made me feel like I was driving down a highway or on a boat following moonlit waves to a yacht out in the harbour.
I really wanted to enjoy this play. I admired the stylized staging that recreated the feel of film noir and the PI genre. But the characters of Marlowe and the rest left me a bit - ho-hum and not really caring who got bumped off. My favorite character actually was Anthony Ingram's cameo as the crazy psychic, Amthor.
Overall - interesting and a pleasant night's entertainment but no wow factor for me.