Review From The House
READ IT • SEE IT • TASTE IT • LIVE IT
Vancouver Theatre: The Drowsy Chaperone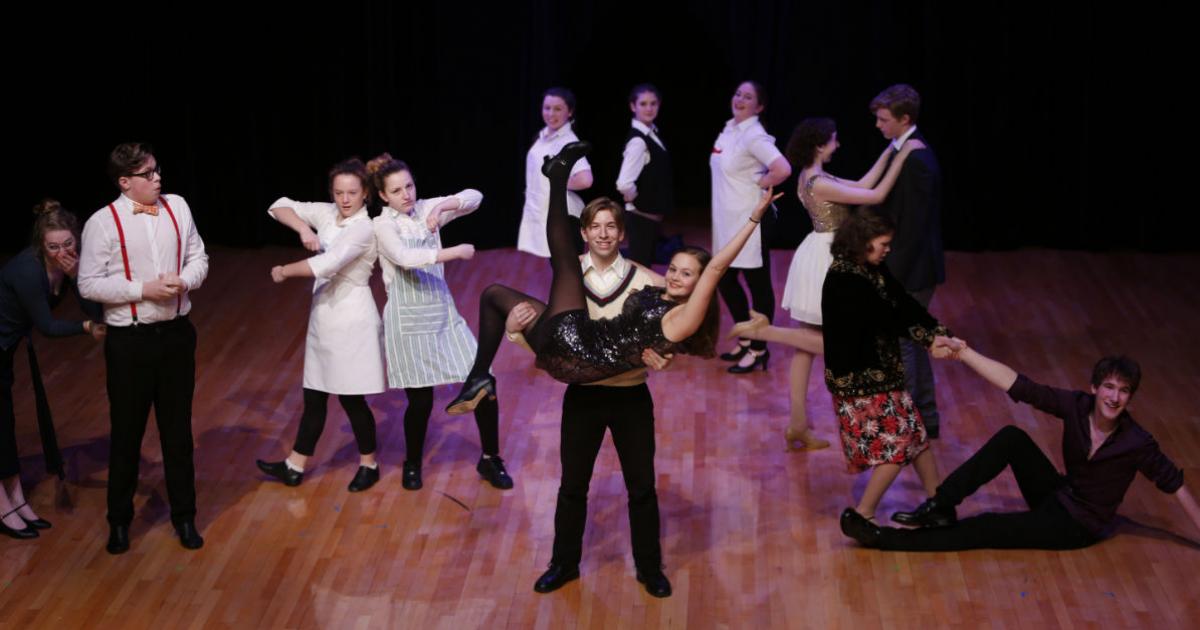 Vancouver Theatre: The Drowsy Chaperone
Saturday, May 21st, 2016
The Drowsy Chaperone
Music and Lyrics by Lisa Lambert and Greg Morrison
Book by Bob Martin and Don McKellar
Directed by Andy Toth   Musical Direction by Erin Hope-Goldsmith  Choreography by  Erika Babins
The Arts Umbrella Musical Theatre Troupe
Waterfront Theatre, Granville Island
May 21st, 2016
Vancouver, BC:  I just spent a delightful couple of hours with a friend at the Waterfront Theatre on Granville Island watching the students of the  Arts Umbrella Musical Theatre Troupe perform The Drowsy Chaperone. Teens from 13 to 19 enrolled in the year-long Intensive and Pre-Professional  Musical Theatre programs get to showcase their work as in the current 2016 Expressions  Festival. This Festival also features work by the Theatre  Troupes of various ages.
I first saw this musical almost ten years ago, shortly after it opened at the Marquis Theatre on Broadway in New York. Two years later the sadly now-defunct Vancouver Playhouse Theatre Company did an excellent production of The Drowsy Chaperone  that I liked a lot, so I was interested to see how this student production would shape up. My friend had not seen this musical before but we both agreed that director Andy Toth, musical director Erin Hope-Goldsmith and choreographer Erika Babins had drawn a slick and polished performance out of this young ensemble.
The musical is a parody of the 1920 musical theatre genre. Solitary Broadway musical fan, Man in a Chair (Paterson How), escapes into the world of musicals through his record collection. When he plays the record of The Drowsy Chaperone, the musical  characters come to life around him.   The story centres around the upcoming wedding of Broadway star Janet (Abigail Holmes in this performance) to Robert (Vuk Prodanovik). Janet's producer, Mr. Feldzieg (Ryan Schmidt) wants to stop the marriage because he needs his star, although his chorus girl mistress Kitty (Katherine Mattashewki) importunes him to take Janet's place.  Calista Lawrence and Jaden Young play gangsters disguised as punning pastry chefs who also need Janet to keep on performing so that Feldzieg can pay his debts. At this performance Haley Goldin played the eponymous Chaperone who spends more time drinking than chaperoning, and falls for the swaggering Adolpho (Matthew Tucker). Rounding out the cast are the wedding hostess Mrs. Tottendale (Eden Lyons) and her assistant Underling  (Morgan Abele), best man George (Max Borowksi) and the Aviatrix (Ace Crowchild).
I enjoyed the on-stage energy and was impressed by the quality of the singing and ensemble movement. Several of the performers stood out to me for both their singing ability and their acting, and I look forward to seeing more of their work. Overall I was impressed and enjoyed the show, and was sorry that I did not have the time to see the other shows in the Arts Umbrella Expressions festival.